Kids are amazing! We can often underestimate their abilities. But believe it or not, kids can accomplish some pretty outstanding things and you can be stronger together with them.
Take Angila's grandkids for instance. Angila has full custody of her four grandkids after they lost their mom to cancer.
They've been struggling with grief and healing from their loss.
But guess what?
Angila taught her four grandkids to flip to help give them purpose and take their mind off of their loss and give them a better life.
Together they created a budget, paid off $26K in debt, and have been planning some very fun trips together.
Never underestimates kids. They can do amazing things! Let's let Angila tell her story:
Moving Past Grief Through Flipping and Being Stronger Together
My name is Angila (yes, Angila with an "I"), which most people think is a very unique spelling. I was born in England and raised in Canada.
I am a 54-year-old single mom of four grown adults and a grandma to 10 wonderful grandkids.
About four years ago, I was granted full custody of my four grandsons, ages 3,5,9 and 12. It was a really tough beginning for all of us.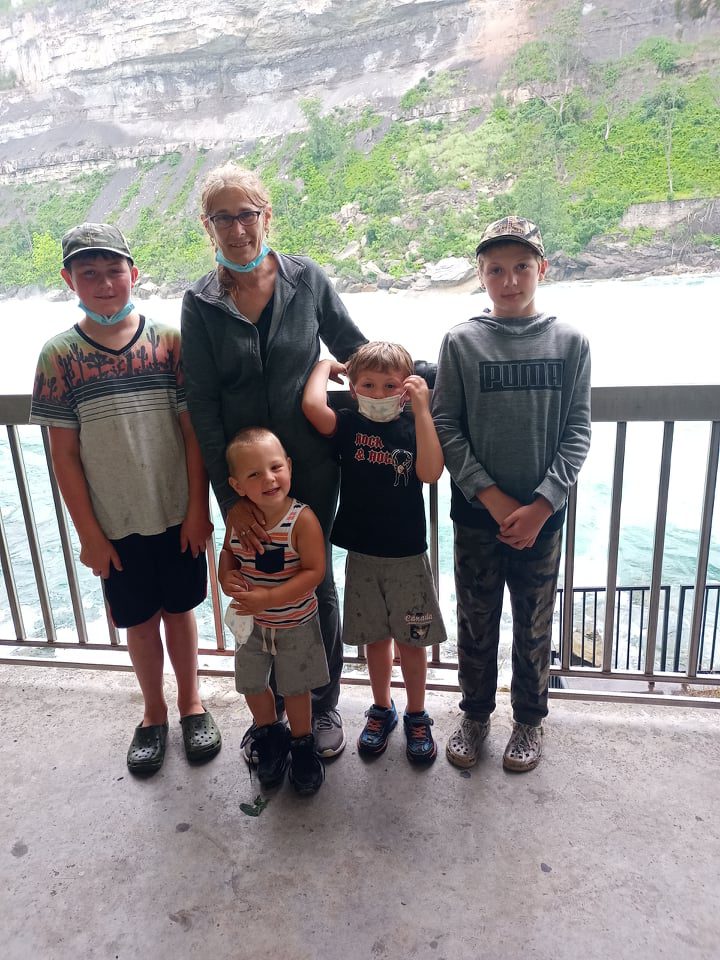 My grandsons lost their mom tragically to cancer. Death is a tough thing to understand at that age.
I wanted to do my best to help them heal and move forward to have a great life.
Not only were we dealing with deep grief at the time, but they were also adjusting to their new life with me not only as their grandma, but also as their caregiver.
It was a challenging time for everyone
For many years, I had several jobs ranging from cooking in a nursing home to retail.
I also worked at Walmart full-time for four years, but would always find myself selling items as a side job to bring in extra money.
I realized pretty quickly that not only were the kids adjusting to their new life with me as their full-time caretaker, I was also adjusting.
There were new expenses all over the place, including extra groceries and clothes.
I knew going into it, it would be an adjustment and I had to do something to help our situation.
And then Covid hit. This was at the point I made a decision that my four grandchildren were hurting and grieving and they needed me.
Not only that, one of my grandsons was at high risk for his health and I had to find a way to make money from home to support them.
I had been selling on Facebook marketplace for about 5 years just on a small scale, but that was about to change for me.
After doing a lot of research and watching some videos, I found Rob and Melissa at Flea Market Flipper.
I thought, "Well, these guys could help me scale up my selling and make a good income to remain at home to give my grandkids a better future."
Grandma's Mini Flippers
Things have really changed for me in the flipping arena since searching out Flipper University.
I could say that just making an extra $7K over the last few months was enough.
But flipping has provided so much more than that for me and my grandkids.
Flipping has helped my grandsons stay focused and has given them a sense of responsibility and purpose.
They have been by my side continually and I have taught them how to clean my items, stage them, and list them. We are stronger together.
Learning a new skill like flipping has been pretty life changing for them and they now call themselves "grandma's mini flippers".
I loved the phrase they coined so much that I made all four of them t-shirts to remind them how far they've come since we started flipping together.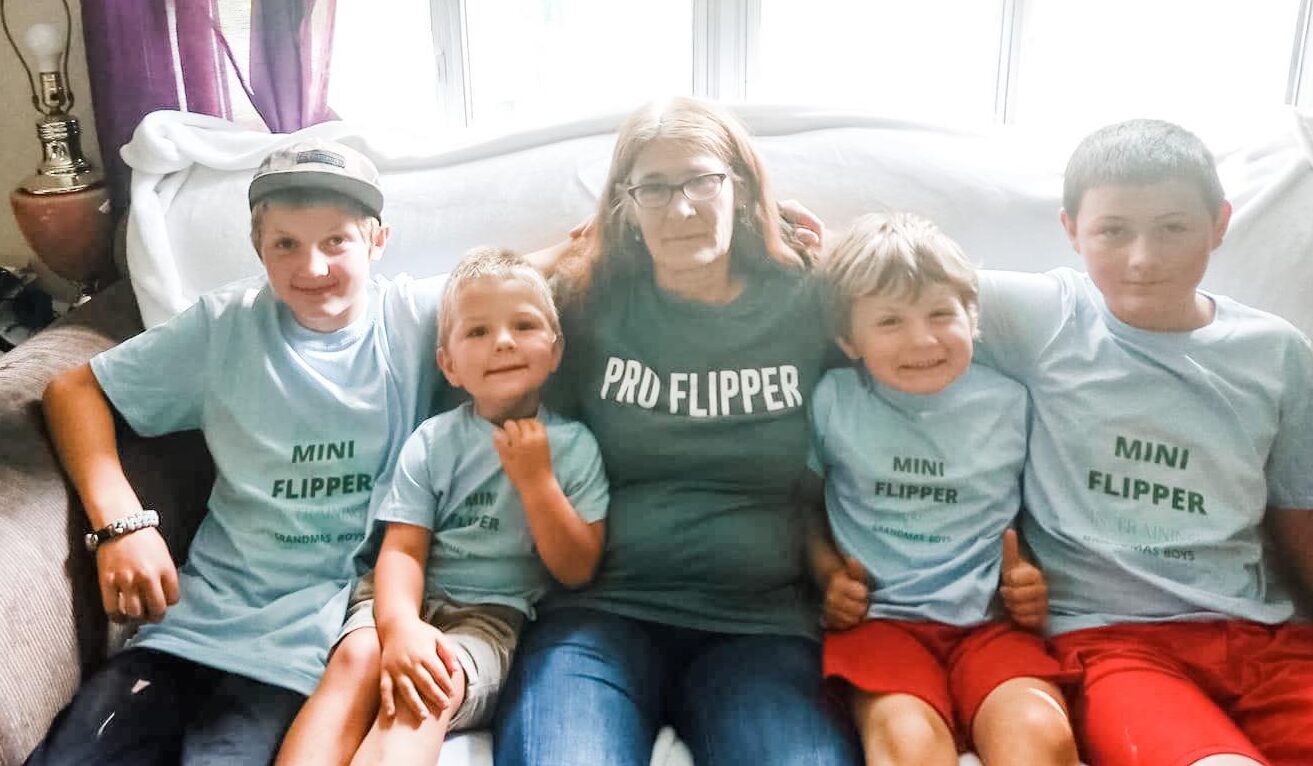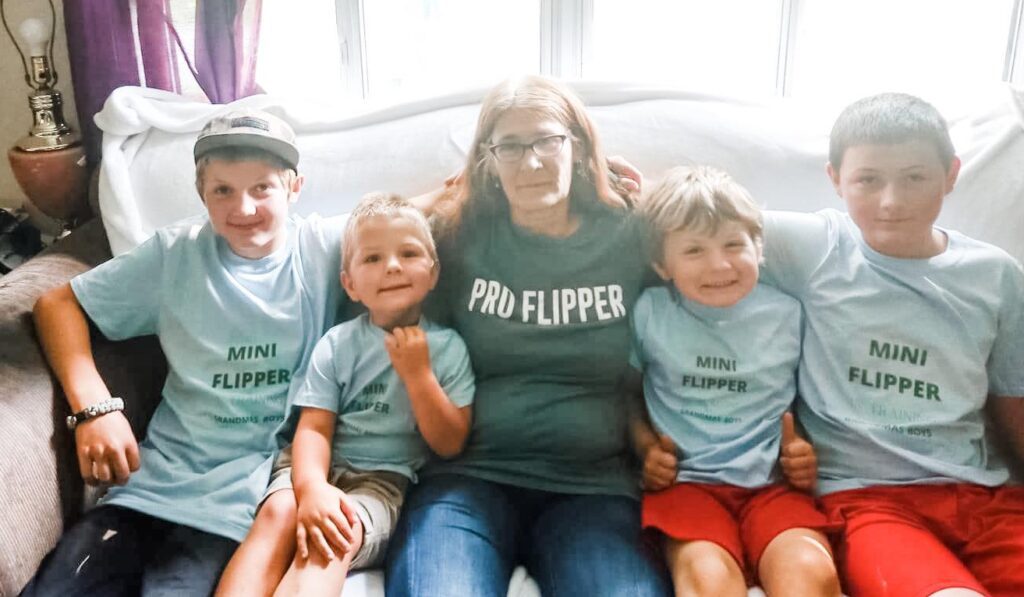 In the beginning
I decided to sell items from my home to get rid of old store stock and stuff I no longer needed.
At that time, I was just selling through local apps on a very small scale.
Stronger Together, my grandsons and I have learned from the course members group so many more flipping skills and we have graduated to selling on eBay, Amazon and Poshmark.
I started off very slowly since I wasn't sure what I was really doing, but in time, I was able to improve my selling techniques.
Now I have been on eBay and also continue to sell locally while creating my own Facebook groups to sell some of my smaller items.
I plan on expanding and selling more items once I clear out my storage units.
They are full of the basic items such as dishes, clothes, books, toys and other vintage items that the kids can help me sell.
Paying off $26K in Debt
A couple years ago, I had an old van that I was driving. Unfortunately, it got stolen, stripped, and they found it burned.
I was devastated as that was my only source of transportation and I needed to get my grandkids where they needed to be.
Not only was I violated by having my van stolen and burned up, It was an older van so the insurance company gave me very little money for it.
I was stuck between a rock and a hard place so I took out a loan for a reliable van for $18K.
Buying this van and taking out a loan for it solved my problems temporarily, but now I had debt to get rid of.
That was the beginning of my search to find a way to get out from under that van payment.
I wanted to free up money to give my grandsons so much more
With that said, my grandson's and I started focusing on selling larger items with higher profit margins (over $100).
I realized this would undoubtedly help me reach my goal of paying off my debt sooner.
After time, I started to view flipping as a source of income to help me accelerate my debt pay off. Every day, I continued to invest in learning with my grandkids by my side.
I knew that teaching them how to flip items had a two-fold benefit.
They would stay focused and distracted from their grief, and I could teach them a skill they would never learn in school and would be able to use over their lifetime.
Through this process, we have all learned that we are stronger together. We can lean on eachother in hard times and we can learn from eachother and support eachother.
Since Covid launched me into homeschooling my grandsons full-time, it was a perfect time to really accelerate my flipping since I was at home with them anyway.
I am happy to report that me and my grandsons have made almost 7k in sales and with this extra income, I was able to pay off two high interest debts and have only $1K left on my van loan.
I paid off a total of $26K in the past 20 months and should be debt free very soon
The skills I learned from the flipping group enabled me to consistently make extra money that I could use to pay double payments on my loans and this made my debt pay off so much faster.
Not only have we been able to pay off $26K in debt in 20 months, but we have been able to add in some fun also.
Since my grandsons had been through so much trauma, I knew that giving them a better life would include doing some fun things together.
This summer, we were able to take a trip camping to Niagara Falls in Ontario for two days and this was all possible because of the extra income from flipping.
We Have Become a Team and Are Stronger Together
Flipping has provided a lot of joy for us during a time of grief. Together each month, we put together a budget and focus on paying down our debt.
But, also within that budget the boys get to pick a trip that they want to save for.
This helps them stay focused on working towards a goal and also it's something fun to look forward to for all their hard work flipping.
It's a lot for these young kids to be doing, but they are succeeding at it.
What flipping has taught my grandsons in a short period of time, sometimes takes a lifetime for others to learn. Some never learn the value of money or how to work hard in life. I'm proud of how far they come in a short period of time.
We are stronger together and I can't wait to see what the future holds for us.
No Stopping at $26K
I'm pretty happy with what my young grandsons and I have been able to accomplish together.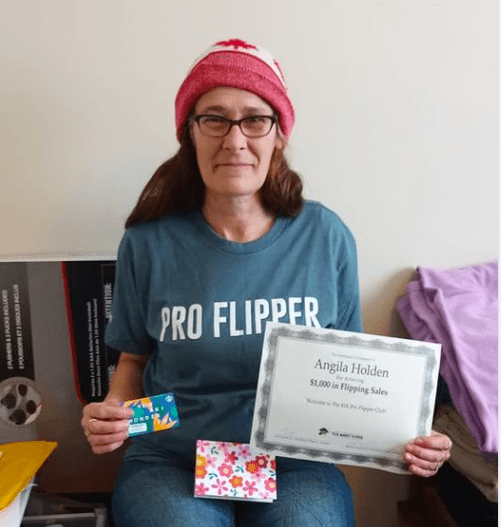 We have been able to reduce our debt, heal, and have some fun together mixed in with the work.
But not only that, my grandsons have learned the value of teamwork, sacrifice, and working hard to meet goals. And, we've been able to do this together.
I should be completely out of debt in 20 months. But, I decided not to be satisfied with just getting out of debt. I'm teaching my grandsons to set their goals higher.
As I continue to learn and get better at flipping, I would like to eventually make $8-10K per month.
That is enough to keep me at home and give my grandchildren a better life.
That includes traveling and spending quality time together. They totally deserve that.
Now that we all know we are stronger together, there is no stopping us.
Flipping Isn't All Rainbows and Butterflies
When I first signed up for Flipper University, we were all grieving and going through a lot.
But I just knew that being a part of a supportive community would help me stay focused on making extra income to reduce debt and give my grandsons something to look forward to.
And not only that, they would be able to keep their mind off what was going on around them while we worked together as a family.
There were days the grief got the best of us and I had little motivation. On those days, I would need a boost.
Rob and Melissa and the course members would help me stay motivated and take the steps I needed to make it all pay off in the end.
Since Taking on My Four Grandkids
There were and are times I have struggled with time management.
Sometimes it's hard to remain consistent with all that is going on and my full-time job taking care of my grandkids.
I fail at times to post new items or respond to posts while taking care of my daily activities with four kids.
But with the support of the flipping community, I have worked hard to keep consistent and I continue to make progress in my flipping business.
Since I live in Canada
In all honesty I was unsure if flipping was the right choice because most everything was focused on flipping in the US.
But I decided that I could figure out how to sell anywhere in the world no matter where I was.
There were a few challenges to get past, but I am pretty happy how it all turned out.
I have been able to flip pretty much full time while taking care of the kids. I totally believe that if I can do it, anyone can.
Covid definitely has slowed down with being able to get to my storage unit to get items since my storage unit and trailers were in lockdown. But now things are opening up again so it's full steam ahead.
Since I have the help of my "mini flippers' and a few close friends that have been a great support I know this is just the beginning of my flipping journey and I can't wait to continue to grow.
Thank you Angila
What an inspiring story of perseverance and healing and what an accomplishment to pay off $26K in debt in just 20 months! You and your grandsons are rocking it, Angila!
What about you? Do you have debt you want to pay off? Be sure and check out our free intro webinar to see if flipping might be a good fit for you.
FURTHER RESOURCES
Download These 47 Household Items To Resell TODAY!
FREE Workshop How To Turn Your Passion of Flipping Items Into A Profitable Reselling Business
RELATED POSTS
How This Working Dad Cut Off 5 Years From His Retire Early Date Because Of Flipping
How This SAHM Makes $1K/Mo Reselling Used Items On eBay
This Retired Couple Made $6,800 Their First 3 Months Of Flipping