25 Ways to Find $25 In Your Budget To Start Your Flipping Side Hustle Today!
Looking to start your flipping side hustle but are worried about the up front investment? Well look no further.
Here are 25 ways to find an extra $25 in your budget to get started flipping today!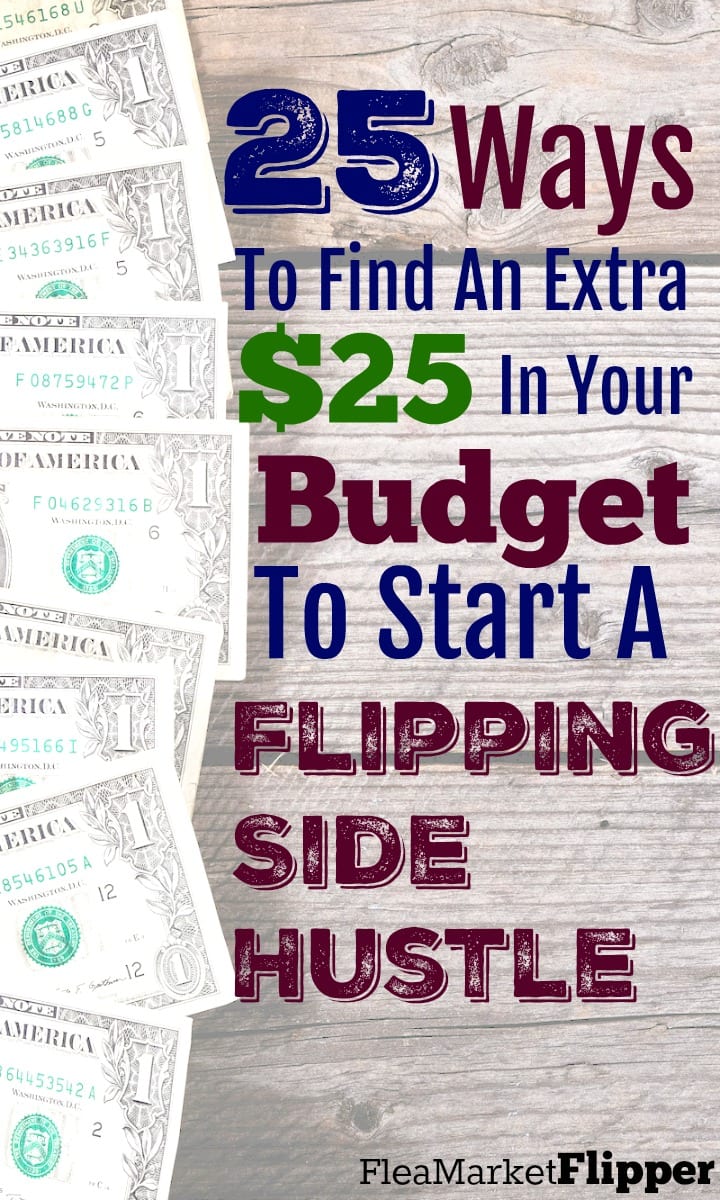 Have you ever noticed the pop-up ads circulating for work from home jobs? These ads are everywhere capturing people's attention.
There are literally thousands of work-at-home opportunities, all with the promise of making money working from home. Although some of these are legitimate opportunities, sometimes they are scams and may cause you to lose money rather than make it.
These work from home jobs may also have big start up fees with absolutely no guarantee to make any money. In fact, the national average to start a home business is $3,000 to $5,000.
We have seen a lot of people jump at these work from home opportunities with a hefty price tag to start, only to find out it didn't work out as promised.
Here is the honest truth about choosing flipping as your work at home job. You can start out with absolutely $0 money down. I am a veteran flipper buying and selling items since I was 16 years old. I have proved it over and over that you can start with no money and make a great living!
In fact, this year I started out in January with flipping a free item from the trash and since then I have turned it into over $95,000 of inventory. This isn't a work from home gimmick – this is the reality of the flipping business! I do this daily and you can too.
I recently took a poll with our Flipper University students in our coaching group and just as I expected, about 95% of the students who are making a good profit flipping started out with a free item. That translates to starting a very profitable business with NO money. The other 5% started with a very inexpensive item averaging around $25.
Why am I sharing this information with you? Because I want you to know creating income flipping is totally possible and it doesn't have to cost you a thing.
Think about this for a minute – YOU could start out with no money and no risk and create a profitable business. Imagine having enough money at the end of the month. Think about paying off your debt, saving for a vacation, or just having extra income in your budget.
Today is your day. I don't want you to wait another minute to get started so today I am going to give you 25 ways you can find $25 in your budget to start a profitable flipping side hustle TODAY! Let's get started!
1. Pack a Lunch.
With the increase in minimum wage, the average price for a lunch at a restaurant has skyrocketed. Just a medium sized burrito is around $9 – no beans or rice – just the burrito!
Plan your evening meals to have a little extra left over each night and pack it for your lunch the next day! If you take your lunch to work for five days you will save yourself $45 a week! Just think, by the middle next week, you could have enough money to start your flipping business.
Total Savings: $45
2. Stop Drinking Starbucks.
Now, I'm not much of a coffee drinker so this is not problem for me. But I do know people who drink at least one Starbucks a day and sometimes two! Our friend Stacy calls it "Five Bucks" instead of Starbucks.
Grab yourself a $10 coffee maker and a $5 can of coffee. Each can of coffee makes about 250 cups and will help you keep the cash in your pocket for flipping.
Total Savings: $35  
3. Cut Your Cable.
With all of the technology nowadays, there are so many affordable options for television entertainment other than an expensive cable bill each month. Netflix is a great option for $12.95 a month. The other option I have come to love is to shut the television off!
Melissa and I have started having "no television" days during the week and honestly, we get so much more done not wasting time on the t.v.! Not spending that wasted time with television has equated to extra money in our pockets.
Total Savings: $107
4. Shop for a Better Cell Phone Plan.
As you know, with our flipping business, a good smart phone and internet service is a must. But that doesn't mean I need to overpay for my cell phone bill. The average cell phone bill is around $80 a month.
There are some great services out there that have unlimited talk, text, and internet for as little as $30 a month.   Make the switch, save yourself money, and invest in your first item to flip!
Total Savings: $50
5. Walk Instead Of Drive.
I am blessed that my our kid's preschool is very close to our house. Instead of jumping in the car to drive the kids to school, Melissa and I will walk them to school.
We get some good exercise and fresh air and an added benefit is we save money on gas. Even if you saved two gallons of gas a week choosing to walk, that would be a $25 savings per month – More than enough to purchase something to flip (or even two items)!
Total Savings: $25
6. Skip The Convenience Snacks at the Checkout.
Retailers are some of the best marketers on the planet. Why do you think they have all of the candy and quick snacks right at the check-out? Because people (and kids) want to buy them!
With little kids in tow, it is very difficult to get past the check out without buying. If you skip buying an item when you go to the store three times a week, you might be surprised how much extra money you have!
Total Savings: $36
7. Cook Your Meals At Home.
As my family has grown, so has the cost of eating out. We have a difficult time leaving a restaurant without paying $50 for our family of five.
Think about stopping by your local grocery store and picking up $50 worth of groceries instead. The cost of this one meal could turn into several meals.
Skipping the restaurant meal and choosing to eat at home is a perfect way to find an extra $50 in your budget.
Total Savings: $50
8. Cancel Your Gym Membership.
If you've been around for a while, you know that I sell a ton of exercise equipment! People are willing to invest in the home gym so they don't pay out their monthly fee each month.
Monthly fees for gym memberships can really add up. Melissa and I also love to go for runs and walks in our neighbors. It's great to spend time together and it's free!
Total Savings: $60
9. Go to Redbox Instead Of The Theater.
Honestly, every once in a while, we enjoy going to the theater with our kids to see a good movie. But the price of one movie at the theater can really add up. The average price of a ticket is $7. That's $35 just for my family to see the movie.
Who can walk past the smell of the popcorn and not want to buy one? Let's be honest, the theater can cost you! Another inexpensive option for movie night is to rent a digital movie for $4 or choose a Redbox movie for $2.
This is a great alternative to get an immediate $35 to invest in your new flipping gig!
Total Savings: $35
10. Shop In Your Pantry – Not The Grocery Store.
Have you ever gone to the grocery store to buy something only to come home and notice you have two other packages of the same item in your pantry? It happens all the time.
Instead of running to the store and getting out your cash, sift through what you already have in your pantry and freezer and see if you can't put together four to five meals on what you already have. The national average grocery bill for a family of four is $146.
Imagine if you could skip buying groceries for a week and use what you already have tucked away in your pantry and in the back of your freezer. This savings would be more than enough to get you started making some great money flipping.
Total Savings: $146
11. Re-Evaluate Your Insurance.
Dave Ramsey always recommends this tip! There is usually a significant savings for the same coverage, even up to $500 a year!
We've known people who have called their car insurance as well and had the rates dropped as much as $200 a month.
It may not be this much of a savings for you, but more than likely you will find some savings.   This extra cash can come in handy for flipping!
Total Savings: More than $100 
12. Stop Paying Bank Fees.
Banks are experts at making money from customers. When you use an ATM that is not connected with your bank, there is usually a fee associated with it.
The average is around $3 per transaction from the ATM's bank. Along with this annoying fee will come another fee of $2 from your bank to complete the transaction.
Overdraft fees are another big money maker for the bank. If you have an overdraft, this can cost you up to $25! These fees can really add up!
A little extra planning for cash transactions and avoiding overdraft fees will save you big time!
Total Savings: $40 
13. Change Your Own Oil.
As you probably already know, car maintenance is a big budget buster. We have seen the price of oil changes as much as $70 per oil change.
If you are handy at all with maintenance, do your own oil change. This will save you about $35 to do it yourself – and even more if you have multiple vehicles!
Total Savings: $35
14. Drink Filtered Water.
Buying bottled water can be expensive and when you live in a hot climate like we live in, drinking enough water daily is necessary. A case of water is around $5.
Take a look at the prices from a convenient store! They are sometimes $3 per bottle.
A great money saving option is to buy a filter for your refrigerator or a filter pitcher. This will give you gallons of filtered water for pennies.
Total Savings: $25.25 
15. Ask For A Discount.
Asking for a discount is not foreign to us at all. In the flipping business, we are always asking if it's their best price. Why not do this wherever you go?
There are tons of discounts you could ask for – military, student, senior, nurse's, and law enforcement. You could also simply just ask, "Is this your best price?"
One of our students got $200 off a couch for her home by asking that question. If you consistently ask for a discount wherever you go, there is money to be saved!
Total Savings: $25
16. Buy On eBay, Not Retail.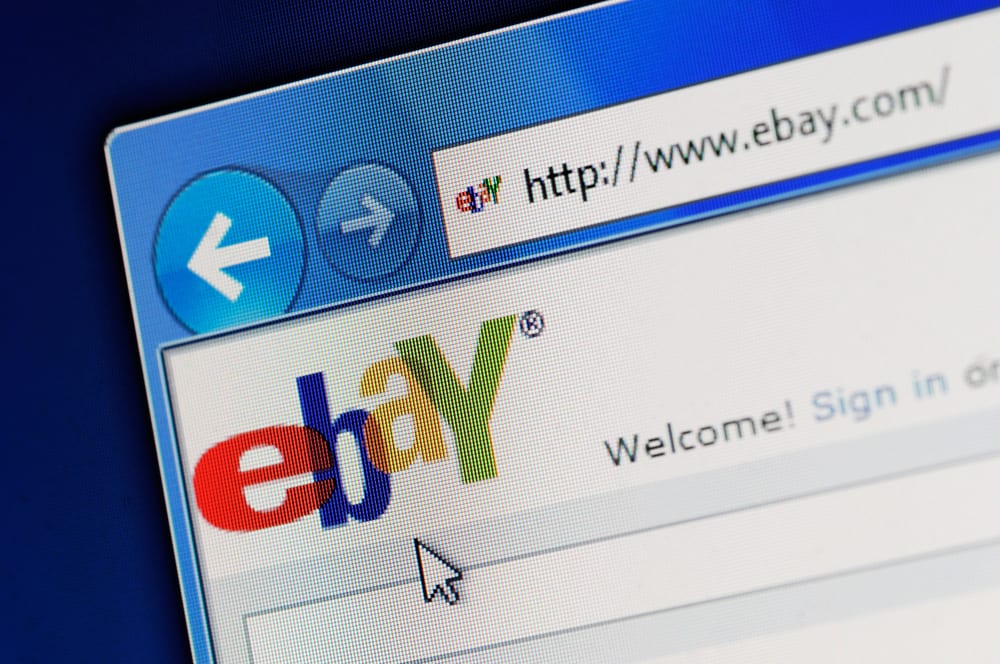 In the business that we are in, it's a way of life for us to not buy retail. We can often find the same exact item on eBay for 50% off the retail price.
This is a huge money saver for us. We can also find inexpensive items on local selling apps for a fraction of what we would pay retail. If you chose to try this even one time, you would save yourself money.
Total Savings: More than $25
17. Fix It Yourself.
People know my #1 way to fix things is YouTube. If I can't figure something out, a quick search in YouTube will usually give me the answers I need.
If you need to call any type of repair person to fix anything, it will usually be a $60 charge just for them to show up at your house.
That doesn't include the fee to actually fix the problem. Learning to use your resources will save you hundreds! Choosing to fix your own item even once will save big time!
Total Savings: $60
18. Switch from Premium to Unleaded Gas.
Premium gas can really cost you money at the pump. There may be some increased performance with the premium gas but the cost to your budget may not be worth it.
Premium gas can be as much as $0.40 more per gallon. If you are filling two 20-gallon tanks, that could be a potential savings of $16 a week! Make the switch today and re-invest in your first flip.
Total Savings: $64 a month
19. Cut Down On Drinking Alcohol.
Drinking alcohol can be an expensive habit. I am a nondrinker, but Melissa likes having a glass of wine every now and again.
The national average cost for those who drink alcohol is about $565 a year. I could think of a hundred ways I could use this money for flipping!
Think about cutting out your alcohol for a month and re-invest that money into a flip.
Total Savings: $47 a month 
20. Clean Your Own House.
We understand more than anyone how easy our house can get out of control. When we are busy with our business, our house is the first thing that suffers.
It's tempting to hire someone to help us keep it clean. But when we calculate the cost, we always decide it's better for us to take the time to clean it ourselves!
The average price to pay a house cleaner is about $20 an hour.   Saying no to the cost of paying someone to clean and doing the job ourselves is a much better deal for us.
We then re-invest the money we would have spent into an awesome, money-making flip!
Total Savings: $80
21. Share A Meal.
Have you seen the movie, Super Size Me? We are in a culture where more is better. Eating large meals does nothing for our waistline or our budget. If you go to a restaurant, split a meal a couple of times. That cuts your restaurant bill in half and that savings can add up over time. Think about sharing a meal for the next month and while you're sharing a meal, surf OfferUp to find a great item to flip! Total Savings: $30
22. Drink Water Instead Of Soda.
Have you seen the prices of soda on the menu? We will usually see the soda prices at or about $2 per soda.
When we all go out to eat, this is an extra $10 added to our meal. If you go out once a week, that could add up quick.
Try ordering water instead of soda and stash the extra savings for your next trip to the flea market!
Total Savings: $40 per month.
23. Take Advantage Of Ride Sharing.
Sharing a ride with someone else is a great way to save big on gas and car maintenance. With a little extra planning, you can keep extra money in your pocket.
There are a lot of different ride sharing groups at your work place. You can also do some research yourself by asking around to your co-workers who might live close to you. Imagine not driving to work at all for one week!
Depending on far your work is from you, it could add up to be a big savings, possibly even cutting your gas expenses in half. Think about having that money in your pocket for your next yard sale trip.
Total Savings: $100 a month.
24. Make Non-Traditional Meals For A Week.  
Dave Ramsey always says to eat sandwiches and salads a couple nights a week – your family will survive!
If you are wanting to start out flipping and you have a goal to start right away, choose an unconventional, inexpensive dinner for a week.
Have sandwiches, salad, or rice and beans for a few nights. It's inexpensive and everyone in the family really will survive the one week sacrifice to find $25.
That $25 sacrifice has the potential to make you hundreds in income!
Total Savings: $25
25. Sell Something.
I couldn't resist. This is actually the easiest thing for you to do to start your flipping hustle.
Take a look around your house and if there is anything that has been sitting for six months to a year will most likely never be used by you.
Just because you aren't using it, doesn't mean there isn't someone out there who may have a use for it! Snap a couple photos and throw it on Facebook Marketplace or OfferUp.
Even something small lying around could easily bring in $25. This could be the beginning of your new financial freedom!
Total Savings: At least $25
Maybe you have been at a loss on how to get started making money. Maybe you have always wanted to flip, but didn't know where to begin. Today we shared 25 ways to get started with your flipping side hustle. If you choose one of these today, you could be well on your way to flipping for profit by tomorrow!
Resources
Want to fast track to making an income and start your flipping side hustle now? Check out our FREE intro workshop to see if this is a good fit for you!
Download these 5 mistakes resellers make that could be costing them money to make sure you avoid doing the same! (This will also add you to our flea market flips and eBay tips newsletter. You can unsubscribe anytime.)
Related Posts
How We Flipped A Chair From The Trash Into $57,000 In Inventory In Two Months
9 Reasons Why Flipping Flea Market Items Items For Profit Is Recession Proof
What We Flipped To Make $7,080 In One Week Of Flipping Items From Offer Up
25 Ways to Find $25 in Your Budget to Start Your Flipping Side Hustle Today!