Does getting negative feedback get you stressed? You've worked so hard to build up the number of feedback stars and keep it at 100% and all of a sudden someone leaves you negative feedback! You might panic for a minute, knowing that you no longer have a perfect 100%, but then what? Is there anything you can do?
I am here to tell you YES! There is absolutely something you can do about it.  I am going to give you a couple of things you can do before you have to get upset about negative feedback. Unless of course you actually deserved it for being dishonest in a listing. Then my friend, you are on your own. But, I am assuming since you are hanging out with us that you are an honest hard working person who either had a misunderstanding with a buyer, or maybe you had an  newbie purchase your item. Sometimes people new to eBay don't know all the rules or proper etiquette, and might give you negative feedback for something so minor that could have been resolved if they had just told you about it. Some people don't understand the amount of weight put on the feedback remarks from eBay. It is higher than any other online seller's rating. If you see a person with 97% on Amazon does that stop you from buying the item? What about eBay? Does that same 97% help you go through with the purchase, or make you stop and think if you should continue?
Just recently we had an experience with an  newbie who left negative feedback. It is a bit funny because we sell items for a couple hundred or thousand dollars usually, and she left me negative feedback for a $30 item. One of my star shower lights. She bought it for a Christmas present and once she received it she shipped it overseas to a family member. I noticed the negative feedback about a week after Christmas. She never tried to contact me before she left me feedback. If she had, I would have offered her a refund for the broken light. (I tested it before I shipped it, so I am not exactly sure why it didn't work.)
This brings me to the first way to get negative feedback removed:
Contact the buyer and try to rectify the situation.
It may sound obvious, but a quick e-mail may be all that it takes to get that feedback fixed. If the item is broken you can offer a refund in exchange for them taking off the negative feedback. You can do a full refund in two ways: where they get the money back but have to ship the item to you, or they keep the item and get the full refund. This will depend on the cost and size of the item. For the Star Shower, I offered her a full refund and she could keep the item. It was only $30 plus shipping (and I paid $7 for it), and it was overseas now, so I knew shipping it back was not likely. If it was a larger priced item I would have offered a full refund, and they pay to ship it back. Now, if the item is damaged in shipping, that is a whole other issue. That is an insurance claim through the shipping company,  so nobody will lose out money in that situation.
If the item is 'not as described', and the buyer thinks it is in better condition than it arrived in, you could offer either a partial refund, or let them return the item.  This is why taking good pictures is essential. You should take good pictures with a solid background and good lighting to show off your item, but you should never try to hide any imperfections. Take an individual picture of any stains, rips, tears, missing pieces etc. If you do this then you drastically reduce people who would be unhappy receiving your item. You want your customers happy! You are a business owner, and you want to have great customer service. With that said, there will always be people who try to take advantage of the situation. Some people always looking to get something for nothing. These people are a small percentage of my customers, but they are there. I work with them the best that I can, and if we can't come to an understanding, then that brings us to the next step.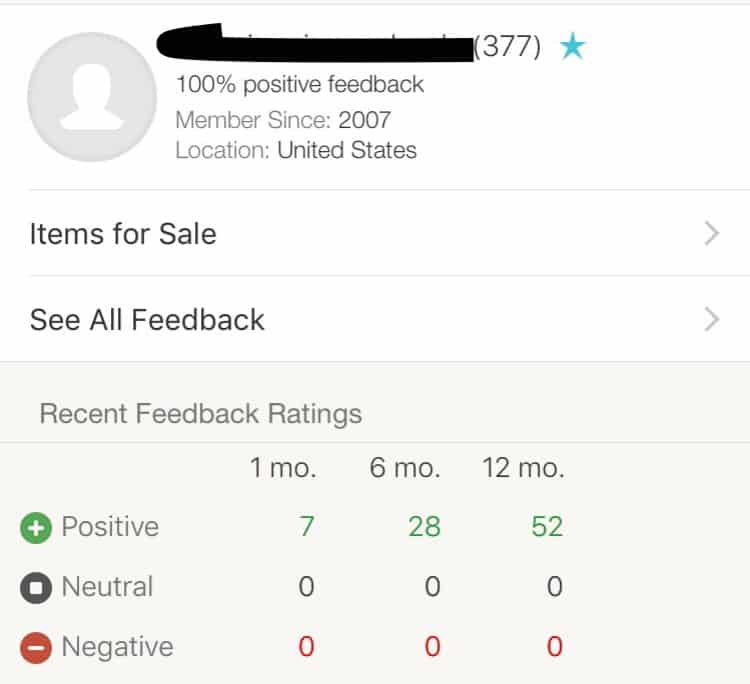 Call EBay to Get Them To Rectify The Situation.
If the buyer doesn't respond to your e-mail, the next thing to do is call eBay and ask for their help. Explain the situation to them: How they gave you negative feedback before contacting you, and you want to make the situation right to get the feedback taken off.  This one can get tricky sometimes because it might involve calling more than once. If the first time you don't get someone that will work with you, than just call back a little bit later. The call center that deals with feedback seems to have a little more knowledge and ability to help than just the normal eBay customer service.
Always be polite to the agent and state your concerns. You're a lot more likely to be successful if you are nice, than if you get angry and show frustration with them. Believe me, I have tried both ways.
Be kind, and be persistent. Think about a child. The first time they ask for something and the answer is no, it's no. The next time, it's still no. The third time the parent is thinking about just giving in because they don't want an argument at the moment, and the next time it's a win for the child. I am not saying it will take 4-5 times to win our case. I am just saying to not give up if it seems like they can't help you. Some agents have more experience than others and know exactly what to do and how they can help. Keep calling back until you get one of those people. 🙂
EBay Customer Service Number:  1 (866) 540-3229
How to Prevent Negative Feedback
While you will never be able to prevent it fully, there are a few things you can do to lower your risk of receiving negative feedback in the beginning.
–Be completely honest with your listing. Never try to make an item sound like it is in better condition than it is. You can state all the good things about the item, but you also have to state all the imperfections so the buyer has realistic expectations.
–Take great pictures. EBay allows you 12 pictures. So be sure to use as many of those as you can to show all sides of the item, and any imperfections that it might have.
–Communicate with your buyer. If your buyer asks you a question, be fairly quick to respond. Don't let it go days without responding or they may get upset if they can't get certain info from you. They might have paid you and are wondering when the item will be shipped. If you don't respond they think you are not sending it! Which brings me to my next point:
–Ship items promptly. Amazon items can be delivered in 1-2 days typically (and sometimes same day!), so fast shipping is going to help your buyer want to give you positive feedback. I write in my ads will ship in 2-3 business days and try to get them out sooner. That way I have given myself enough time, but they buyer knows I shipped it fairly quickly (They get an e-mail notification once the shipping label is printed).
–Give positive feedback. You can give positive feedback to buyers as well as they can to sellers, and it can help encourage the buyer to give you positive feedback as well. The one difference in the seller/buyer feedback is that sellers cannot give buyers negative feedback anymore. Only buyers can to sellers. It is not really a fair deal if you ask me. Some buyers are tough to work with and deserve to be warned about and have negative feedback (such as non paying bidders). EBay changed this a couple years ago because so many people were giving each other negative feedback. I am not sure this made the situation any better, because it gives a lot more power to the buyers, and they know it. So now as sellers we just have to be more proactive to give the buyer a good experience.
If you are new around here, thanks so much for stopping by! I buy and sell used items from flea markets, thrift stores and yard sales and have been doing it for over 20 years. Last year was my biggest year by far, tripling 2015 totals and coming in at $133K for the year! I would love to offer you a free pdf list on the 4 Tools That I Used to Turn $40 into $1,000. This will also add you to our flea market flips and eBay tips update list. You can unsubscribe anytime.
We also teach an online course on how to buy and resell items for profit. Check out more info on Flipper University.
We Want To Hear From You!
Have you been able to fix negative feedback on eBay before?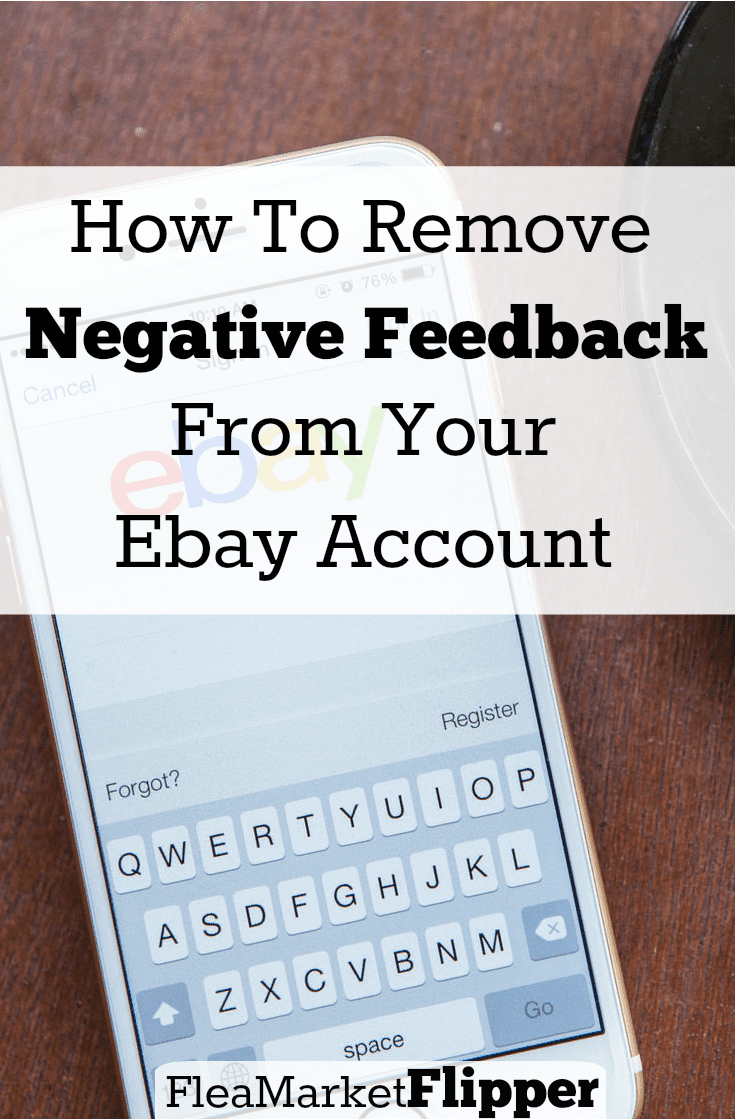 Copyright: 2nix / 123RF Stock Photo