This post is a sponsored post. We do not endorse any services or products we don't align with or use ourselves. This post also contains affiliate links. You can read more about our affiliate disclosure here.
For the past 24 years, eBay has pretty much been our bread and butter. Almost 90% of my sales are made on the eBay platform. I really have not had a huge desire to sell anywhere else. But to my surprise, I was super stoked to hear about Vendoo when they spoke at the Reseller Summit this year!
This Vendoo Review will help you decide if it is right for you.
And it got me thinking…
Do I need to be listing my items on other platforms and, "Do resellers really need a cross posting tool?"
And the short answer to that is a big "Yes!"
Why? Over the past several years, I've seen sellers get shut down on multiple different platforms for a variety of different reasons. It's rare, but it can definitely happen and you don't want to set yourself up to be holding the bag if that happens to you.
So I recommend cross listing and cross posting on as many different platforms as possible.
I Look At My Business Like Investments
Would I put all of my money into one stock? Well, no that would probably not be too wise. The name of the game for investing is diversification.
And reselling is no different. Using multiple platforms for reselling is wise! So why don't most people do it?
Because it's time consuming!
I was pretty stoked when Josh from Vendoo came and shared at our Reseller Summit about their cross posting tool. The ease and the simplicity of using it is amazing!
So we jumped in and so did a lot of other resellers.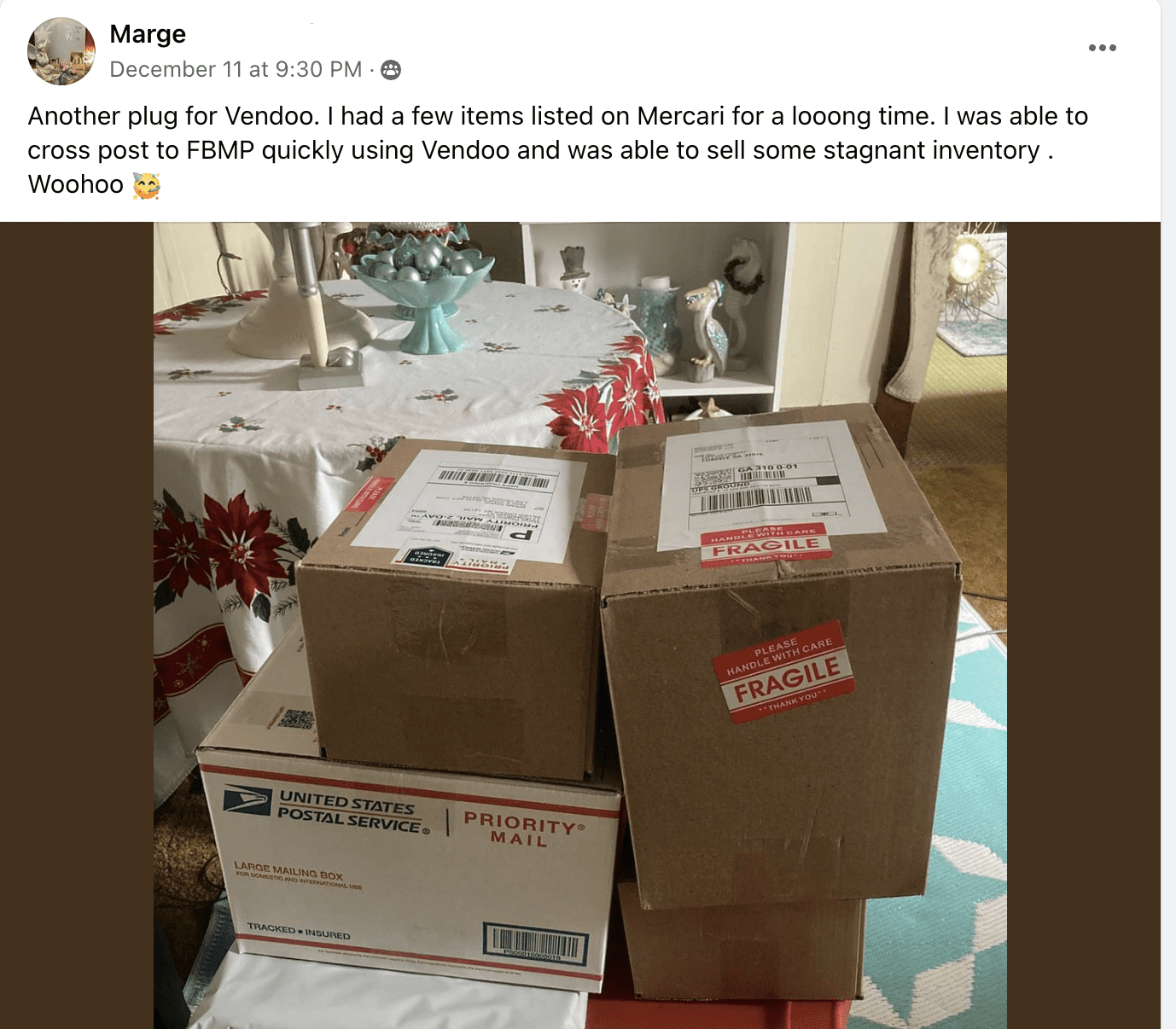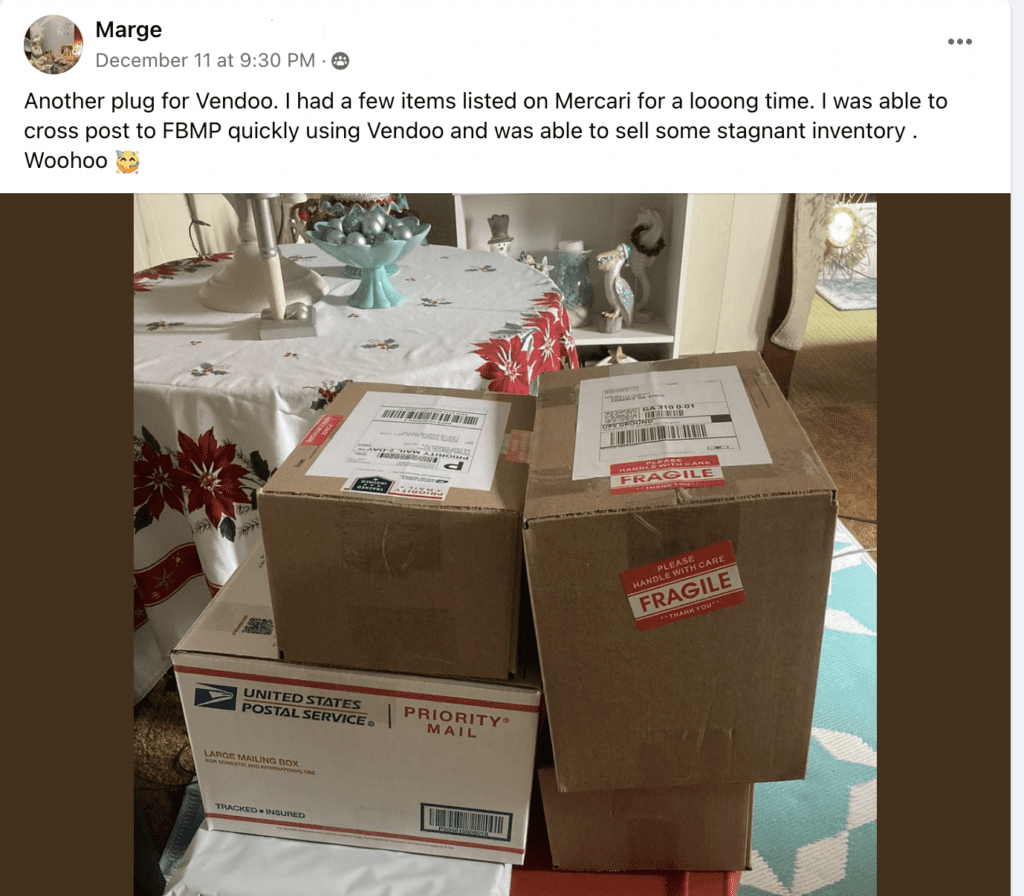 I have to admit it, I like simplicity and anything complicated or time consuming won't be something I will be using. And that is one of the reasons why I don't do a lot of cross posting on a regular basis – it takes too much time!
But let me tell you, the Vendoo tool is awesome and it's been working great to get my items listed with ease on other platforms.
So let's get started.
So What Exactly Is Vendoo?
Let's answer this first question. If you are like me, I hadn't heard of Vendoo before our Reseller Summit.
Vendoo is a cross posting tool for online sellers. It's a one stop shop so to speak. For me, I currently have most of my items listed on eBay. So it was an easy transition for me to jump into Vendoo and get them cross listed on other platforms.
When I signed up for Vendoo, I could easily import my listed items from eBay into Vendoo's cross listing tool. I could pick and choose which ones I wanted to upload into my inventory to be listed.
From there, I could choose which platforms I wanted to list on. Because of my business model, just three platforms were going to work for me – eBay, Mercari, and Facebook Marketplace.
Most of the listing info was already pre-loaded from my listings on eBay. I only had to make a couple tweaks to the cross posted items I wanted to list, and with one click, I had it listed on Facebook and Mercari!
I was able to do cross posting of my items from eBay into Mercari and Facebook with ease and it didn't take me long to do it!
That's the amazing thing about Vendoo! It's a time saver and I was able to manage my inventory and cross post all the items in a short period of time.
Can I Use The Vendoo Cross Listing Tool On My Mobile Device?
Vendoo is currently working on getting the phone app up and running for your mobile device. Currently, Vendoo is used with google chrome on your laptop or home computer.
You can still sign into Vendoo from your phone and see your listings and your inventory. It's also easy to list on the Ebay and Etsy platforms from your phone. Any other platform that you want to list on will need to be done from your computer or laptop.
Vendoo is working on rolling out the app for your phone and that's coming in the near future!
Is There A Cost To Vendoo?
Yes and no. You can use the free subscription for Vendoo up to 5 listings a month. With those 5 listings, you can use all of the other features, like relist and delist and multiple platforms at no extra cost.
However, if you are a seasoned reseller or plan to be, that subscription will probably not be sufficient.
There are multiple packages that you can choose from starting at $8.95 for 25 listings a month. You can go all the way up to $149.95 for 4,000 listings, depending on your business model.
To me, the cost is minimal. I look at it like my personal listing agent! For a small amount of money per month, I can use this tool to get my items on other platforms and it's well worth it to me to pay the fee.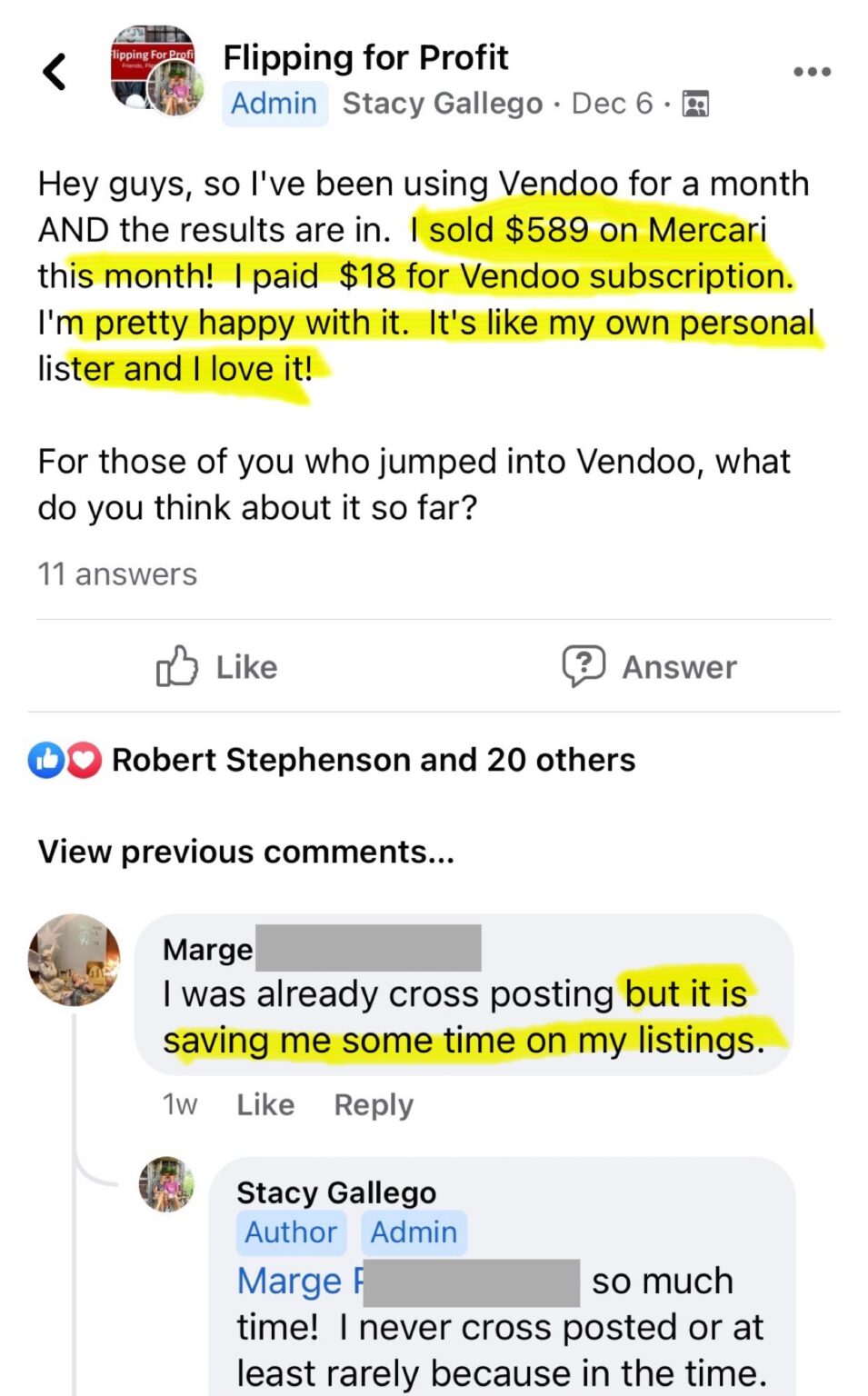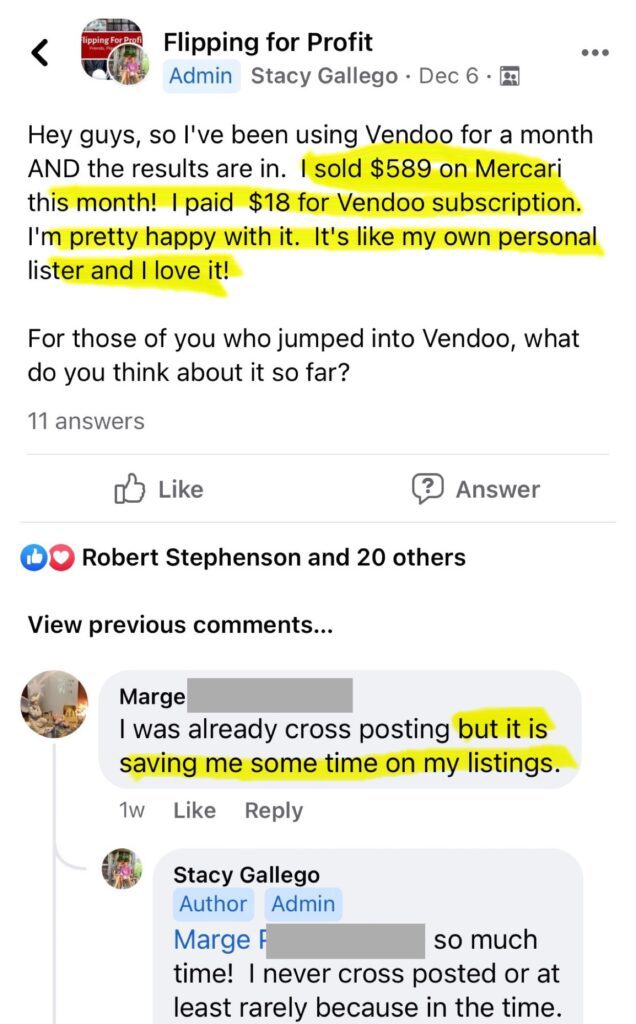 If I can add my listings to other platforms with ease and with little time investment, that's an investment that is well worth the money.
It is also easy to move between plans. If you find that your plan didn't provide enough listings for the month, you can easily move to a higher tier, or just add on 20 more listings for $2.95 a month.
It's totally a la carte which I really love! I can decide what I need each month.
Do Unused Listings For The Month Carry Over To The Next Month?
The subscription for Vendoo's cross listing tool is month to month and the leftover listings do not carry over.
However, there are ways around this to make sure you get the most bang for your buck. You can go into the software and create "drafts" near the end of the month so you don't lose the listings. That draft will just stay in your inventory until you decide to do the cross posting of the item on the other platforms even into the next month.
This smart hack will make good use of your unused listings that can be used for the next month without losing them.
What Is The Delist And Relist Feature And Is It Worth It?
The thing I really liked about Vendoo is I could easily customize the subscription to fit my business model. The one feature I really liked and added on to our subscription for $4.95 a month is the Delist and Relist feature.
First, let me explain what it is. The Delist and Relist feature can be used to delist your entire inventory or just a few of your listings within the Vendoo software. Once you click delist, the Vendoo software will delist those chosen items across all of your platforms.
This feature has a couple of benefits that I found useful.
If you have your items listed on multiple platforms and the item sold on one of those platforms, you can go into the Vendoo software and tell it that your item has sold on eBay (or another platform). With the delist and relist feature, Vendoo recognizes the sale and will automatically delist your items in all of the other platforms.
This takes a lot of work off of me to have to manually go in and delist the items from the other platforms when they sell. Again, Vendoo's cross listing tool is doing all of that work for me.
This keeps you from selling that item on other platforms when it has already sold and keeps your inventory up to date. Love this feature!
The second benefit to this feature is that when you have had items listed for a while and they get stale, with one click you can delist and relist your entire inventory or pick and choose which items you want to delist.
Here's The Cool Thing
When you delist in the Vendoo software, it doesn't just end the listing and then relist it. It makes a whole new listing with a new URL. This means it's a brand new listing and with that, you will get a lot more traffic as eBay and other platforms recognize that this is a brand new listing!
You may be worried about losing watchers and this may be something to consider if you are like me and sell mostly unique, hard to find items. However, if you sell bulk, smaller items, this is a great way to get more eyes on your items to get them sold.
Often times, platforms will even feature new listings on their homepage and it will start to get some new traffic and many times a sale! We love this feature because it's one step. When you delist, it will delist from all of the platforms and the same goes for relisting. You can pick and choose which platforms you want to relist on and Vendoo does the rest for you.
For $4.95 per month, we find the delist and relist feature to be well worth it to keep a handle on our inventory on multiple platforms.
Does Vendoo Have Inventory Management Benefits?
Yes! Now this is definitely Melissa's area of expertise. I don't do any of the back office stuff with our business, but she does and let me tell you how excited she was by their inventory management benefits.
Vendoo will keep track of all of your sales, how much the item costs, fees, and shipping of our items. At the end of the year, I can just create a report by downloading a CSV file with all of that information.
It is easy to click and drag this download into either Excel, Quickbooks, google sheets, or any software that creates a spreadsheet. It keeps me from having to input all of these items manually.
Vendoo Does The Work For You
Vendoo also provides me with business analytics about our items that I sold and what I have listed. It will calculate my profits when I let the software know the item sold and on what platform.
Vendoo also gives me valuable info about my sales including top performing categories and average sales price. This is available for md to view at any time.
My inventory on Vendoo is totally personalized. I can even assign labels to the inventory to organize it. Melissa is in heaven! She's the more organized person and loves benefits that make her job easier!
What Reselling Platforms Are Integrated With Vendoo?
Vendoo currently is integrated with 9 platforms: eBay, Etsy, Poshmark, Mercari, Depop, Grailed, Tradesy, Kidizen, and Facebook Marketplace.
These platforms are currently up and running with the Vendoo software and you can easily cross list your items to any of these platforms.
With any of the Vendoo subscriptions, you will have access to three of these platforms which will be included in your subscription price. For me, I will use eBay, Mercari, and Facebook Marketplace for the time being. Those are just the best platforms that work for my business model.
If you want to have access to more than three platforms, you can do the "all marketplace" add-on to your subscription for $4.99 a month. This gives you access to cross posting on ALL 9 platforms!
Totally worth it if you want to cross post your items on multiple platforms.
I Don't See My Favorite Reselling Platform On Vendoo. How Can I Get My Favorite Platform Integrated?
Here is the really cool thing about Vendoo. It's completely led by the feedback from the customers.
So how do they know which platforms to integrate next? By the customer feedback! You are the customer. If you have a favorite platform that is not associated with Vendoo, continue to message Vendoo and give them feedback on your favorite platform.
The more they hear about one platform or another, that will be the deciding factor on what they work on next.
Currently, they have gotten a lot of people contacting them regarding Shopify. So guess what? Shopify is currently being worked on and it should roll out in January 2022.
It's just that easy. So they truly listen to the customer!
What If I Have Questions? What Kind Of Customer Service Does Vendoo Have?
That's a great question. There is nothing more frustrating than when you have a question about something and you can't get a quick answer to.
If you have questions, you can email their customer support and I've gotten very quick answers to my questions through their emails. If I can't get my question answered, I can schedule a quick zoom with one of the Vendoo reps. They will walk me through whatever questions I have to get the problem resolved.
You can also contact Vendoo through Instagram, Facebook and they also have a "Help" button on your account page with a live chat option from 8 am EST to 11 pm EST. You can chat with them during those hours and get your questions answered quickly!
They also have a Vendoo facebook group which is pretty awesome!. There are many people in the group who are currently using the software and can answer questions. They also have a moderator who monitors all the questions and makes sure they get answered.
Vendoo also has a good number of "How to" videos on their website for many of the frequently asked questions. They are short, one to two minute videos that give a lot of good information. I suggest you go through some of those to get your questions answered quickly.
So far, we've had a great experience with our questions through their email customer service. Our other course members who are new to the software and have questions have had good experiences too.
Ok, We've Heard The Good, But What's The Downside
With everything, there are always some negatives. The same goes for Vendoo. There are a couple of things that are in the works that the software doesn't have the ability to do yet.
That's ok, because they are letting us know they are actively working on these things.
Listings with Multiple Items
At this point, Vendoo does not have the capability to keep track of multi-item listings. It will not update in the inventory as a listing with multiples. If you go in and say the item is sold and you still have more of that item remaining on the listing, it will still delist it from all the platforms when you mark it as sold.
For example, I have a listing on eBay with three identical water filters. I sold one, but there are two remaining that are still for sale. When the first filter sold and I went in to the Vendoo software to tell it I sold one, it would have automatically delisted my item from all platforms even though I still have two left.
To get around this, I just keep the item on Vendoo as a live listing until all of them have sold. I will keep a running total in the notes on the item listing in Vendoo of how many I have listed across all the platforms. This helps me keep track of how many I actually have. That way, I can keep this item up to date in Vendoo.
When I sell my last one, that is when I go into the Vendoo software to let it know I sold the item. It is then that it will get delisted from all the other platforms.
Vendoo is currently working on getting the software to have the ability to have multiple items in a listing and then keep track of the inventory portion. But it has not been released yet!
Some Items Do Not Delist Automatically When I Update Vendoo That My Item Sold
I have recently had some of my items not automatically delist when I put into Vendoo that the item has sold.
From what I can gather, when you mark the item as sold in Vendoo, you have to be signed in and connected to that platform it sold on at the same time you tell the software it sold. Sometimes I jump onto Vendoo when I am not signed in to Mercari, and when I update the software, it will not automatically delist.
This is just a glitch that they are aware of and are working on. For me, I just know I need to remind myself that I will need to be signed in when I am marking my items as sold. That way, Vendoo will do the work for me in getting my item off of the other platforms.
I've Decided Vendoo Is Great For Me. How Do I Sign Up?
Super easy! You can register here on the Vendoo website. (Use the code FLIPPER30 for 30% Off your first month!) There you fill out the information to register for a new account. It will take you to the subscription section where you choose the subscription that best fits your needs. 
After choosing your subscription, you can go to the bottom of the page and add any "add ons" you would like to specialize your subscription, to fit your business model.
So easy! Each month on the day that you sign up, if you have your credit or debit card attached, it will automatically renew for you each month.
So there you have it. This is our full review of Vendoo. Even though there are some things Vendoo is not yet able to do, the cost, ease, and value of the software to date has been well worth the investment!
We highly recommend Vendoo to diversify your listings and get more eyes seeing your items. The more your items get seen, the more you will sell. The more you sell, the more money you make. It's that simple!
If you want to dive deeper into questions about Vendoo, we were able to talk to the founder Josh Dzime-Assison back at our Reseller Summit and he answered EVERYTHING!
Check out the interview below:
So register for your Vendoo account and start cross posting the smart way!
FURTHER RESOURCES
Download These 47 Household Items To Resell TODAY!
FREE Workshop How To Turn Your Passion of Flipping Items Into A Profitable Reselling Business
RELATED POSTS
How This Band Teacher Paid Off $120K in Student Loans By Flipping Shoes
How This Grieving Family Paid Off $26K Of Debt By Flipping Items
This Retired Couple Made $6,800 Their First 3 Months Of Flipping