I am very excited about writing this post today! I just came out with my very first eBook! It's more of a guide than a book, as it is informative, but not overwhelming. (It is 17 pages to be exact).
I have noticed over the years, some people don't have a lot of extra capital to start buying items to sell. I didn't want this to stop them from being able to make a profit. I have been able to make money with items that I was able to get for FREE, so I wanted to show others that they could do the same.
This eBook covers 5 ways that I am able to get free items to sell for a profit online. I am pretty excited about it, and how it is going to be able to help others be able to make some extra money – even when they don't have much to invest to start out.
This book might be for you if any of the following apply: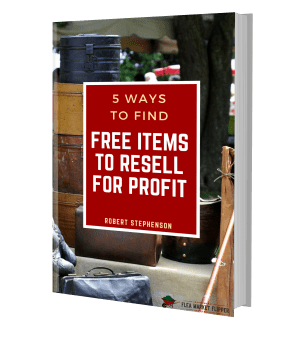 * You have an interest in buying and reselling items to make some extra money.
* You would like to start out with minimal investment.
* You have used eBay in the past and are interested to start back.
* You would like to learn to use eBay, Craigslist, Facebook, and Offer Up to sell items that you find. (this pdf does not cover all the details of selling, just briefly discusses it.  Our Flipper University course covers, finding, buying, selling, and shipping- you can check that out HERE.)
* You or your family could use and extra $100, $500, $1,000 per month or more.
Grab the guide for $9.99!       
I would love to hear from YOU!
Do you currently buy used items to sell? If you do, do you sell them on eBay, craigslist, Facebook, or other online platform?