We've flipped quite a few valuable items that we've pulled out of the dumpster over the years. Honestly, we've got a lot of love and hate for doing it – of course the hate is from internet strangers who don't fully understand what we do. But the fact is commercial and small businesses throw out a whole lot of great inventory right into the dumpster. That's why recycling equipment has become a great avenue to take in any flipping business!
Free inventory makes any flipper happy! We've been able to flip quite a few valuable items over the years doing this.
But wait until you hear what one of our course members, Jonathan, has been able to accomplish with his flipping business!
Jonathan has made many contacts on the commercial side of businesses and has rescued hundreds of pounds of recycled equipment from businesses dumpsters – to the tune of $8K per month! This means he is 100% making an amazing living solely taking people's recycling off their hands and reselling it online!
We are so happy for Jonathan and the solid business that he's been able to create. By intercepting valuable items that are destined for the landfill, his dreams are coming true!
I hope you are as inspired by Jonathan's success as I have been!
Making Money by Thinking Outside the Box
My name is Jonathan and I have lived in Atlanta, Georgia all my life. I did do a brief two year stint as a missionary in Argentina. I consider myself to be an entrepreneur, having been self-employed the majority of my life.
At 41, there have only been six years of my life that I have worked for someone else. Four of those years were working a summer job at Taco Bell.
As a side note, when I worked at Taco Bell, it was during the '96 Olympics. I was able to meet several dream team members. They were staying at a hotel near the store, including David Robinson, Karl Malone, and John Stockton.
If you ever want a laugh, watch a 7-foot center get in and out of a regular sized Toyota! It was incredible!
I have owned, sold, and continue to own several businesses. I am always looking for new opportunities
There were so many companies around my area that I started noticing were throwing out a large amount of perfectly good (and very valuable) items.
These companies would have overstock items or left over products after they finished commercial jobs. They wouldn't have a use for them, so they were finding their way to the dumpster outside these businesses. It seemed to make sense to toss them and take the loss and tax write off.
I started thinking I could help them with recycling equipment instead of disposing of it in the landfills. The company could still take the write off and save money on their garbage fees. But better yet, I was able to make money getting inventory that I didn't have to pay for.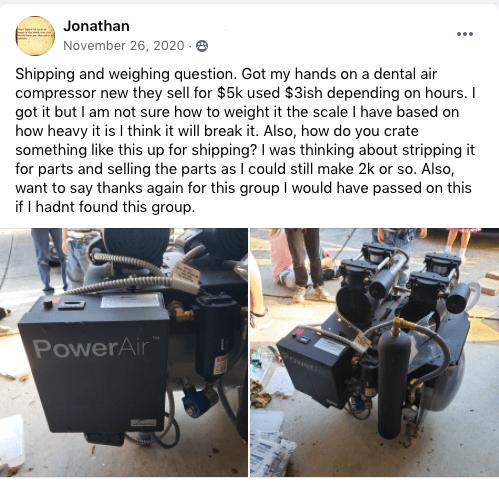 Making connections with business owners and computer places was important. I started introducing myself and offering to help take some of their "garbage" off their hands. This opened up a lot of doors for me and I have been able to get a lot of free inventory from them.
I was finding I was making a lot of connections and getting some valuable items to flip. But, before I had the proper training, I was finding myself passing on a lot of these opportunities. This was because I didn't have the knowledge on how to ship or price the items.
Why Flipper University?
Breaking into the commercial recycling equipment business wasn't easy, but I had some luck with it on a smaller scale. I had a little experience selling on eBay, but not to the level I wanted to take my business.
Starting out, I found I was being held back and really struggling to figure out what to source. I didn't know how to price items for selling, and didn't have shipping knowledge.
So when I saw a Facebook ad for Flipper University, I realized this course was something that could help me solve my shipping, sourcing, and pricing fears. I purchased it and jumped in.
Since I have gone through Flipper U and been connected to the Facebook group, I've been able to find the necessary help with shipping and pricing. I have also managed to expand my repertoire of sourcing. This has been a really good benefit to my business. 
As an example, I grabbed a nice mini pool table on trash day that a homeowner had set out with pool sticks, balls, etc. I never would have stopped and grabbed something like this before, but because I now knew it was valuable, I picked it up and flipped it for $220! 
Not too bad considering it was someone else's garbage and I didn't pay anything for it.
I have been able to make some great contacts with commercial sources to recycle their unneeded inventory
Because of what I have learned through the flipping group I have been able to develop an eye for valuable items. I get these items from large trash day and other friends and acquaintances who have things they no longer want.
It's a win-win for everyone.
Learning the Art of Recycling Equipment
I have been involved in numerous mastermind groups and business/entrepreneurship facebook groups. That's just part of how my mind operates as an entrepreneur. I like to be around people who can give me ideas and help me expand my business.
I'm always looking outside the box and dreaming up ways to make extra money.
Two of my friends from those groups had been doing variations of reselling for the past 20 years. They both had always worked with commercial warehouses, distributors, and manufacturers. They have now been mentoring me and helping me get into the commercial recycling equipment business.
If there is one thing I've learned, it's not to be afraid to ask others for help or tell others what you do. Networking is so important in any job/industry. It has helped me learn to get better at this business and also helped me attain great commercial inventory to sell.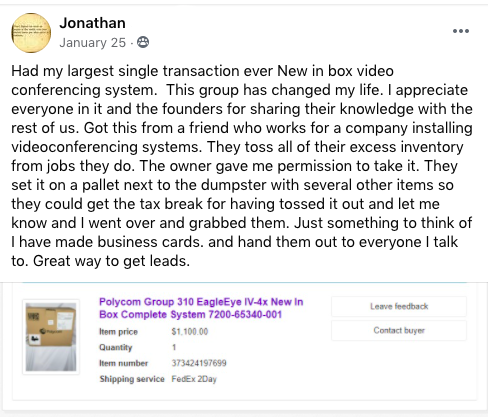 Making friends with these two people, and learning from them has really helped me get so much better at making connections. Now I am more comfortable talking to people and presenting my business to people who have access to free inventory that would normally be thrown away.
In order to help me accomplish this, I made simple business cards, learned a little about each of the companies that I approached, and went in and introduced myself. I was able to gain a lot of business with the approach that I was helping them not pay so much for their dumpsters and the obvious – keeping my city a little greener by not throwing away so much to a landfill.
Rescuing Overstock and Recycled Equipment from Dumpsters
Since taking Flipper U, I have been able to learn about and sell a little of everything. I sell smaller items if they are easy to ship and am open to shipping large items now that I have learned how to freight ship. Breaking into more freight shipping items is my long term goal with flipping.
My biggest sources are commercial warehouses and distribution centers at the moment. You would be surprised at the amount of old stock that is still worth a lot of money and is being disposed of on a daily basis. These are items that the company would normally just toss in the trash.
It can be anything from older, working equipment they no longer want to old computer chips and plugs. These are things that may be outdated and not being manufactured, but still has value to someone else who may be looking for it.
Most companies upgrade/update their products annually
They upgrade in order to force business consumers to purchase the newest variation of it. When they do that a lot of the old parts, etc. get tossed.
Over the months, I have made contacts with numerous managers, owners, and commercial businesses that tell me what they are getting rid of before they take it to the dumpster! If it is something I can sell and make money on, they will set it aside for me to grab.
As an example, I just got a box of circuits from a business automation company. They are discontinued and are no longer being sold. However, there is a benefit to them being discontinued. People still use them and therefore, they will be looking for them on platforms such as eBay.
I was surprised to find that these little parts sell between $500 to $800 a piece! The owners of those machines would rather spend $800 to buy the part from me than to have to replace the entire machine, which could be in the upwards of thousands of dollars. 
I will sometimes hold one or two of these back for a year
When there are less and less of them for sale, the value of the part goes up by a large margin.
I also recently picked up faceplates for high end gaming controllers. The gaming controllers sell for $250 to $400 alone! I found that just the faceplates sell as well and I've rescued them from the dumpster and have sold several of them for $40 to $50 each. They are hard to find, which means I have a lot of repeat customers who are constantly looking for them. 
This is a great point of contact for my business, as I am currently the only person who is selling these controllers faceplates outside the company. The demand is high, but there aren't a lot of them available. That is great for my business!
Networking With Commercial Businesses
One thing I've learned is that in order to grow my commercial recycling business, I continually need to make contacts and talk with people. I meet and talk to a lot of people to tell them what I am doing. I also am also not afraid to reward those that help me in this business.
Most of the guys that give me tips on my big finds I toss them back an Amazon gift card or some cash depending on how much I make. This motivates them to help me the next time something comes available and long-term relationships in this business is what I'm looking for!
I don't do it every time but I like them to know I am grateful for their help. The help I get from others is crucial for my business and it's growth.
20 Acres, a Tiny House, and a Family Business Recycling Equipment
People ask me what my plans are now that I am making great money doing my side business.
Honestly, I am a little bit of an odd bird. I love the slower pace of the country. I recently purchased 20 acres of land on the Etowah River and am in the process of hopefully getting more.
Instead of the hustle and bustle of city life, I plan to build a tiny house and a 5,000 sq. foot warehouse on my 20 acres to expand my recycling business. I like the idea that I can live off the grid on a self-sustaining property.
That's been my dream for a long time and I've finally found a business that can fit with that.
As an entrepreneur, I've always believed in setting goals that are almost unattainable. That keeps me going and keeps me motivated.
I have been consistently making around $8K per month in my recycling business
My next big goal is to make $10K per week and then my long-term, 3 year plan is to grow my business into a 7-figure business where I can bring my family into it as well.
My mom recently retired as a teacher and has joined me in working the reselling business. My nieces also help me out to earn money to save for college and future cars when they hit driving age.
I have been working on building up my business with an ultimate goal of breaking into sourcing larger, freight items to further expand my business. I realize freight has the potential to also grow my numbers in this business without a lot of work.
As an entrepreneur, I am keeping in mind that every person I meet and every item I see can be a potential source. This keeps me alert and constantly working on my business as I meet and talk to people that come into my path.
Finding Satisfaction in My Work
Some people look at what I'm doing and may not necessarily understand why I do what I do. To me, flipping and recycling equipment never grows old and it's always challenging and enjoyable.
Each product I find is different and there are always new categories to learn about to challenge and stretch myself. I find it to be fun to hunt for hidden value in discarded items. I also like the idea that I am helping the environment by keeping the landfills from filling up.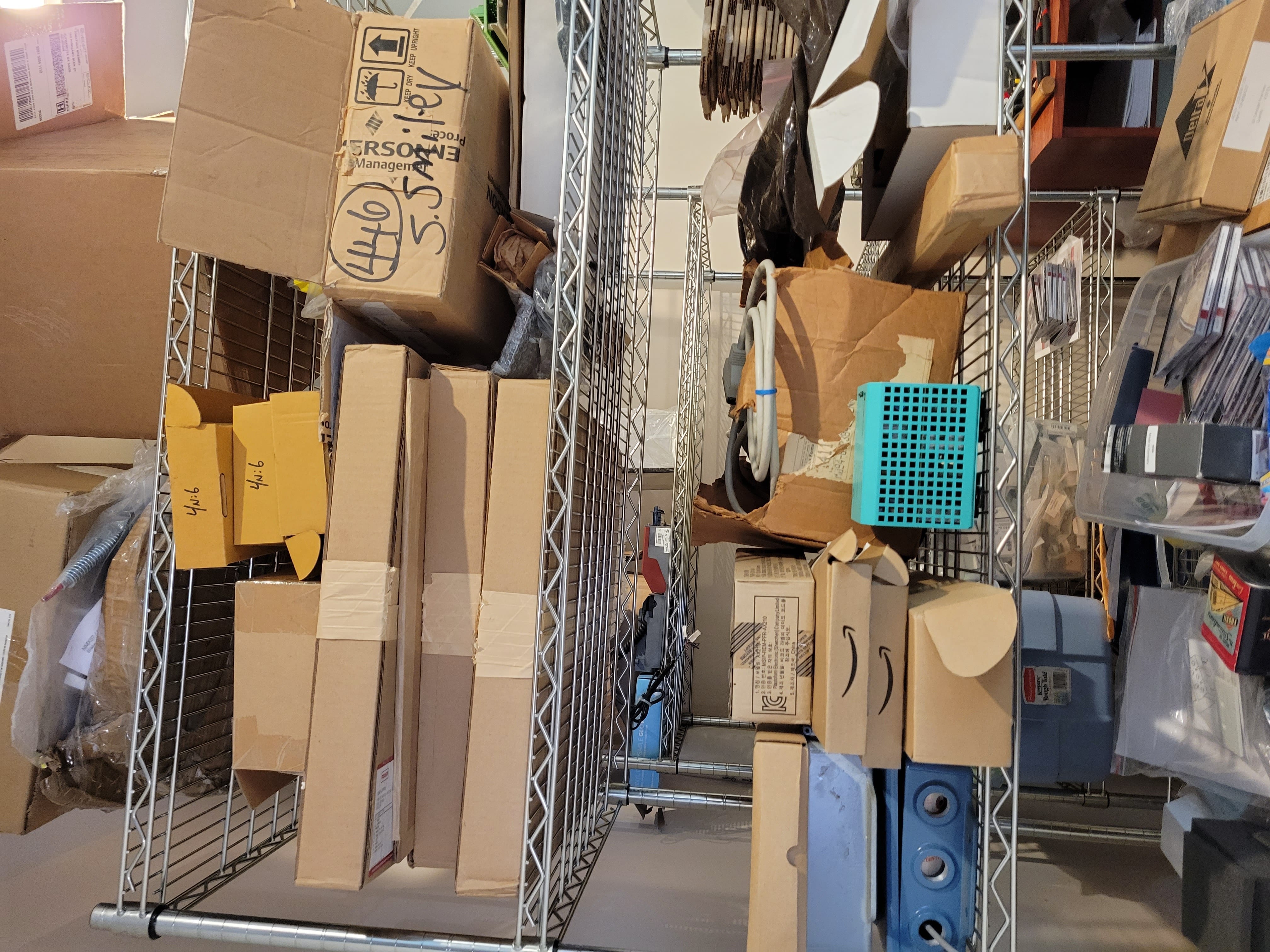 I like the idea that recycling equipment has unlimited earning potential.
People are constantly getting rid of tons of almost new and good items daily. If I can be the one to rescue it from the dumpster, my business will continue to grow along with my income.
The commercial recycling side of business is not going away as there will always be new and used goods for me to source and sell as long as I am consistently doing the work and making connections.
I find great satisfaction in what I am doing and it meets the criteria for the lifestyle I want to live.
I can make good money, work hard, but still have the ability to take a break, live off the grid, travel and do things that are enjoyable to me.
Wow, who could have predicted someone could make a full-time income off of someone else's trash! Jonathan is definitely making this happen!
What about you? Are you an entrepreneur who wants to find another stream of income? Flipping free items could be an awesome way to make extra money!
Check out our free intro webinar to see if flipping is for you!
FURTHER RESOURCES
Download These 47 Household Items To Resell TODAY!
FREE Workshop How To Turn Your Passion of Flipping Items Into A Profitable Reselling Business
RELATED POSTS
How A Single Mom Went From Working Two Jobs To Making $5,000/Month On Her Flipping Side Hustle
How This SAHM Makes $1K/Mo Reselling Used Items On eBay
How This Retired Couple Made $6,800 Their First 3 Months Of Flipping