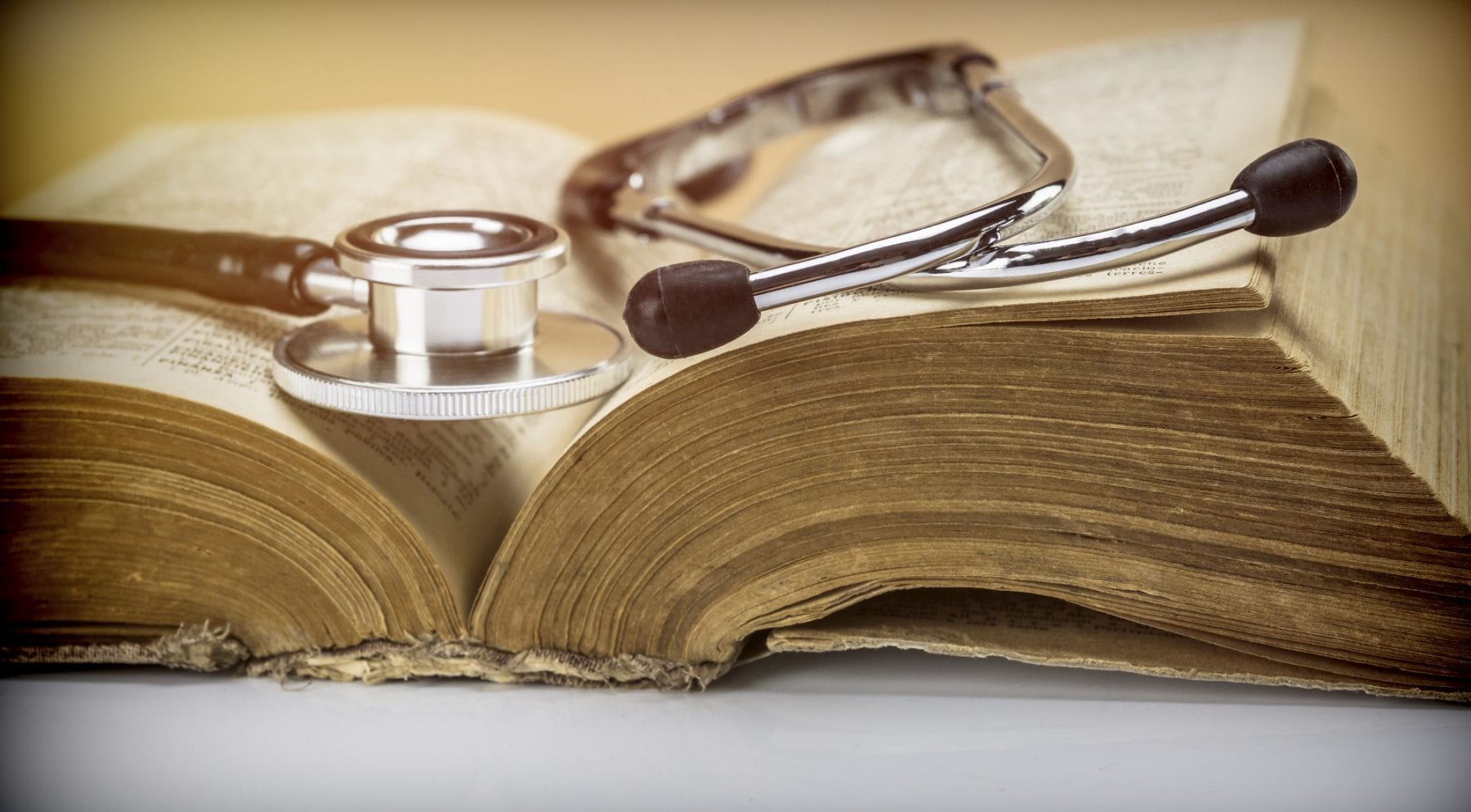 June 19, 2020

Ready To Leave Nursing? How This Mom Of 5 Quit Her Nursing Career To Flip Items Full-Time

If you've ever been a patient in a hospital, you know that nurses work hard. Really hard. In fact nurses work so hard, that they have a very high burn-out rate.

They are finding they are unable to stay in the nursing field due to high stress. Because of this, many are looking at how they can leave nursing behind.

In fact, statistics say 17% of nurses leave nursing within the first year, 33% leave nursing by the second year, and 60% of nurses are out of the profession completely within 8 years. Not a lot of longevity when it comes to nursing.

Today we have a guest post from our friend and Flipper U student, Nikki, who decided it was time to leave nursing for good. Upon doing this, she discovered she could flip items and make a living!

Today, Nikki has left behind her nursing shoes and stethoscope and she flips used items full-time and has been killing it!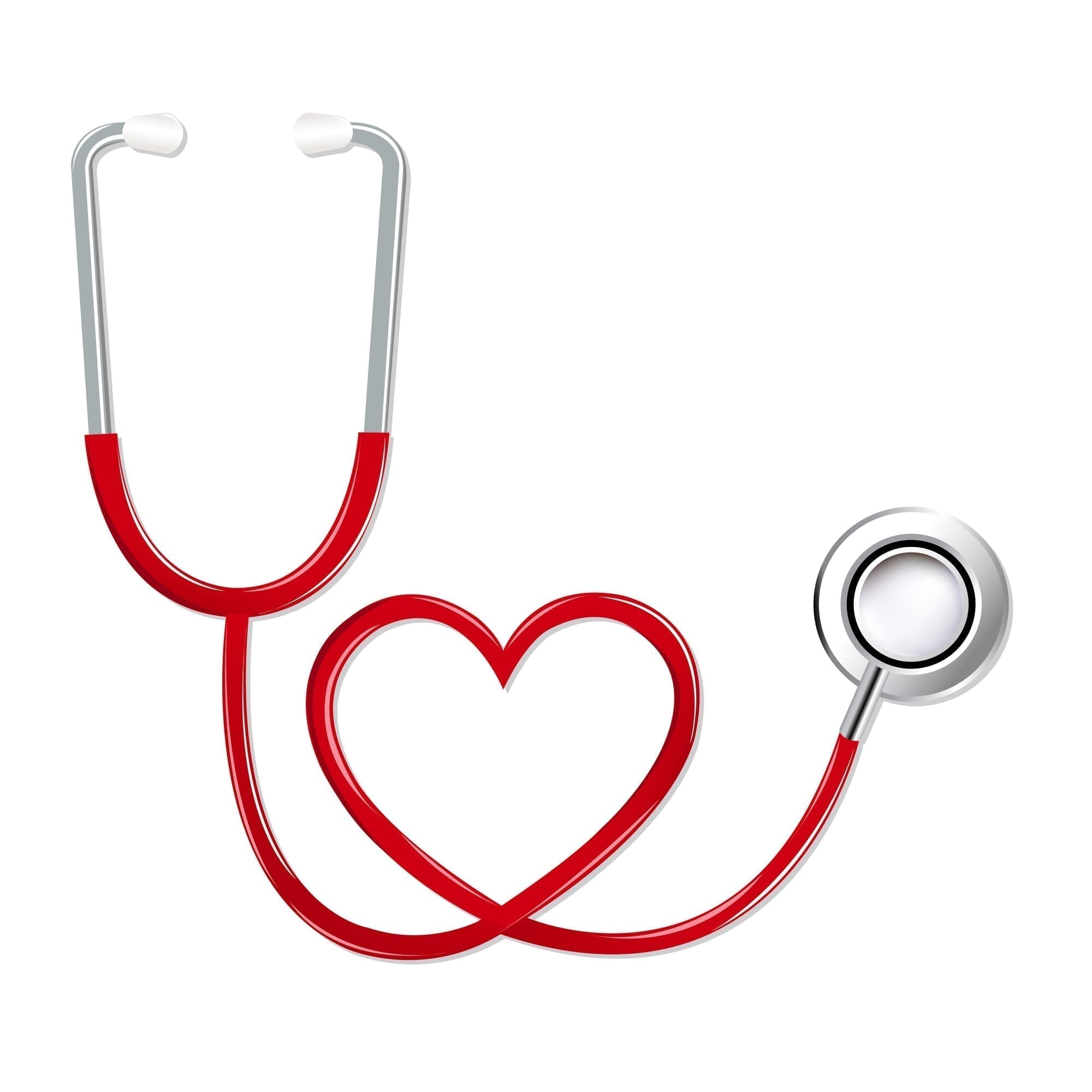 About Me
I'm Nikki and I'm a 40-ish year old mother of 5. I have four children of my own and my husband and I adopted my niece when her mother passed away just over a year ago.
Growing up, I had to develop the tenacity of a lioness to survive. By the time I was 17, I was a homeless, pregnant high school drop out with nowhere to turn. I ended up in a group home for pregnant teens until I had my son at 18.
From there, it was single mama time.
I was scared, broke, and had no idea what I was going to do. But I knew I had to do something. I knew I didn't want my child to be another statistic so I chose a better path for us.
I pursued and received my GED and hustled my way through school to become a CNA. This was the hardest, but most rewarding work I have ever done.
From Homeless to Registered Nurse
After my CNA certification, I didn't become complacent and stop pursuing my education. I continued on, got my MA Certificate, and then my RN degree and have worked in surgery since that time. I resolved to never become a victim of my past.
I love people and I knew I wanted to serve my community in some capacity. I have a huge heart for the homeless population needless to say and I continue to work with many local charity organizations to help facilitate the help they need.
Over the years in the medical setting, although I loved every minute of it, I developed a sense of lost connection as many nurses do. As time went on, I spent more time behind a computer charting and pushing meds than I did giving that one on one bedside care.
There were times in the beginning of my career where I had the honor of being at a patient's bedside to pray, sing, and just be there with them as they made their final journey in death. It sounds morbid but it's one of the most beautiful experiences one can have.
Why do so many nurses quit? As time went on, I started to see the inner workings of our hospital systems when you start to pay attention to your surroundings. I found I spent more time fighting with insurance companies and dealing with the difficult coworkers that often come with having additional letters after your name. I did not feel I was living up to what I went into the field for and I believed my patients deserved so much more.
I was left with the burning question, "What can I do if I leave nursing?"
From Nursing to Junkin'
With the support of my wonderful husband, I made the decision to take a HUGE leap of faith and leave nursing for good. Little did I know, this was the beginning of something new and exciting.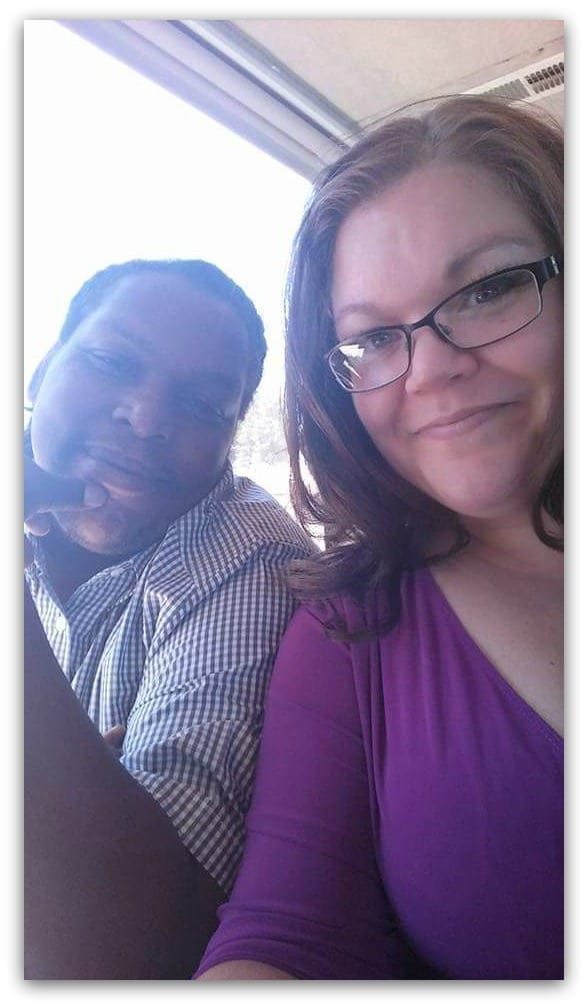 Over the years, my husband and I have tried and tried to make the "date nights" happen. We are not big spenders and don't like to do the same old monotonous dinner and movies. So to break it up, we started to switch things up a bit and have "date days" instead of "date nights" going junkin.
We would hit up yard sales, estate sales, thrift stores, and find things on the curb; you name it! We LOVE finding treasures and our relationship has developed even more because of it. We also are known to put on some pretty cool yard sales ourselves complete with entertainment and I have a knack for sales and negotiating.
Our "date days" of junkin' was how a whole new way to replace my income started.
Finding Flipper University
One day, I was perusing the internet and saw a video about Flea Market Flipper on Facebook. We had already been placing things on FB Marketplace and of course our killer yard sales, but wanted to branch out.
Our garage had already been transformed into my Woman Cave because I also love to repurpose furniture and unique items so it was easy to modify it to facilitate more storage space.
After investigating your course, I purchased it and I dove into Flea Market Flipper head first. I absorbed as much info as possible so I could get going on eBay.
Boy, was I ever missing out!
Within my first month of selling on eBay, along with my additional streams of income through FB Marketplace, Craigslist, and the like, I replaced my nursing income!
Keep in mind, this was a HUGE step for me to leave nursing altogether, but to be able to support myself flipping was amazing!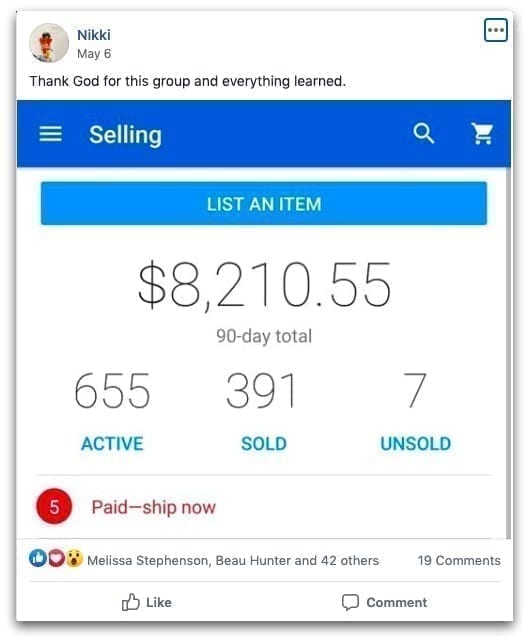 Not all months have been increased sales, however, I've come very close each month and sometimes I make more money. But again, it's that tenacity that keeps me going.
Flipping is a great income stream that my husband and I can do together. My husband loves his electronics, but I like to sell unique vintage items from fine China to board games to vintage instruments. I love anything that sparks nostalgia.
I also check out the clearance sections to resell. Since starting, I mostly sell now on eBay and Amazon. We've also stepped up our junkin' game and fallen in love with auctions and bidding on storage units!
Resistance From Family and Friends When I Left Nursing
Since I decided to leave nursing, my friends, family and coworkers have not all expressed happiness for me.
In fact, they wondered why I quit my nursing job and left a solid nursing career making great money to resell stuff after everything I had to go through to become a nurse in the first place.
My answer to that is, it's not my responsibility to help others understand the decisions I make for myself and family. Let me be the first to tell you that not all money is good money. There will always be a more significant price to pay if that extra buck is all you're hunting for. Your stress level will only continue to mount and at this point in my life, I'm not willing to make that sacrifice.
Of course, we all want to make enough to pay our bills, but our bills will ALWAYS be there. You cannot put a price on happiness and life contentment. I know that may be a hard pill to swallow for many. But once you swallow that pill, the rest just flows.
I have been doing this for about the last 10 months and now those same people who had their doubts are the same ones who now offer support and encouragement to keep going.
Growing My Skills
Since starting Flipper University, I have learned so much more than I thought I needed to know. My box making skills have finally surpassed kindergarten level. The wording and photo quality in my listings have helped increase my sales immensely.
Flipper U also helped me learn it's actually a very good thing to utilize multiple selling platforms for increased success.
I hold myself accountable by making a schedule and keeping to it. I set my monthly goals to make sure all of our bills get paid and I make it happen without compromising my sanity. The extra money we make, we sink it right back into growing our business. 
One of the big surprises for me, after I decided to leave nursing, and started flipping items full time is one never knows what someone else will buy!
I have sold Barbie Doll clothing from one doll for $85 before! I wouldn't spend more than $25 bucks on a pair of jeans let alone $85 bucks for some Barbie clothes!
Someone left an entire box of Blue Danube Fine China out on the curb that I made almost $1,000 profit on it. I had no idea what brands to look out for, but I do now! 
Sourcing on Steroids!
Our sourcing has really increased since learning how auctions work. I once bid on a storage unit that appeared to have a bunch of restaurant equipment in it from a franchise. Interestingly enough, people have gone crazy over the plastic cups associated with this franchise!  I sell tons of them!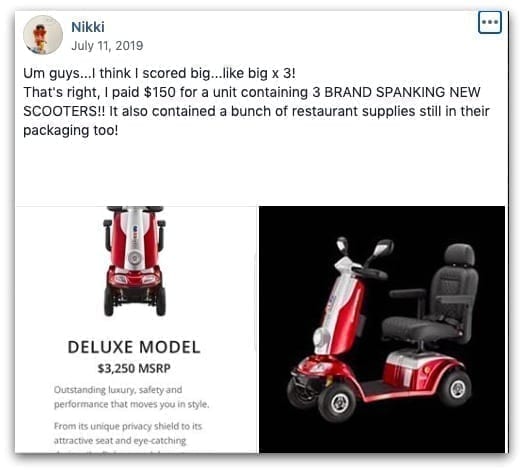 Upon further inspection of the unit after I won the bid of $40, we found the back of the unit to be full of brand new medical equipment including three motorized Rascal scooters! I made $2,000 off of each scooter and had success in selling off much of the equipment.
With the extra equipment I had left, I was able to donate directly to the local hospital in my town to help with the Covid-19 crisis.
Life has a funny way of working out because now our hospital has a little bit more of what they need to fight this virus and I got the privilege of serving my community. 
Pros and Cons of Full-Time Flipping
Like any job, there will be pros and cons no matter what you do. It's what you do with those pros and cons that matter. The best part of this business is I get to spend a lot more time with my family.
I get to have more time and opportunities to serve my community and my stress level has significantly reduced. When I decided to leave nursing this was a huge pro for me, feeling like myself again was worth this risk.
So, what do I do with those pros? I acknowledge them with thanks and continue to strive for more of those moments.
The negatives are that I miss my patients immensely. I can only rely on myself for my paycheck and I when you start any business, you will make some mistakes. It can be scary at times. 
So, what do I do with these cons? First, I don't really see them as cons. I miss my patients but I still see many of them in our community.
Because I only rely on myself for a paycheck, I can now see that my worth is not limited. I don't feel I have to compromise the integrity of my character any longer to appease "the powers that be" that sign my paycheck.
In this flipping gig, I make a TON of mistakes and I am grateful for each one because I learn from them. You cannot have success without many, many failures.
It takes more gumption and courage to accept those failures as foundations of your success than it is to remain complacent in a mundane work force where your worth is determined by someone else. 
Support Plays a Role in Success
I started flipping because I wanted to be my own boss which meant doing something that I truly I love doing. With that decision, I needed to find other people just like me. When I found Flipper U, I was able to read others'  testimonies and be encouraged.
In finding the support of Flipper U, it gave me so much courage to take that first step and that support and encouragement doesn't end when you've completed the course. 
I'm still benefiting from the supportive community of Flipper University.
Overcoming Fear to Leave Nursing and Become a Full-Time Flipper
The unknown will always create challenges. The challenges will not stop coming so there's no sense in trying to run from them. Even taking short cuts around these challenges is not beneficial. It just takes getting to the finish line that much longer. 
I've gone through stages. First, I jumped in head first. I left my medical career of 20+ years with no clue how I was going to make it all happen. We had just buried my sister in law and adopted our teenage niece who had already missed a year and a half of high school among many other challenges.
Our world was upside down! 
I had no Plan B. How am I going to pay my bills? There's so much involved! Am I crazy? Am I having a midlife crisis? Can I even do this? I even dealt with a lot of self doubt and anxiety ridden freak outs! 
I was able to overcome some of the doubts I had in the past. I am thankful for all the support the Flipper U community and my family has provided me. I just decided to do it! 
Do I still have many moments of self doubt? Yes and I will likely have those same moments as time goes on. I try to remind myself of just how short and precious this life really is. 
What's really cool is that my kids are now showing interest in what I do. They want to go junkin' with us. They're seeing their mom happier than ever and starting to realize their own worth in the process. And when that "Cha-Ching" sounds from my phone, my family "Whoops" in excitement with me. 
Thriving through Covid-19
This COVID-19 pandemic has not been without its challenges. Restrictions have been placed on certain platforms prohibiting or delaying sales. For safety reasons, I've chosen not to go out to source while this is going on. Even though I am aware that there are many ways to source safely. 
Right now, although everyone is worried, they're also spending more time at home and purchasing things on eBay. I have adjusted my listings to promote things like the vintage board and card games. And they are selling very well.
People are scared and even sometimes I'm scared. I'm human. But one thing is for sure, I've managed to sell over $8,200 over the past 90 days flipping used items! Honestly, we wouldn't have been able to survive this coronavirus crisis if it hadn't been for flipping. 
Through this difficult time, my kiddos and hubby have also gotten involved and helped me prep shipments and listings which to me is very valuable. Not only for my efficiency, of course, but that they too can see they can do this too.  
I realize there will be many more challenges and difficulties to come. Now being even more confident I know that I will be successful in my flipping endeavors.
Sometimes I need to make adjustments but this too shall pass. I will acclimate to my surroundings and lean on my fellow flippers for support. I know now that I have all the tools I need to get through this chaotic time.
These tools will help me continue to make a great living. I am grateful for this wonderful group of people who helped me grow my business after I decided to leave nursing for good.
A huge congrats to Nikki for creating a stable flipping business that has replaced her nursing income! Amazing!
If you are desiring to switch careers and you thinking flipping might be for you, click here and watch our free intro workshop TODAY!
Further Resources
FREE Workshop How To Turn Your Passion of Flipping Items Into A Profitable Reselling Business
Related posts
Make Money Decluttering These 7 Household Items
How to Pay Off Debt with No Money
Increase Your Reselling Profits: 7 Habits For 2020 That Will Help You Maximize Your Flipping Business
FOLLOW THE FLIPPING ADVENTURE: