You've probably used OfferUp to quickly sell household items, but did you know you can reach even more buyers using OfferUp shipping?
If you don't have time to meet in person or simply want to increase your reach and potential buyers, give OfferUp Shipping a try!
OfferUp allows you to ship to and from all U.S. states except Alaska, Arkansas and Hawaii using the U.S. Postal Service. This expands who might see your treasures online and click the "Make Offer" or "Buy Now" button.
We're going to tell you how to use OfferUp shipping to reach even more potential buyers!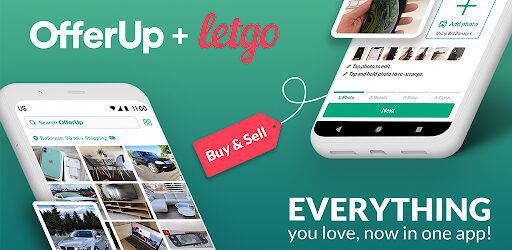 How To Set Up Shipping On OfferUp
If you've used OfferUp to sell locally before, most of these steps will be the same. We found it pretty simple.
To set up shipping on OfferUp, first start your listing.
Step 1 – Photos and Title
On the first page of the listing you'll add photos and a title. Use a lot of detail in your title including brand, model, color, and size. Try to think of different phrases someone might use when searching for a specific item.
I suggest using the maximum number of photos allowed. Photos can grab a buyer's attention or make them skip your listing. Use photos with good lighting and a clean background to increase your listing views.
Step 2 – Add All The Details
This is where you really want to be thorough. Be sure to add the condition, I suggest that you never say "perfect condition". My motto is under promise and over deliver. Give a lot of details and be sure to note any flaws, scratches, paint chips, or marks. You can also take pictures of the flaws so the buyer is not surprised.
Then, pick the appropriate category and subcategory for your item.
Step 3 – Add A Price
This is where you add a price and select whether you are firm on the price or not. It is called OfferUp, so build in some wiggle room so if a buyer makes an offer, as they usually do, you won't lose any money.
Step 4 – Select Your Delivery Method
Your general location will be listed at the top and just underneath that you will see a button that says: "Sell & Ship Nationwide" to reach millions of more buyers in the United States. Switch the "Sell & Ship Nationwide" button to on and you're suddenly able to reach millions of more buyers all over the United States!
We will talk more about how to ship in a minute.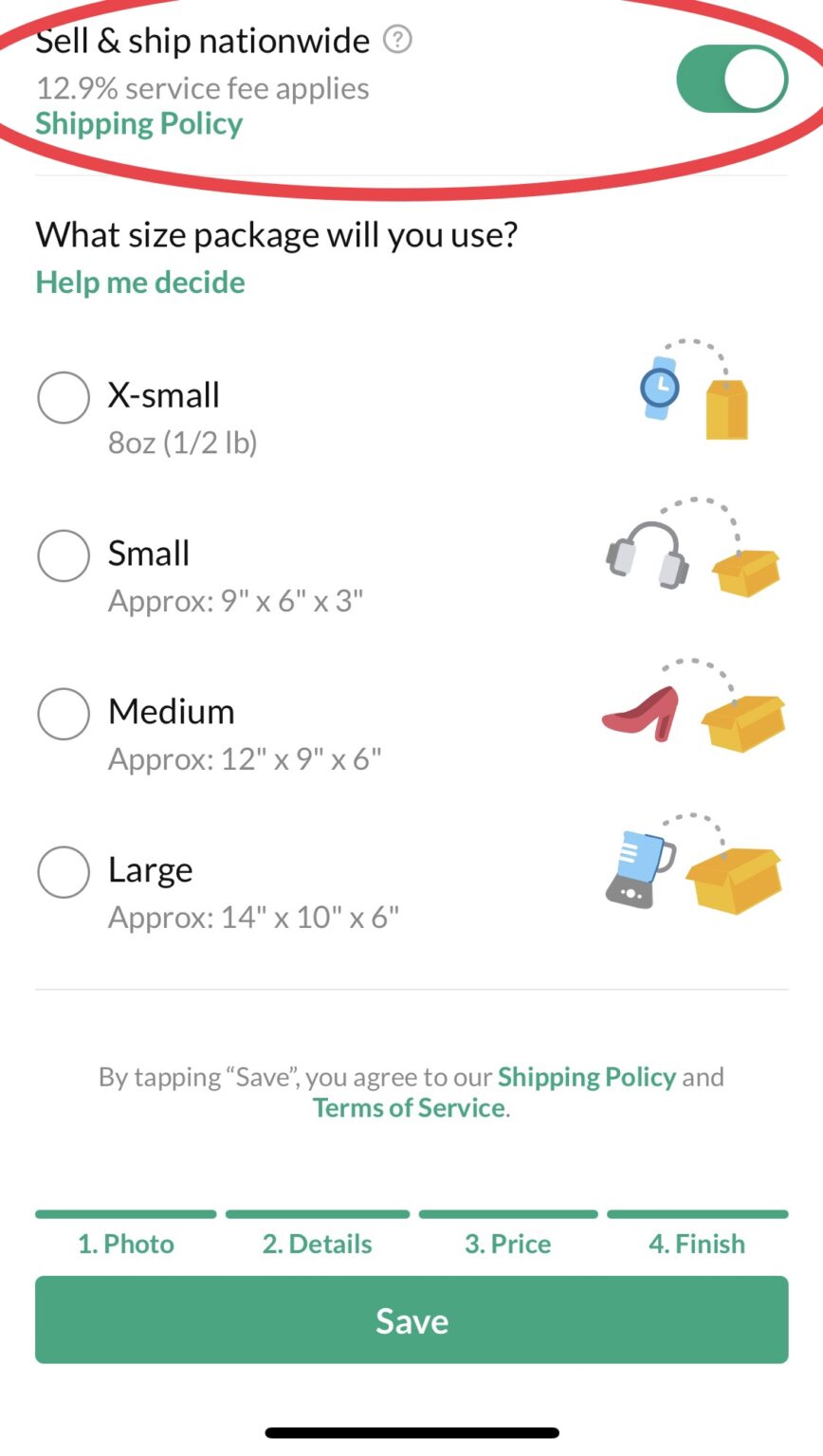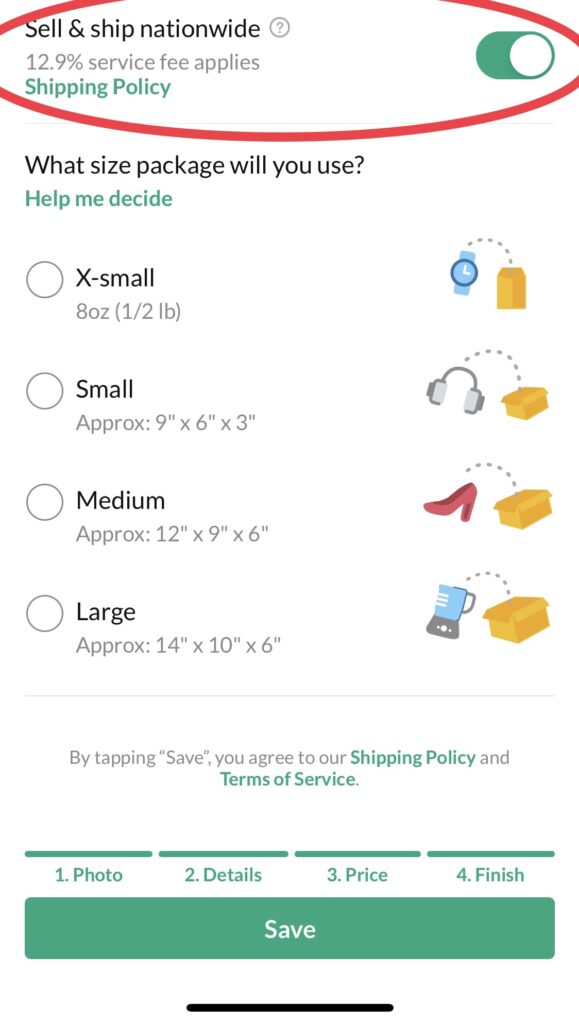 OfferUp Shipping Fees
If you're thinking about giving OfferUp shipping a try, you're probably asking, "What are the fees?" OfferUp charges a 12.9% service fee to the seller when they offer nationwide shipping, and the minimum fee is $1.99. The good news is, the shipping costs are paid 100% by the buyer!
Choosing The Right Shipping Fee On OfferUp
To ship on OfferUp you need to know the size and weight of your item in its package. A scale and tape measure are two tools that I always keep handy for determining shipping size and weight.
Shipping on OfferUp is different for those of us that primarily use eBay. And there are size limitations, so OfferUp shipping works well for small to medium items under 20 pounds.
There are four sizes of packages to choose from on OfferUp shipping:
X-small – 8 oz (½ lb): Think of a watch in a small envelope. The buyer will pay $3.49 for shipping for a x-small package on OfferUp.
Small – approximately 9" x 6" x 3": Think of headphones in a box. The buyer will pay $7.99 for shipping for a small box on OfferUp.
Medium – approximately 12" x 9" x 6": Think of a pair of shoes in a box. The buyer will pay $11.99 for shipping for a medium box on OfferUp.
Large – approximately 14"x10"x6": Think of a blender in a box. Large packages on OfferUp cannot weigh more than 20 pounds, and no side of the box can measure over 18". The buyer will pay $14.49 for shipping for a large box on OfferUp.
Once you choose the size of your package
The shipping price will be set for the buyer. Then, you just simply tap "Post" and your item will go live with local pickup and nationwide shipping options.
Make sure to choose the correct weight, as overweight items will require a new label. You will actually have to cancel the transaction and have the buyer make a new offer to create a new shipping label on OfferUp. It's less work to get it right the first time!
Shipping on OfferUp goes through the U.S. Postal Service. If you aren't sure of an item's weight and don't have a scale, you can take it to USPS ahead of time to get it weighed for free so you can choose the correct shipping size when listing your item.

What Buyers See On OfferUp
If an item on OfferUp can be shipped, it will show a small blue box with a white delivery truck in the lower left-hand corner of the listing in the app grid. Upon clicking on the listing, buyers will see a blue delivery truck next to the shipping price.
Buyers have the option to cancel an offer on an item with shipping if the seller hasn't accepted the offer. Once the seller accepts the offer, they are locked into paying for the item. Sales tax is determined based on the ship-to address of the buyer, and is automatically calculated by OfferUp.
OfferUp will occasionally offer buyers discounts on shipped items, such as $5 off or free shipping, but that does not come out of the seller's pocket.
How To Print The OfferUp Shipping Label
Once you've accepted an offer from a buyer, you'll need to print the shipping label. OfferUp sends you a prepaid shipping label through email and through the app. You must use this label to ship your item or you will not get paid — and we all want to get paid for the items we're sending out!
The prepaid label is how OfferUp tracks where the item is located during the shipping process, and it's what ensures sellers get paid. So, If you don't see the label in your inbox, check your junk or spam folder, and then add OfferUp to your safe senders list so you get it to your inbox next time. It will be sent as a PDF file that you can open and then print.
Sellers have up to six days to ship an item after receiving a Buy Now purchase or accepting a shipping offer. It must be scanned at USPS within those six days. Once the seller has shipped the item, and it's been scanned by USPS, the buyer will see a shipped notification in the app.
OfferUp sends sellers shipping reminders after 48 hours, then again after 72 hours. If the seller has not shipped after six days, OfferUp will cancel the transaction and the money will be refunded to the buyer.
Filing A Claim In OfferUp
Hopefully this does not happen, but If you've shipped an item and it doesn't arrive, the buyer or seller can visit USPS website and follow the steps there to report a missing package. And Important information to have on hand include the buyer's mailing address, size and type of container or envelope, tracking number, item description and pictures of the item.
How To File A Shipping Claim With USPS
If you've gone through the USPS process and the item has not been found, you can contact OfferUp via the OfferUp Support center, and select "buyer protection claim" from the drop-down form options. You'll need the transaction ID listed in your account under the receipt to file the claim.
Using OfferUp shipping is an awesome way to expand your reach and connect with buyers in different parts of the United States, making it more likely that your item will sell. Learn what we flipped on OfferUp to make $7,080 in one week.
Do you sell on OfferUp? Comment below with any OfferUp shipping tips you can share!
FURTHER RESOURCES
Download These 47 Household Items To Resell TODAY!
FREE Workshop How To Turn Your Passion of Flipping Items Into A Profitable Reselling Business
RELATED POSTS
How To Sell On OfferUp To Make Extra Cash
What We Sold To Make Over $6K In One Month