Retirement? What's that? That's not even a word I think about often because I think I'll be flipping items well into my time to retire. But for people in jobs that they aren't crazy about, flipping can be used to retire early.
And that's just what Natalie did.
She had her goal to retire in December 2021 and had been searching for a side hustle to bring in some income to supplement her social security. She found flipping and not only did it work to bring in extra income, she got to retire a few months early!
She's totally been rocking it every week in our course members group and we could not be happier for her!
Hear how Natalie used flipping to retire early!
From Working Full-Time to Flipping in Retirement
My name is Natalie and I live in Michigan with my hubby and our cat, Mocha. Between us we have 6 adult children, 5 grandchildren and 2 great grandchildren.
I have had many jobs over the years including a coil winder at a small factory that made tape recorder heads. I was also an assembly line worker at General Motors, worked at the Michigan Women's Historical Museum, and I worked for the statewide organization of hospice.
The hospice organization reorganized and we all lost our jobs. I spent a year drawing unemployment and working at my plant nursery, which I had been doing on the side for about 6 years.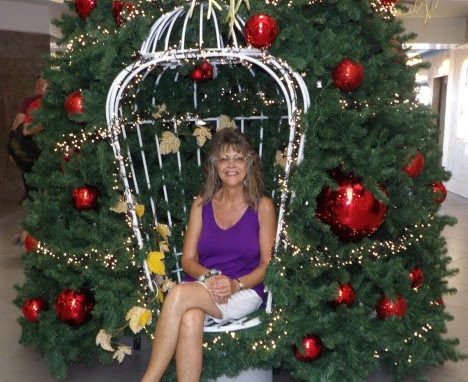 I started the plant business hoping to grow it into a full time home based business. It was hard work – I had to plant a variety of bushes around my yard to take cuttings from and then I would take hundreds of cuttings in early summer. Then, I would stick them in tubs of sand and make sure they were watered properly, using a misting system my husband and I built.
The majority of that work I did by myself while working full time.
After a year, I knew I had to find full-time work and that's when I went to work for Hope Landing, an Adult Living Community. It was one of the best "9-5" jobs I ever had. I was the activity coordinator and for the most part I loved my job. I got to do fun things with the residents like crafts, exercise, games, movie night, and taking them out for ice cream or to lunch.
How Flipping Changed Everything
During my time at the center, Covid hit and my job duties changed. It was a hard year. I watched the residents going downhill from not having any close contact with family or friends and it was depressing for me.
When things started getting back to somewhat "normal," I had an unfortunate accident and tore the meniscus in my knee. And since my job required a lot of walking and climbing up and down stairs all day, I started thinking more about retirement.
I had been working the flipping business while I continued working the "9 to 5" job and was seeing great rewards. My original plan was to retire in December when I turned 62, but with the bum knee I decided to push myself harder with my flipping and I was able to make enough money to cover my lost wages and retire early (Sept. 3) and I don't regret it one bit!
I have tried many entrepreneurial jobs over the years. Things like selling Avon, Amway, Jewelry online, and essential oils. I made homemade products like laundry soap, healing salve, body scrubs and sold plants.
But none came close to providing the kind of income I have received from flipping. I don't have to feel like I'm "begging" people to buy my stuff. I feel truly blessed and feel that God has answered my prayers.
Looking For the Perfect Side Hustle in Time to Retire
I was always looking for that one thing that would allow me to work from home and make a decent income. I had connected with this guy who was a friend of a friend and he was always throwing out these side hustle ideas.
Although I believe he had good intentions, his ideas were kind of far-fetched and usually required spending more money than I had or could afford to lose. But surprisingly, one of his ideas led me to Flea Market Flipper.
One day I signed up to receive newsletters from Nick Loper from Side Hustle Nation. He was another one who was always sharing side hustle ideas. Well, I was reading one of his emails and he was talking about this guy whose full time job was flipping items on eBay. I was intrigued and I listened to the interview he did with Rob.
Rob was sharing how he flipped items full-time and actually was making a great living. As I listened to the interview, I wanted to learn more about this idea.
I watched some of Rob and Melissa's YouTube videos and I was hooked. This all happened last November 2020 when they were starting their Christmas Challenge. It was the best thing I have ever done. My only regret is, I wish I would have found them 10 or 15 years ago.
My Humble Flipping Beginning
For a few years, I had sold things on the local FB Marketplace groups, but it was such a hassle meeting up with people, especially when I was working and they were working. Sometimes I'd try to meet on Saturday mornings, but then the buyer wouldn't show up and I would get frustrated and feel like I was wasting my time for $20 or $30 bucks.
But when I started with Flipper University, I had a power lift chair that we acquired after my mother in law passed. It was like new. It was for a petite person, so we had no need for it. I sold it locally for $500 and that gave me the funds to start acquiring inventory for my Flipping for Profit venture.
Retire Early to Spend More Time with Family
My goal from the beginning has been to make enough money flipping to supplement my Social Security. I also wanted to be able to spend more time with my husband who has been retired from being a GM for 20 years, my great grandchildren, and my dad who is 85.
My husband and I also want to do more traveling before we get too old and now we will be able to do that.
All my life I have wanted to fly, and my husband has never wanted to. Well, we had to fly to Florida in 2016 when I won a cruise from Wheel of Fortune! We both loved it and since then we have flown again to Florida for another cruise and to the state of Washington for my nephew's graduation.
We are both looking forward to many more air travels around this great, USA and flipping has allowed us the flexibility and the income to do that.
Learning the Ropes
So many things have changed since I started flipping in November 2020. I have gained more confidence in my own abilities and I have learned to set higher goals for myself and reach them.
With the support I receive through the course members group, I continue to learn from others and it is helping me to grow in my business every day.
The one thing that stands out the most with me being involved in a supportive community is the KINDNESS AND ENCOURAGEMENT. I love that there is never any negativity, no bashing anyone, always lifting others up and sharing what we have learned to help a fellow flipper who is struggling.
With other types of businesses, people don't want to share what helped them get to where they are
I guess it is fear of someone doing better than them. Or, like MLM companies, where the "top dogs" make all the money and those below them do all the work.
None of that is happening in this great community. It's all about support, encouragement, sharing, teaching and cheering each other on. Everybody wants to see others succeed and grow their business. We aren't competing with one another.
The members group was thankfully started by two caring and loving individuals, Rob and Melissa Stephenson. I am thankful and grateful for everyone who is a part of our Flipper family.
The Benefits of Being a Flipper
Finding great items and making some really decent money selling them makes me happy. I also enjoy getting to communicate with some very savvy flippers and learning from them.
With this business venture, I've been able to spend more time with my husband and it's been fun getting him somewhat involved. He isn't into technology, but he will go with me to pick up stuff, help move it from the shed to the house and vice versa. And he helps get those large packages to the UPS store.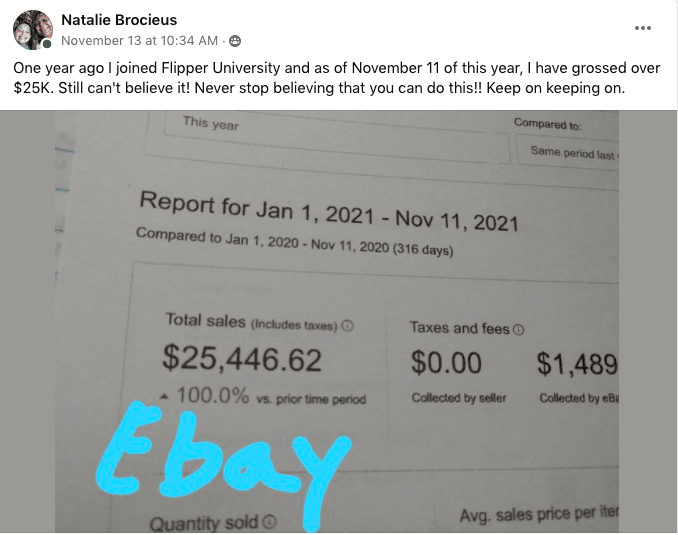 Sometimes I can get discouraged by some of the long distances we have to travel to source good items. I have racked up a lot of miles on my vehicle, but I try to put a positive spin on it by looking at the benefits of my flipping adventure – like being able to retire early, spending quality time with family and supplementing my social security.
I've been able to take those long miles and turn them into fun road trips with my husband and it's been so enjoyable.
Finding $360 on the Side of the Road!
For the most part, I have done really well selling sleep number bed parts, old exercise equipment, vintage vacuums, and appliances.
I have a few larger items that will have to be freight shipped like exercise equipment and larger appliances. But, I am not quite up to speed on freight shipping yet, and with this bum knee right now I have slowed down a bit until we figure out what the next step is.
But my best story yet is finding $360 on the side of the road! My husband and I were driving home one day, and when we rounded the corner, I noticed a vintage vacuum sitting on the edge of this yard. There was also a box of accessories beside it.
I stopped, got out and looked to see if anyone was home. I was sure that it was sitting there for trash pickup, so I opened my back hatch and tossed it in the back of my car.
My husband rolled down the passenger side window and with this puzzled look on his face said "what are you doing"? to which I replied, "it's a vintage vacuum, and I can sell it for good money!"
He was so embarrassed!
We got home and I took it out of my vehicle, and it was pretty nasty. I mean it looked like someone had used it to suck up some really muddy water and who knows what else.
He just looked at it and said, "you can't clean that up". "Nobody will buy that". Well, it was nasty and I wasn't sure that I could get it clean, but I didn't tell him that.
I sat it in the garage and ignored it for a couple weeks until he told me that I needed to do something with it, so one Saturday I decided to tackle it.
I went on YouTube and found out how to take apart the power nozzle and clean the roller brush. When I got done, I was pretty proud of myself and I knew someone would want it.
I posted it Sunday on Ebay for $390 and on Monday I got an offer for $360 and I took it! My husband was in shock and still talks about it to this day.
He said recently he saw the individual who had put that vacuum cleaner out by the curb in his yard one day. He almost stopped and asked him if he remembers the vacuum cleaner that they threw out for the trash and how his wife picked it up, cleaned it, and sold it for $360!
We still get a kick out of that unlikely sale!
From Intimidation to Flipping Success
At first, my husband was extremely reluctant for me to try flipping. I had tried so many other things to bring in extra income and nothing ever worked. But as the time has passed, he's pretty proud of me and is happy to have me at home.
At first, working full time made it hard at times to source items. We spent every weekend hitting the Goodwill and Thrift Stores and most of the time we didn't find anything.
I also spent many nights staying up late to package an item so I could drop it off in the morning at the CVS store for UPS pick up before going to work. Now with me being home, I have so much more time to invest in my business and it's been booming with sales!
I still struggle with freight shipping. I want to do it because I know there is less packing and more income to be had in larger items. But learning how to deal with the freight company has been intimidating for me. I can get overwhelmed sometimes thinking about making sure that all the paperwork is done properly and figuring out how to charge the buyer, etc.
It still scares me
But I know I just need to get that first one done and keep doing it and I will be okay. Adding in freight shipping to my already successful flipping business is my plan for the future. Always learning, always growing in this business.
Learning how to successfully flip items has been the absolute best decision I've ever made and I'm looking forward to my very happy retirement!
Thanks so much, Natalie, for sharing your flipping success with us. We are super stoked for your retirement and how much flipping will play a part in your enjoyment! We can't wait to see what happens next in your successful business that has allowed you to retire early!
Are you thinking of retiring and trying to figure out how to do it financially? Check out our free intro webinar to see if flipping might be an option for you.
FURTHER RESOURCES
Download These 47 Household Items To Resell TODAY!
FREE Workshop How To Turn Your Passion of Flipping Items Into A Profitable Reselling Business
RELATED POSTS
How This Working Dad Cut Off 5 Years From His Retire Early Date Because Of Flipping
How This SAHM Makes $1K/Mo Reselling Used Items On eBay
This Retired Couple Made $6,800 Their First 3 Months Of Flipping