Today we have a special treat! We got to chat with our friend and Flipper University student Anthony Frye and see how he's doing with his reselling business.
Anthony has been reselling for about a year and a half now, but didn't get really serious about it until about 4 months ago. He had been doing it part time (only about once per week) and mostly selling clothing and making a few dollars on each sale.
After being a little discouraged with a slower profit at first, he decided there had to be a way to make a bigger profit and joined Flipper University about 4 months ago. Now he is buying different items that he can make a much larger profit on. He would rather sell 1 item for a $100 profit, vs. 30 items to make that same $100. (Which I completely relate!)
Anthony has now been able to make over $1,000 in just one month's time! Not bad for a side gig!
He likes some of the electronics, but also ventures into other items he knows he can make some good money on. Now he isn't afraid to pick up a little bit larger items because the shipping isn't so intimidating. Check out what he posted in our Flipping for Profit Facebook group recently: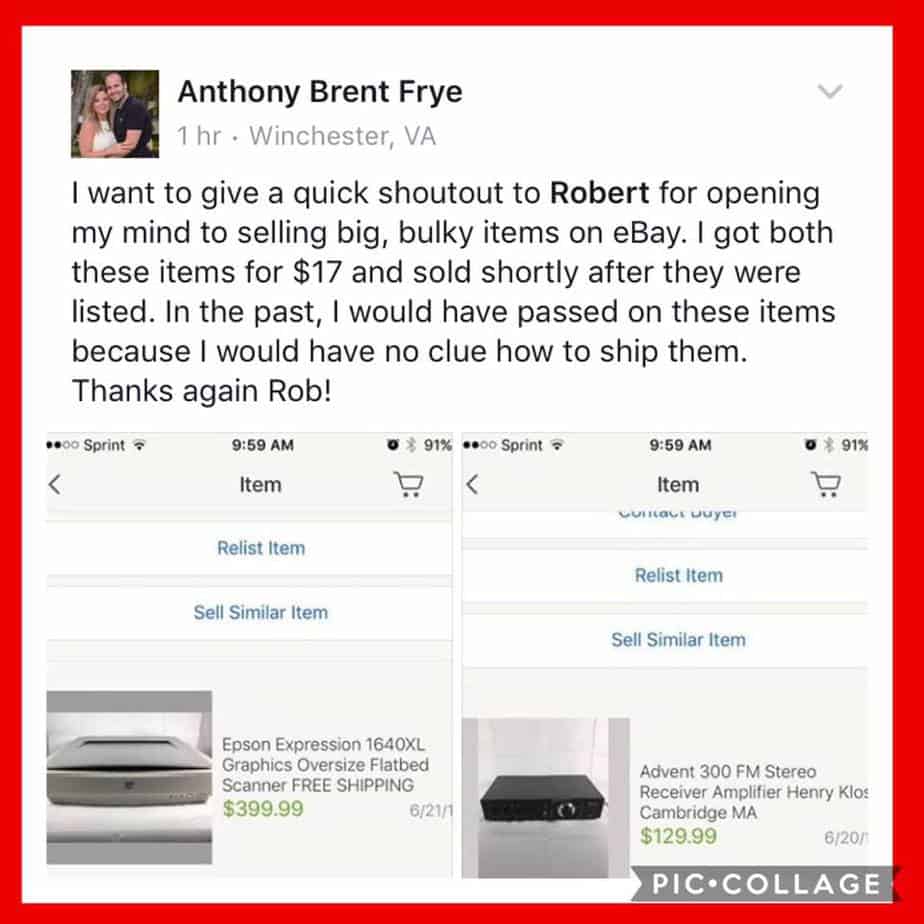 Is a reselling business for you?
If you have been thinking about trying this whole reselling thing, then there is no better time to get started! Anthony mentioned the upcoming arrival of their first baby girl, and I am so excited for his family for this new adventure. I'm also excited that he has his reselling business moving forward now so he can relieve some of the financial stressors that come with kids. (They aren't cheap – we have 3 little people that we provide for with our reselling business.)
If you are intimidated by all things with eBay, don't be! Technology these days makes using eBay so much easier compared to what it was years ago. You can practically run your whole business from your smart phone now.
We love seeing people be able to fill the gaps in their finances from their reselling business. It's our life and we love it, and it's so exciting when we get to help others out doing something we love to do.
If you love going to thrift stores, yard sales, and flea markets, or just finding great deals from Offer Up and Let Go, then this might be something great for you. Check out more info on Flipper University to see if it could be a good fit for you to help bring in an additional income.
Anthony mentioned that he's not intimidated anymore about shipping larger items. If you haven't already, grab our (free) pdf download 3 Ways to Save Money on Shipping. This will also subscribe you to our flea market flips and eBay tips updates. We promise not to flood your inbox (we hate that too!) And you can unsubscribe anytime. 
At the end of the video, Anthony also mentioned expanding his reselling business on Amazon. We aren't expert Amazon sellers (Prime buyers YES! Sellers, no.) But our friends Cliff and Jessica Larrew at The Selling Family do an amazing job with their own Amazon business, and have tools set up to help people be successful in their own Amazon business.
We would love to hear from you!
What is stopping you from starting your own reselling business? Comment below!
Related Posts
How We Made $4,729 Profit in One Month of Flipping Flea Market Items
The Beginner's Guide to Selling on eBay
How We Turned $50 into $2,100 by one Offer Up Purchase
How Bobi Made an Extra $600 Flipping Used Items on eBay