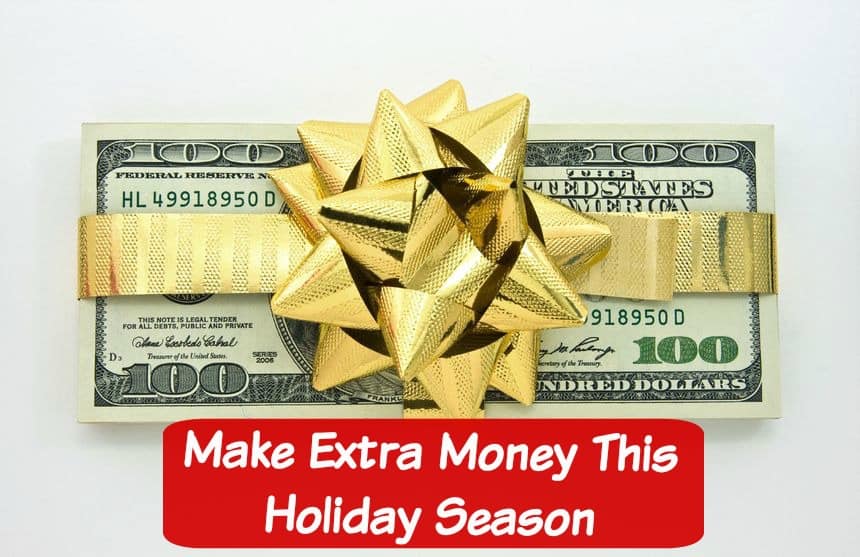 17 Nov

Make Extra Money This Holiday Season

With the holiday season comes a lot of spending.  A LOT. From the beginning of October until December 25th consumers are slammed with deals and marketing that tell us to buy buy buy. Of course we all love to give gifts, but sometimes spending gets out of control this time of year. The spending of the holidays causes many people to start the new year feeling depressed because they are starting out the year in debt and already feel out of control with their finances.

Have you ever found yourself in this situation before?  Does the thought of spending money on gifts give you anxiety and extra stress? If you answered yes, then let this year be different! Start off the new year with a clean slate and ready to rock your finances!

There are two ways to combat the extra spending this season.  One is to save money on your purchases. My wife and I buy 80% of our gifts from the flea market, thrift stores and online, and save a lot of money by doing so. (Check out our Christmas saving post HERE). The second way is to MAKE MONEY this Christmas season. If only it were that easy right?  Well, it isn't that tough honestly.  There are several ways you can make some extra money, and I will share with you my knowledge of a big one. You could always get a second (or third) job, but there are only so many hours in the day and you may want to enjoy life sometimes too. Or you could do what I do and sell things online that you either previously owned or that you bought from a local place at a cheap price. This doesn't take up a lot of time, but the return on your investment could be well worth it!  I usually spend about 5-10 hours/week (Do you watch 5 hours of tv a week?  Be honest now!) buying and selling items, and I typically make $2,000-$5,000/ month. What would an extra $1,000 this Christmas do for you and your family. Would it help you out?  Would it make you less stressed this holiday season?

If you answered yes to the previous question, then you should check out our Flipper University course. It gives you everything you need to know about buying and reselling online, it also give you access to my 19 years of experience to answer your questions.  You can check out the course syllabus HERE.  For more information about the course, check out the University page HERE and please e-mail me at [email protected] with all your questions.  I love hearing from YOU!