Today we have a great interview from a husband and wife team, Alex and Kim. They have been doing awesome with their flipping side hustle and along with buying inventory, have been rockin' it with finding free items to flip! 
Their ultimate desire is to end up flipping full-time so they can have more time to spend together and to serve in ministry.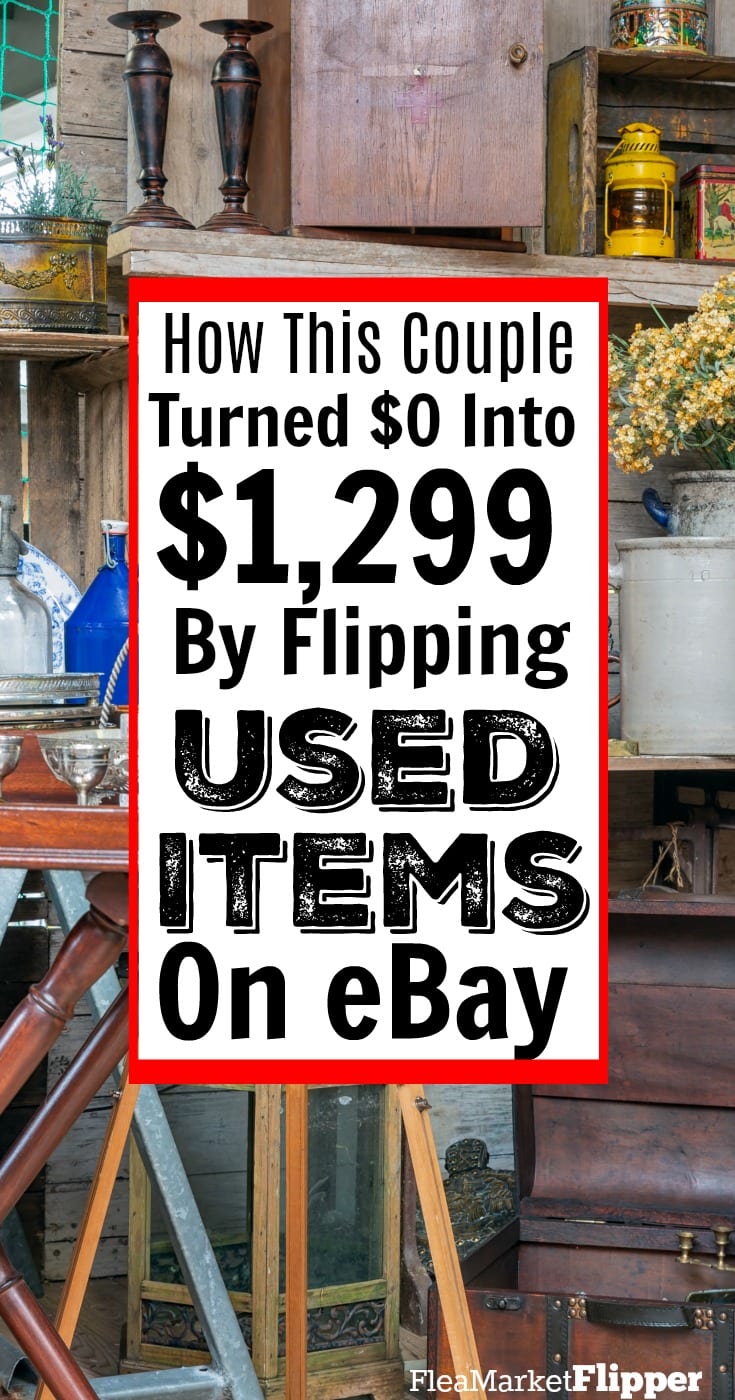 They started out flipping furniture a few years ago and now have moved into a lot of different items that they have been finding success flipping! Not only have they been finding some great items to purchase and resell, they have learned the art of finding a lot of valuable free items to resell!
Welcome Alex and Kim! Tell our readers a little about yourselves.
Kim and I have been married for almost 28 years and have two adult children, a daughter 25 and a son 20. We began dating while I was in the Army back in 1989. We knew each other before because we are both from the same small town of Fort Payne, AL.
I am a Project Manager for a steel fabricator and Kim was a cosmetologist for years but now flips furniture that she paints. We are also active in our church and I have a street evangelism ministry in Athens, GA, where the University of Georgia is located.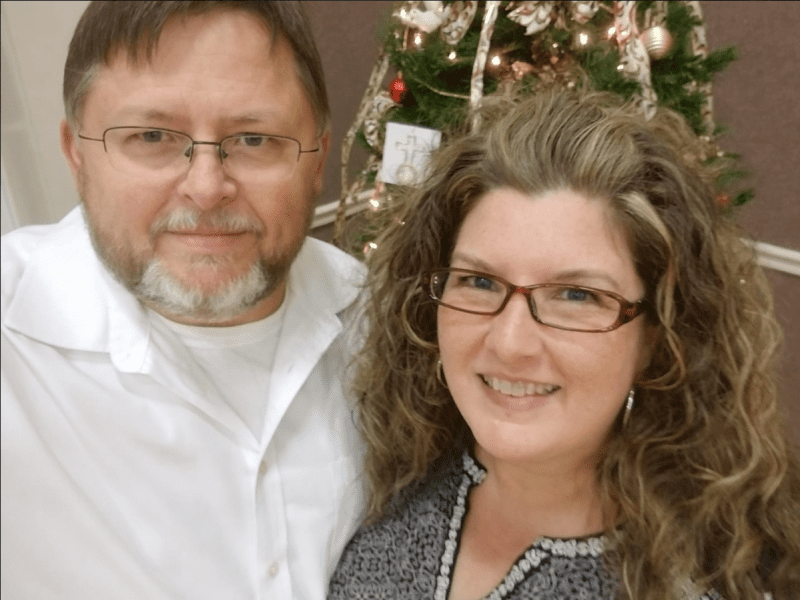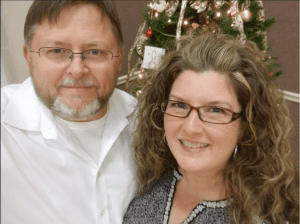 Kim has always enjoyed dragging me to yard sales. After I realized I could make some money, I liked them a lot better! She is the one that got us going in this business and I just jumped on board.
I am very thankful Kim and I have found something we really enjoy doing together. Kim likes that she is able to be home with a flexible schedule and still make money. We are actually making more flipping than she would make working a regular part-time job.
After going through the Flipper U Course, we realized flipping was in us all along. We just didn't know how we could turn flipping into a significant money-making business.
We are still learning and figuring this stuff out, but have learned so much in a short period of time thanks to you, Rob and Melissa, and the Flipping for Profit group.


How did you get started with flipping items?
Kim and I have tinkered with flipping for a long time, but we never figured out how to really get it going. That's where you come in.
We sold small items through eBay in 2002, but it never really took off. More recently, Kim had a booth at an antique mall where she flipped furniture she had painted and other smaller items.
We hadn't sold anything on eBay since 2002, but we got excited to try again after taking your course and realizing we could make great money selling on that platform.
While in our earlier flipping days we mostly sold furniture, we have now learned to branch out with a variety of items that we sell.
Since enrolling in the course, we have sold everything from a Harry Potter snow globe to a special needs gait trainer. We have learned through the course and the flipping group that the opportunities for flipping items are endless.
We really love your attitude through the whole learning process. At one point, you had some money tied up in your inventory, which would have stopped a lot of people from continuing to source. You and Kim found a way around that. Tell us about how you went about finding free items to flip (you found some awesome ones)!
We were just getting started flipping and had purchased some great items. But as you know, sometimes it takes a bit to find that right buyer. We were in the waiting period with that and just didn't want to put any other money into items so we decided to find as much free stuff to flip as we could find!
While looking through Facebook marketplace, Kim found five special needs items a family was giving away.
The family had tried to give the special needs items to an organization or school but couldn't find anyone to take them so they gave them to us for free!
We've sold one of them for $549.99 and another for $1,299.00. The other three are listed for an anticipated total of $1,710.00, based on comps. Not too bad for investing no money into that inventory!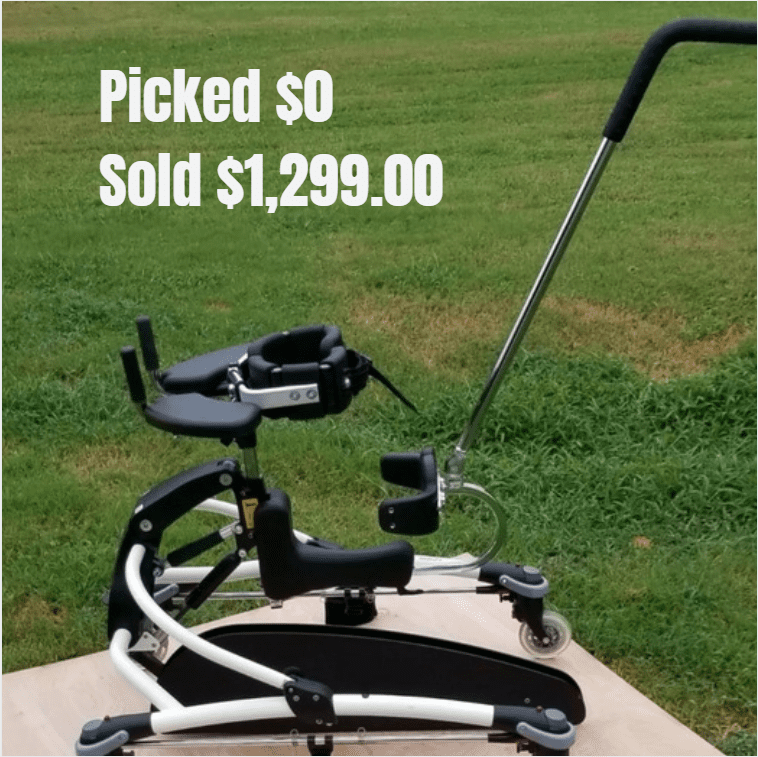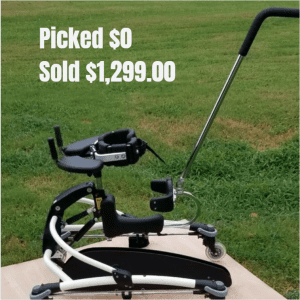 We also hit a yard sale several months ago and the people said, "Take what you want. We're done, it's all free." They went and got in their pool to swim, as we loaded up what we thought might sell.
So far we've sold a hard case for golf clubs for $15.00 and a gun bluing kit for $14.99. We still have a few items left in the garage that we haven't posted yet. Not a big haul but free is free.
At one of our most recent yard sales, I spotted a box of DVDs. It was nine unopened "The Midnight Special" DVDs marked for $5. I just mentioned that I used to watch the show as a kid and the guy said, "Take 'em, they're yours". I posted them that day and a few hours later they sold for $59.00
We also picked up a Comfortrac Home Cervical Traction device for free. I purchased three sets of shoulder pads for $5 each and asked her to throw the device in for free and she agreed. We sold one pair of shoulder pads for $25 and the cervical device for $125.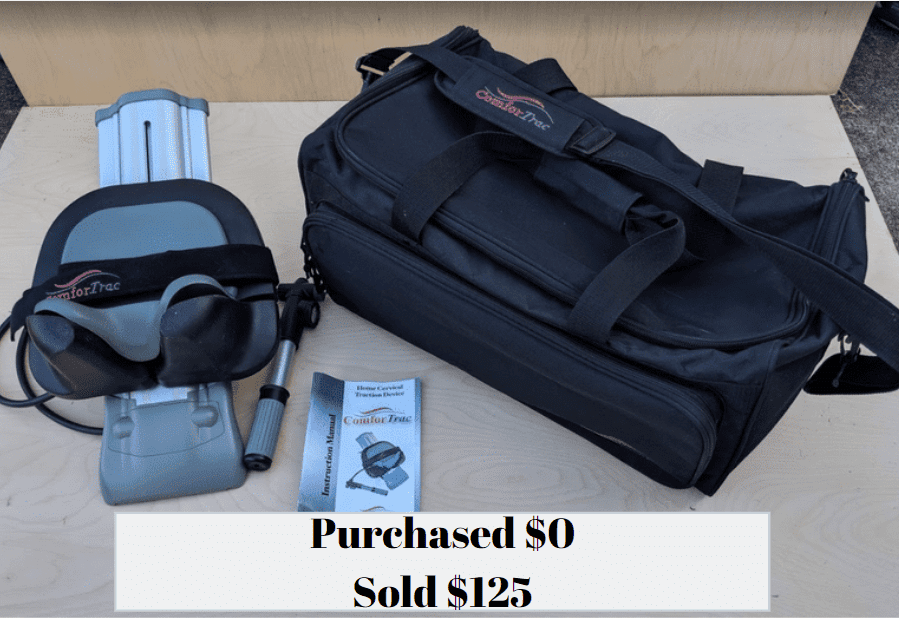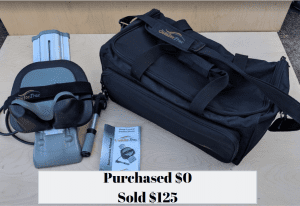 One of my favorites freebies of all was something Kim found. It was a Braves-themed coke machine. (FYI, here in the south, coke can mean Sprite, Dr. Pepper, or any other type of drink).
It still dispenses the cans but it doesn't cool. I haven't listed it yet because I want to see if I can fix it (and I secretly want to keep it)!
What valuable things have you learned from Flipper U and the coaching group that have helped your business?
One of the most valuable lessons we have learned from you and Melissa is to stop looking for items that we would want and start look for anything that is selling. That is probably the biggest change we've made since the course.
Although we haven't freight shipped anything yet, we now have items in our inventory that we would not have even thought about buying before. We had no clue we could freight ship!
It was also an eye opener to realize people will pay good money for what they want.
Because we have always been frugal, we just don't think in terms of people paying big prices for items when we would never do it, unless it was a great deal.
Our sales have definitely improved. Before Flipper U, we might sell a piece of furniture locally for $150 every now and then. In five months our total sales are a little over $5,000. We're pretty happy about that!
We have also gotten a lot of great information from others in the coaching group. As people share about what they are picking and selling, it gives us ideas of what to look for.
Others sharing their experiences with shipping, eBay, Facebook marketplace, and OfferUp is also very helpful.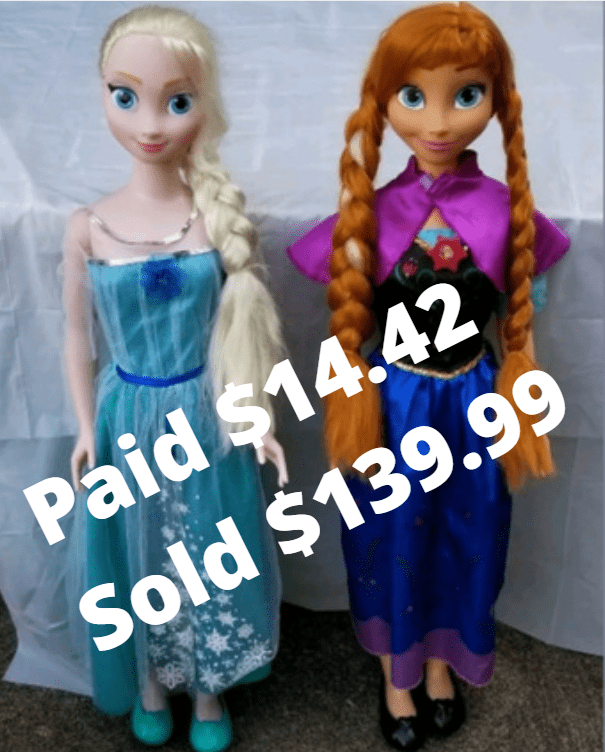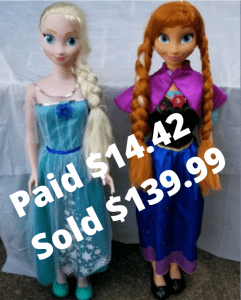 Without the course, we really had no clue about flipping, other than with furniture and other local small items.
Although we still have a huge amount to learn, we now grasp the concept and know what general actions we need to take in order to move in the right direction for success.
We are so thankful for you and Melissa and the Flipper family! We can't even begin to express what this course has done for us.
Being part of this family of flippers is doing far more than just teaching us how to get a business going, it has given us something we can do while spending time together and working toward common goals.
Of course with any business, there are always pros and cons to it. What are the things you love about flipping and what are the challenges you have had to overcome?
I think the only negative aspect of flipping I can think of is it takes up my spare time, which I already had very little of. But the good things that have come out of flipping have outweighed the negatives.
Flipping has provided a way for Kim and I to spend more time together, to make money while we are spending time together, and a way to increase our income to relieve financial stress.
Working full-time is definitely a big challenge. My job can be really stressful and when I get home I really just want to sit in front of the TV and binge on Netflix. It is really easy to procrastinate and push flipping to the back burner. I always feel like I am neglecting something, because honestly, I am.
There is no way to do everything as well as I would like to, but this is the season we are in and hopefully this is leading to a more manageable schedule in the future.
Getting started with flipping is tough because the majority of what we make goes right back into the business for now. We are beginning to see that we will be able to start paying ourselves, in the not-so-far-away future.
Our first goal when we start to pay ourselves is to get out of debt. Our next goal is to flip full-time afterwards. I want to eventually get in a place where I can have a flexible schedule in order to do more ministry work.
We receive emails every week from people who see testimonies of success like yours, but for one reason or another they feel they can't do it. What helped make the decision to jump into Flipper U and find success flipping?
We have always wanted to be flippers, and have been doing it on a very small scale. When we watched your intro video, we got the sense that you and Melissa were very real and that you genuinely cared about people.
We believed you sincerely wanted to help us succeed in flipping. This helped us decide to give it a go. We planned to flip a few items to raise the funds for the course, just to see if we were serious.
The first item we found was a double stroller at Goodwill. We bought it for $15 and sold it for $115. Since Kim had been showing me all the strollers you were flipping, I couldn't help but think God was saying, "Here's your sign!"
We flipped some furniture and were pretty close to having the money when you put on a Father's Day special for the course. That's when we felt it would be a great time to start. We were right about you and Melissa all along and we are so glad we decided to join you on this flipping journey.
Thank you so much, Alex and Kim. Nothing gets me more stoked than seeing people take Flipper U, apply what they have learned, and find success with flipping.
I look forward to hearing all about your next flips! I can't wait to hear about when you go full-time flipping so you can have the schedule you desire and the ability to serve more in your ministry! Awesome job!
If you think this flipping gig could be for you, then check out our FREE Intro Workshop to see if it's a good fit.


Further Resources
Make Your First $100 Flipping In 7 Days (Free Video Course)
FREE Workshop How To Turn Your Passion of Flipping Items Into A Profitable Reselling Business