December flip totals have been in for a little while now (and they were all eBay flips), but we have been so focused on creating videos lately that I haven't put the income report together yet.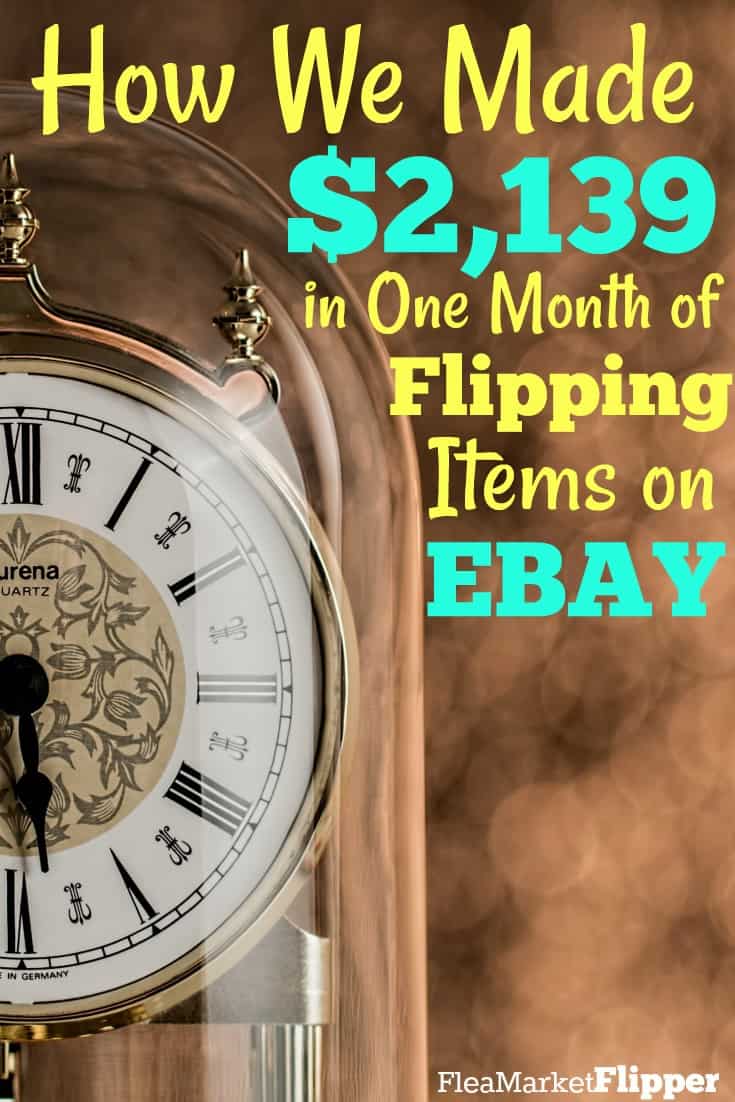 To be honest I almost decided not to post it.
I wasn't super stoked with the totals and I thought I could just skip it. But how could I skip 1 month out of the past 12? I have been consistent with posting these for the last year, so I can't stop now. Plus, it's not really fair to post the good months and leave out the not-so-good months.
In December we sold 4 items for a total of $2,139. Not quite our $12,220 month, but we will take it since our priorities were elsewhere last month.
We have been working so hard on updating our course and creating more content for our readers that posting and selling on eBay was not the primary focus. We also were away for 2 weeks in December and put our store on vacation, so that can never help sales either. 😉
If you are new around here, we wanted to let you know why we post these flea market flipping income reports. If you are part of the flipping fam already, you can scroll down to see this months flips.
We decided to start posting our income reports here from Flea Market Flipper for several reasons. The first one is to keep ourselves accountable. I have been flipping items for profit and selling on eBay for over 20 years now, and had never kept good track of what I made.
It was always a hobby – but one that came in handy when finances were tight. Once we decided to take this more serious – like a business – we started keeping better records. It has helped us tremendously keep track of what is going in and out each month.
Another reason is to provide encouragement to people who want to get started flipping items for profit and selling on eBay as a part time or full time income.
It is pretty popular in the blogging world for bloggers to post their income reports, and we always found it encouraging to read those. They help us keep going when sometimes we would rather be doing other things, so we are hoping to help the reseller out there keep going!
Lastly, but most importantly is to provide value and information to our readers. We have students and readers who are doing flea market flipping (or thrift store and yard sale flipping) as a side hustle or main hustle and we want to provide information to help them become successful.
Onto to the eBay flips!
This month we sold 4 items for a total of $2,139 in gross sales. They were purchased from Craigslist, Offer Up and Yard Sales. All of them were sold on eBay
.
Sleep Number Mattress Cover
The first item was our tried and true sleep number mattress cover. We sold it for $230. (Paid $20 for it awhile ago when I bought 60 total mattresses.)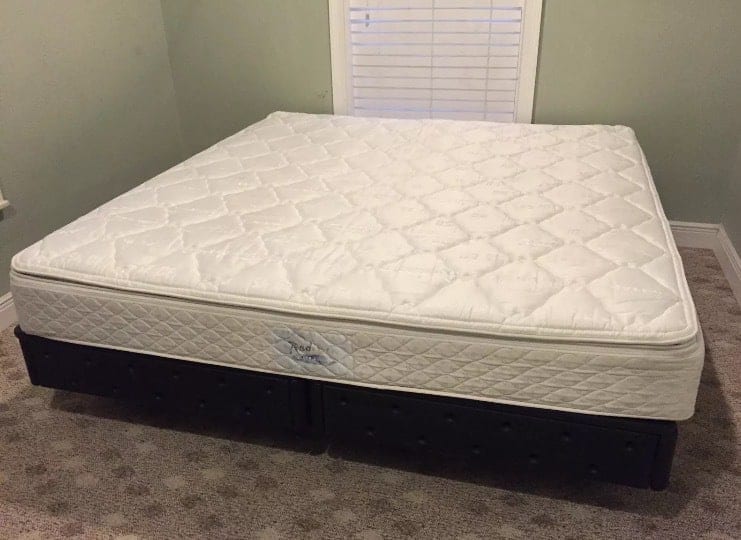 Water Rower Machine
The next item was a water rower machine. I found this rower while scrolling through Offer Up one night (one of my favorite nightly hobbies). I made arrangements the next day to go and check it out. I ended up picking it up for $160.
The owner said that the computer wasn't fully functioning, it would power on but then not record a session. When we brought it home I noticed there was a loose wire, so I just secured it back in the wiring harness and it worked great!
The rails on this machine also had a few cracks. It wasn't effecting function, but for aesthetics I wanted to replace them. The rails cost me $22 to buy and ship them to my house. So we had a total of $182 into it.
If you ever need to change rails on a water rower machine, here's how to do it. 😉
I listed the rower on eBay for $850 with $150 shipping, but ran a Christmas sale on my eBay store, so the rower ended up selling for $764. The buyer ended up being a local and came and picked it up instead of us having to ship it anywhere. I did a little video on this one to highlight it as the flip of the week.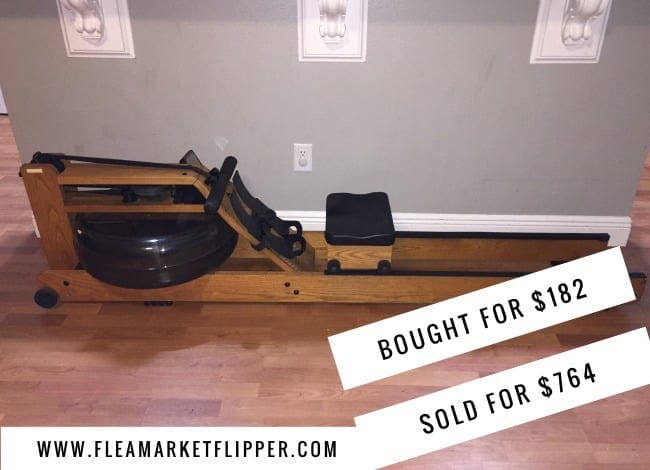 Commercial Life Fitness Machines
The next item was a pair of commercial exercise machines: an elliptical and a bike. (You can tell January was approaching with the exercise equipment selling ;))  These were nice Life Fitness machines, they were older models, but worked great!
We sold the pair for $750.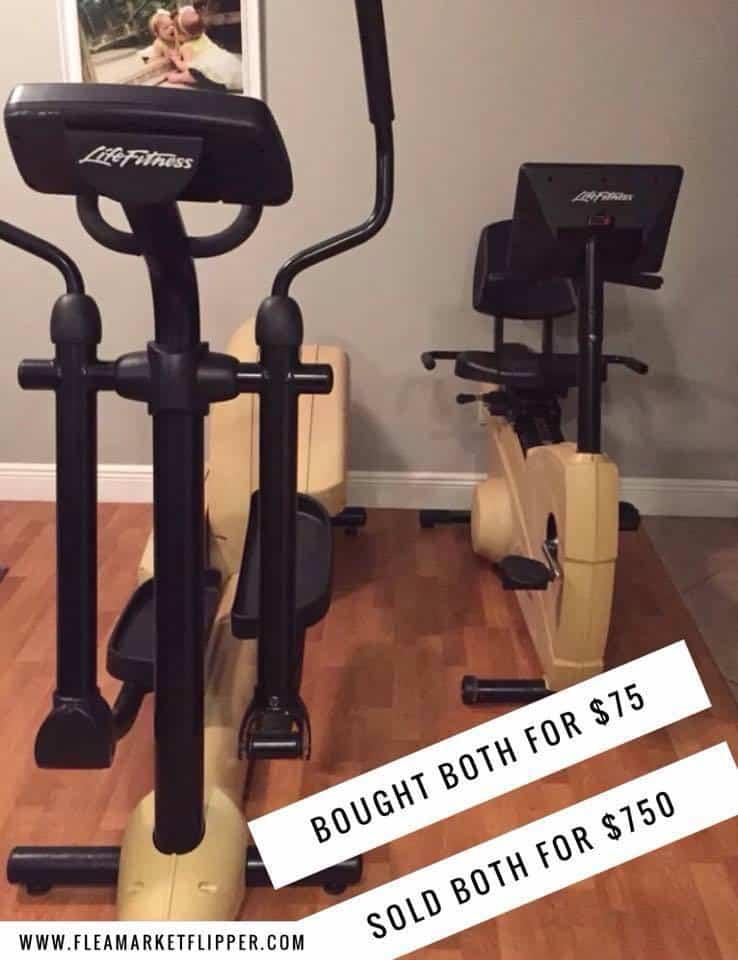 Night Stands
The last item was one of Melissa's sales. She found this pair of night stand tables at a garage sale we stopped at in the Keys. She picked them up for $50. She almost repainted them, but then decided to list them as is because they were pretty unique. (And she is still working on her repurposing skills.)
She was able to sell them for $395 on eBay.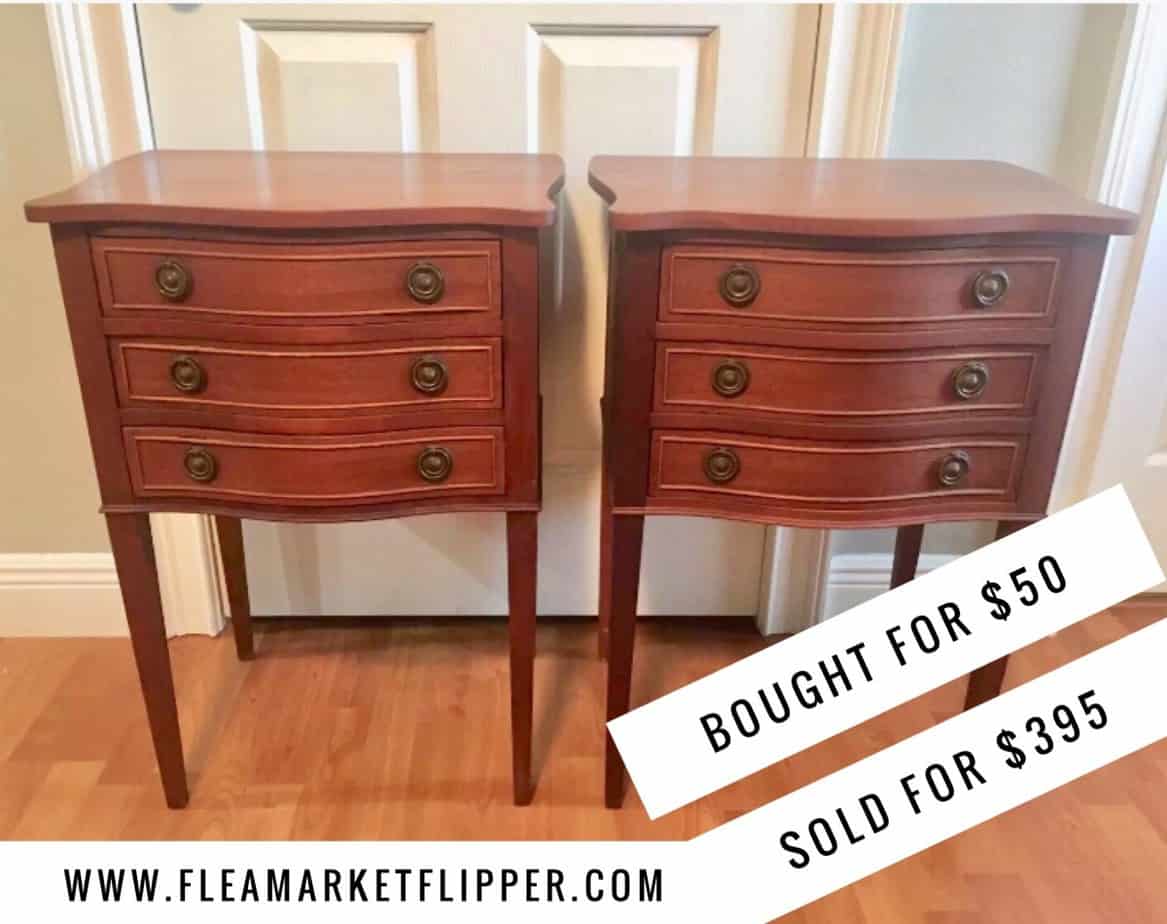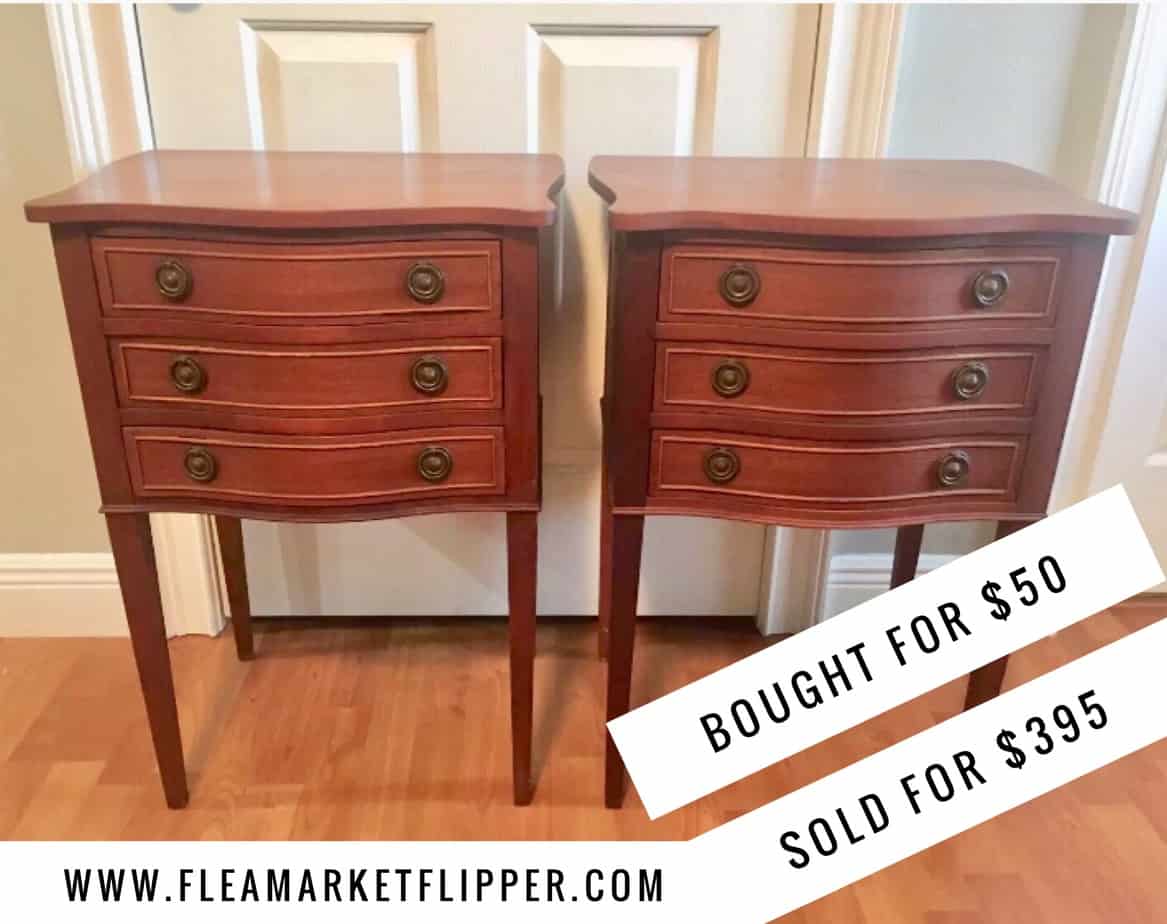 The Life Fitness machines and the night stands were sold while we were away on vacation. Melissa and I both had to contact the buyers and ask if it would be ok to ship them when we got home (and hoped they weren't supposed to be Christmas presents).
Both buyers were great and told us it was fine to ship them when we were back home two weeks later.
When we got back from Colorado, we put the exercise equipment on a pallet and shipped it to Washington State.
The end tables were boxed up and shipped to Michigan.
One of the most frequent questions we get asked is how we ship large items that we sell on eBay. You can download our 5 Steps to Get Started with Freight Shipping if large item shipping interests you. This will also add you to our flea market flips and eBay tips that we e-mail out 1-2x per week. You can unsubscribe anytime.
Total Profits For December eBay Flips
Mattress covers: sold for $230, paid $20, fees $30, total profit $180
Water Rower Machine: sold for $764, paid $182, fees $99, total profit $483
Exercise Equipment: sold for $750, paid $75, fees $98, total profit $577
Night Stands: sold for $395, paid $50, fees $51,  total profit $294
Total Monthly Sales: $2,139 Investment $327,  Fees: $278  Total Monthly profit: $1,534
Definitely not one of our stellar months, but our focus wasn't completely selling on eBay last month. Like I mentioned before, we have been working hard on creating more content for both our blog, YouTube channel, and the upcoming re-opening of Flea Market Flipper University! (only a few more weeks!!)
If flipping items for profit is something you are interested in doing, check out our free 5-Day intro e-mail course to help you see if this is something for you.
Are you already an eBay reseller? Or is it something you would like to get started with? Drop us a comment below!
Related Posts:
5 Steps to Get Started with Freight Shipping
How We Made $133,000 in One Year of Flipping Flea Market Items for Profit