A CPA's Side Hustle: How This Mom Made $12,000 Flipping Items Part-Time
We often talk about how there is no requirements like a 4-year-degree when it comes to flipping. However, having a
degree certainly doesn't rule you out! Check out how flipping was this CPA's side hustle of choice.
We have been getting more and more professionals who are looking for a way to escape the corporate grind and find a new "normal."
Many four-year degreed professionals are becoming disillusioned with the corporate world with the demanding schedules and workload, that they are turning to flipping to gain control over their lives!
Lauren and her husband have been flipping as a hobby for a few years now, but last year they started flipping more consistently as a side hustle to help pay for a major home repair.
Within a few months, they made enough to pay for half of their $24K metal roof replacement!
Realizing that they could make quite a bit of money flipping, they found us on YouTube, signed up for Flipper University, and they've been working hard to make flipping a full-time source of income ever since!
Hi Lauren! Thanks so much for joining us. Tell our readers a little bit about yourself.
Hello all! Let me give you a little background on how we ended up here. My husband and I are the proud parents of a spunky little girl named Tatum.
She is 2.5 now, but threw us for a loop from day one arriving 6.5 weeks ahead of schedule. She conquered a 21-day NICU stay, and has been continuing to amaze us ever since.
We treasure the time that we get to spend with her in the evenings and on weekends, but it never feels like enough with everything we have going on.
Both of us feel like we are missing precious time with her that we know we can never get back. This reality has made us stop and think that there is more to life than just bringing home those paychecks we trade all of our time for.
My husband is a construction superintendent, which means he is in charge of coordinating everything that happens on site for a commercial construction company. It entails a lot of last-minute fires that he needs to put out and extra hours without notice. This kind of a schedule can put a real toll on our family time.
I am a CPA by trade and currently work as an accounting analyst for a local brewery. Yes, I like numbers and I build a mean spreadsheet!
The perks are nice too (we love beer) and the work itself is interesting. I bring home a decent salary, but when we take everything into consideration, this type of work comes at a price. My job atmosphere is a very corporate environment that dictates how I spend my time and keeps me from my family the large majority of our waking hours.
I have been a hobby flipper the last few years buying and selling things on the side for some extra cash as needed/wanted with my husband pitching in here and there. If we had a big bill that needed paid (anyone know what 21 days in a NICU goes for?) or a little extra spending money to take a vacation, we would find items to flip to help us reach those goals.
It never even occurred to me that flipping could be a full-time job until coming across your videos on YouTube. When I realized you and Melissa were flipping full time, it got our attention.
As I watched the video, I saw that flipping as your full-time income had created the freedom and flexibility to spend time both together as husband and wife and also with your kids. This really got us thinking! Seeing a couple successfully support their family flipping stuff was a huge smack in the face.
The fact was, I had already been successfully doing what you and Melissa were doing on a much smaller scale for YEARS. Why had I never thought to go bigger before? For years we flipped stuff on the side for a little extra money and it had never even occurred to me to try to scale that in any way.
We bought things as we stumbled upon them instead of seeking them out intentionally. I was also fascinated by your success selling on eBay and wanted to learn more about that. I had started to get frustrated with local sales and having to meet up with people.
They were unpredictable and often times they would waste my valuable time by not showing up or canceling the pick-up last minute. I thought shipping items on eBay and also shipping larger items to a bigger audience was exactly what I needed to preserve my time and to increase sales to eventually go full-time.
My husband and I started dreaming and planning. Our ultimate goal as a family is to replace our full-time jobs with flipping.
We are in the process of trying to grow our side hustle into a real business allowing us to make our own hours and spend more time together as a family.
We both make decent money as it is and have the bills to go with it, so we know this won't happen overnight. However, the vision to create our own schedule and be together as a family keeps us focused on the ultimate goal!
We are working on upping our flipping game by trying new sales platforms, such as eBay and new sourcing methods. You have really helped us with that, as well as the coaching group.
This is our last 60 days of eBay sales!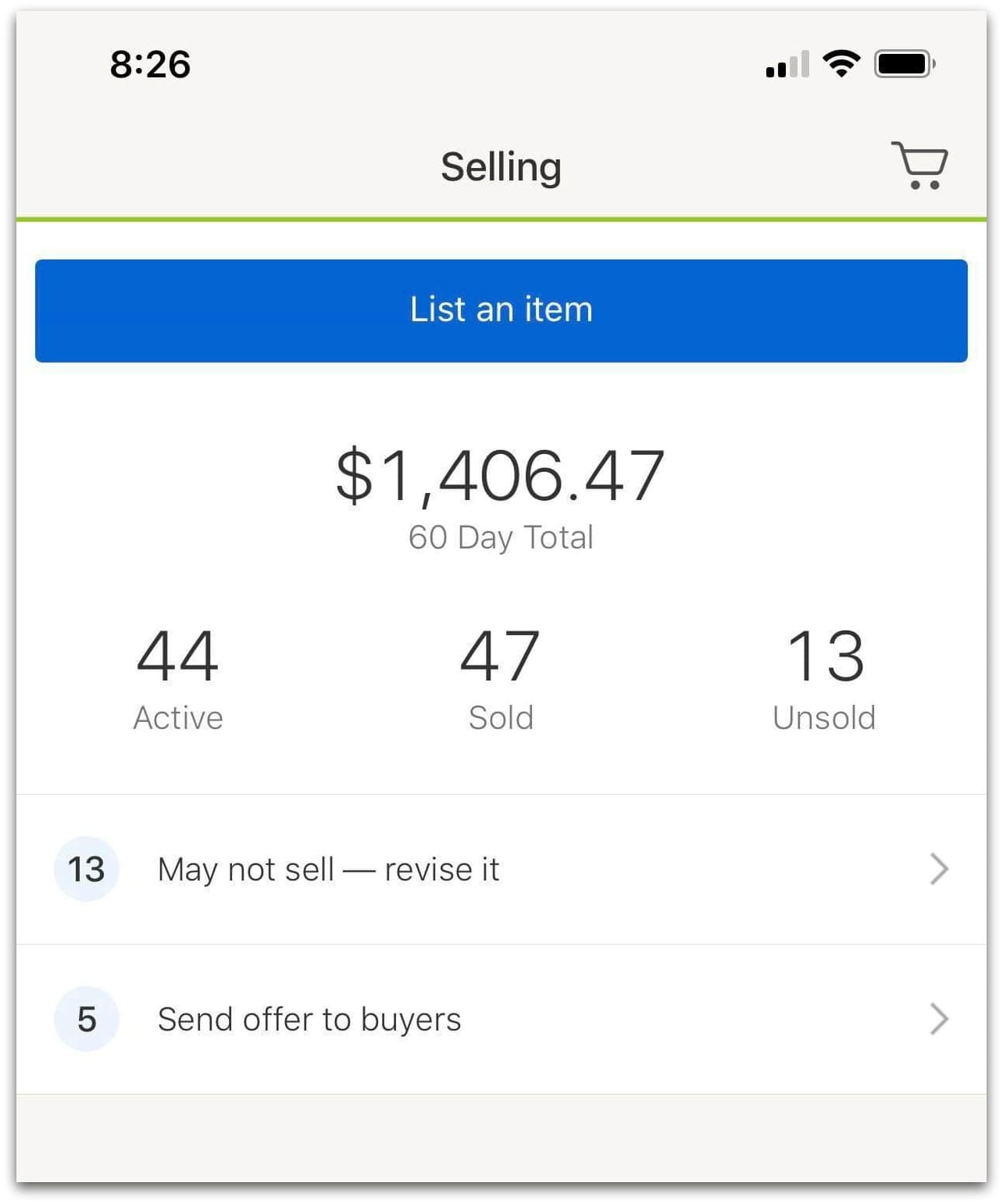 Working towards this goal also means balancing paying down debt to reduce those monthly bills while also building up our resale inventory.
Currently, we are reinvesting all our flipping profits back into more inventory and using every extra penny from our day jobs to pay on debt until we are at a point where we feel comfortable making the switch.
How did you initially get started with flipping items?
I started flipping stuff as a result of furnishing my first place! I graduated college and bought a super cute townhouse. I was really excited about making it my own, but I was fresh out of cash after signing all that paperwork!
That's when I discovered the glory of cheap buys on craigslist much to my mother's dismay (this was almost 10 years ago and thanks to the news she thought everyone on Craigslist was an axe murderer).
I found a bunch of awesome stuff, but as the search continued I would see something I liked better. I decided to go ahead and get the better one and list up the first for sale and so on. I found that I was consistently getting more money for the stuff I was selling than I had paid for them in the first place, and so it began.
This eventually turned into buying "good deals" as I came across them regardless of whether we could use them personally and I would sell the ones we didn't want for ourselves for profit so we could use that money as needed. This just started to become a habit and now we realize we can actually make a living at it!
You do really well flipping household items. I know you have shared your sourcing ideas in the coaching group. How has this been going for you?
In the past I have been pretty heavy on the home items (furniture, lighting, plumbing, décor, etc). These were a lot of the items that were available when I started through Craigslist all those years ago.
Recently I have been trying to buy with the intent to ship and reduce my cost of goods. As a result, I have been getting into some new and used clothing and also other hard goods from Goodwill and yard sales are starting to pick up in my area. I had always focused on new items. I had no idea people would actually pay so much money for used clothing!
I do still love buying from the 80% off section from my favorite home goods store. It's kind of a hidden and hard to find, but I managed to figure out how to get some really great items this way. I search this several times a day and when a great item pops up at 80% off, I order.
This has worked well for me and I have been able to flip many of these items at a really great profit locally. I never know what I am going to get!
One of the things that we teach in Flipper University is the importance of insuring packages. You had a bad experience with a shipment recently. Tell us a little about that experience:
This was one of the my 80% off purchases from the home goods store. I was so looking forward to receiving this beautiful chandelier. It retailed for over $2,000 and it was gorgeous.
I purchased it for $400 and I couldn't wait to receive it. Because we had been having so many problems with broken items delivered from carriers, we decided to install a door bell camera. I received my beautiful chandelier and when I opened it, it was in 10 different pieces! As I reviewed the video from my doorbell camera, I saw the carrier KICK my box off the back of his truck!
I couldn't believe that they would treat my item like this, but sadly this is quite common. The company did give me my money back, but that did not take away the disappointment in not receiving that chandelier.
It was beautiful and a fraction of the retail cost. But just one kick and it was all gone! I called the home goods store to try to get a replacement, but they had no others to send me. It was the last one.
So about that roof? We couldn't believe the cost of the metal roof! We were even more amazed at how you were able to save half of the roof money from flipping!
In years past, I mostly just messed around with flipping as a hobby for some extra fun money or to upgrade something in the house.
It's funny how I hear a lot of people in our coaching group got started that way. We just play until we realize it can be a real income! It was usually used to buy a random want that I couldn't otherwise justify or a little extra to put towards bills we were trying to pay down.
Around August time frame of last year (2018) we decided we needed a new roof and wanted to go metal. Metal costs roughly double your average asphalt roof, but this is our forever house, so I kicked the flipping into high gear to see how much we could pull together for this thing.
We did about $23k in local sales netting roughly $12k in profit last year. Two thirds of that came from August-December so I felt REALLY awesome about this accomplishment. It was still part time effort, but I made a point to be buying considerably more, renewing my listings consistently, and being sure to get stuff cross-posted.
This big push for the roof is when I really saw how much we could do with just a few consistent and intentional hours a week.
We paid for over half the roof with flipping money. At the same time, I also got really frustrated with how many people were wasting my already-limited time with local pick-ups.
We would schedule our evenings around appointments that wouldn't show or wanted to reschedule at the last minute. That is when we decided to look into selling online more seriously, so I could ship things to buyers on my own schedule and be more in control of my time.
The great thing about our Flipper U students is they bring so much value to our coaching group. You are one of those who always has great things to share with the group. How has the coaching group helped you personally?  
Flipper University showed me #1 how to use eBay to ship with confidence which was my main goal for taking the course.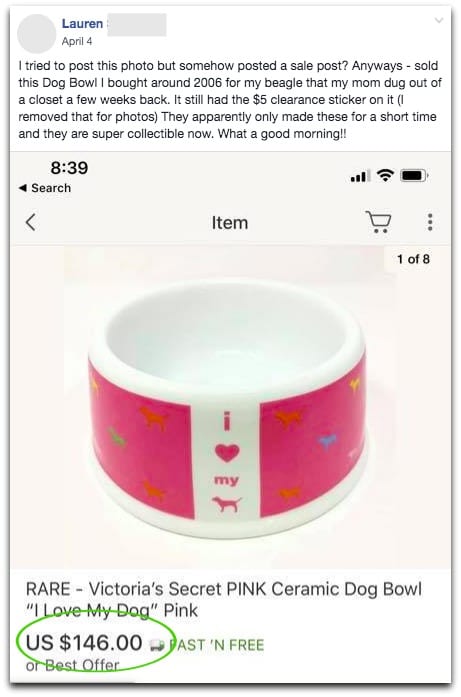 The shipping knowledge has also carried over to multiple other online platforms as well, which is a bonus as I am nervous to put all our eggs in one basket.
The course also showed me #2 that there are other people out there doing this "hobby" of mine and it's actually a thing – not just me being "crazy" as friends and family like to tell me.
Not only do other people do this, but some do it as a full-time income, which kind of blew my mind. I had never really thought it could be more until the past few months.
Lastly the coaching group has showed me #3 that we are all in this together. Having access to this private Facebook group has been probably my favorite part because it just keeps giving. The members are amazing and supportive.
Everyone shares ideas, finds, sales, and asks questions of each other. Most of my family and friends look at me like I'm nuts when my flipping comes up in conversation. Collaborating with other "crazy" people like me is an asset that I didn't realize I was missing until finding it in the group.
Since we are on the subject of "crazy," what have been some of the craziest things you have flipped for a profit?
One of our crazier endeavors happened after selling my townhouse – we were disgusted by short-term rental costs in our area and bought a camper for $1,300 instead.
We lived in it for 4 months parked behind my parent's house after returning from our honeymoon while we house hunted. After already saving over $5k+ in 4 months of rental expenses, we sold the trailer for $1,500 after finding a house to buy!
We bought a $2,400 Thermador Gas Oven (MSRP $10k+) from HHGreg's going out of business sale on a complete whim – we walked in just killing time on a Sunday and left with a hole in our savings account! We sold it a month later for $5k locally.
Looking back – if I had not been scared to death of eBay and freight shipping, we could have gotten significantly more for it! This sale was in the back of my mind as we decided to sign up for Flipper University. A $2,600 profit was AMAZING for us at the time though, so it was still a huge win regardless.
Another kind of crazy item was miss-marked on the Lowe's website. It was a $900 Kohler Cast Iron Farmhouse Sink marked down to $120. I thought for sure it was a mistake and Lowe's would never let me check out, but it did!
Not only that, I used a 10% coupon and Ebates as well paying just over $100 each, so naturally I bought three! I told two of my friends about it as well that afternoon after my purchase seemed to work and they each got one too. Lowe's had the price corrected the next day on the website, but didn't cancel any of our orders.
I kept one for our house and sold the other two for $500 each. Looking back I should have bought more, but I was just getting started and already felt crazy with the three I did order!
Lauren, thanks so much for sharing your goals and your experience flipping. The sky is the limit for you and your husband and we look forward to seeing you transition to full-time as you continue to get better and better at sourcing and selling your items!
Further Resources
Ready to get started with a flipping side-hustle or grow your existing reselling business? Check out our FREE Intro workshop to see if this is a good fit for you!
Download these 5 mistakes reseller's make that could be costing them money to avoid making these yourself! (This will also add you to our flea market flips and eBay tips newsletter. You can unsubscribe anytime.)
Related Posts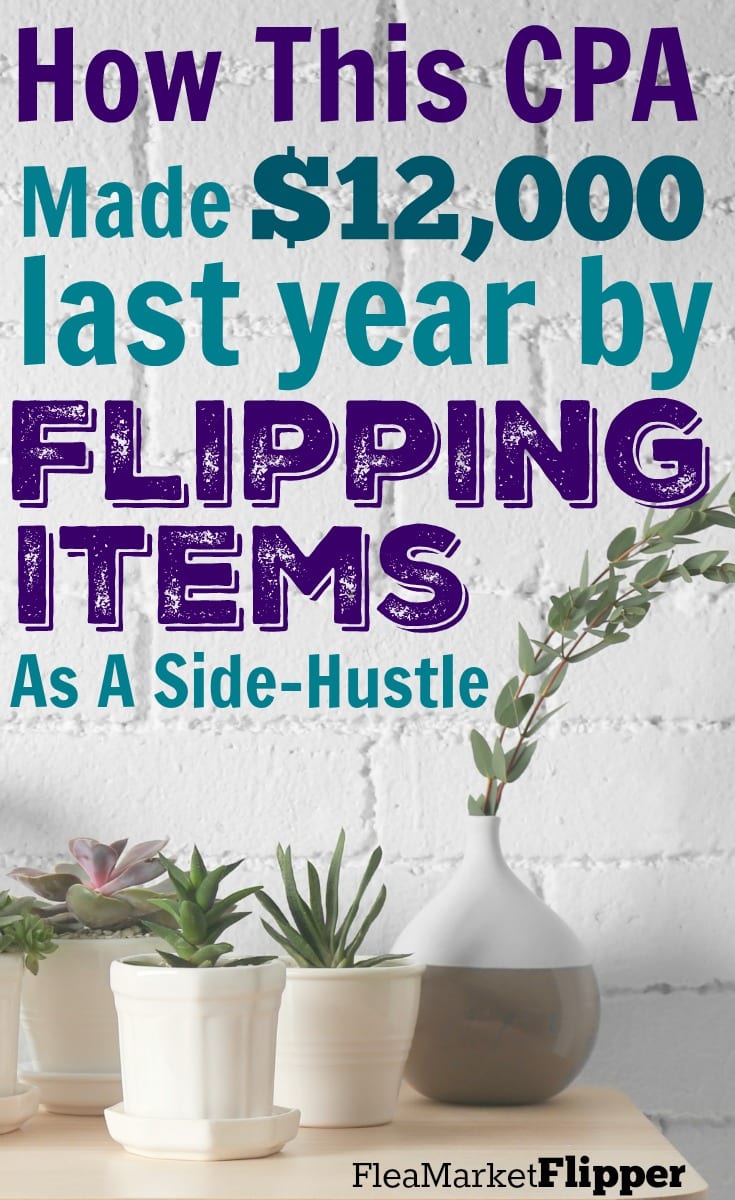 How This Family Used eBay To Crush $65,000 Of Debt In Only 14 Months!
How This Single Mom Went From Working Two Jobs To Making $5,000/Month On Her Flipping Side Hustle
How This Couple Who Adopted 6 Kids Made $26K Last Year With Their Flipping Hobby
How This Mom Of 6 Made $3,187 On ONE FLIP By Gaining Confidence With Shipping Large Items
We Want To Hear From You!
Do you currently flip items for a side hustle? Comment below!
A CPA's Side Hustle: How This Mom Made $12,000 Flipping Items Part-Time