Are you an introvert? Do you need time to slip away and be by yourself to refuel? Today we have an interview with our friend, Bill, who holds the secret to one of the best side hustles for introverts!
Maybe you love hanging out with friends, but having regular alone time is what you need the most. Have you thought about ways to make extra money, but dismissed them because you didn't have the energy to be around people all the time? 
Today we have an interview with Bill, one of our Flipper U students, and a self proclaimed social introvert! He loves hanging around with friends and likes meeting people, but he needs to be by himself often to experience silence. 
That's why Bill has found flipping to be one of the best side hustles for introverts. He's been able to work around his demanding full-time work schedule and in his spare time, Bill spends time sourcing, fixing, and listing his items while being able to have time by himself.
Now if you know me, I am the exact opposite of Bill..
I get energized by being around people. But this is one of the great things about flipping! Bill and I have two completely opposite personalities, yet we have both found flipping meets our personality needs and we can both be successful at it. 
So no matter your personality, flipping items can be a great fit for you, but especially one of best side hustles for introverts! 
Before we dive in, Bill, tell us a little bit about yourself.
I live in West Michigan with my wife, Destany, and our four kids. They range in ages from 12 to 7. We are a pretty active family and love exploring. Whether it's new places, new foods, or new experiences, we love looking for adventure. 
I am blessed with a full time job as a Continuous Improvement Leader at a large global company based in West Michigan. This company has taken me all over the world – literally!  
On one particular trip, I went from Grand Rapids, Michigan to Jakarta to Dubai to Moscow to Detroit and back to Grand Rapids!  
I have developed an incredible love of travel and I have made a convert of my wife as well. We love traveling and road trips. We spent time together and drove out to Hannibal, Missouri to visit the Mark Twain Boyhood Home. This was in order for my son to research the life of Mark Twain for school.
We are actively involved in our church by providing financial support to two other church plants.
I am what I like to call a "social introvert." I love hanging out with friends and I often enjoy meeting new people, but I regularly need time by myself to experience silence and calm. 
For those times, I enjoy fly fishing or running. I will fish here in Michigan or fly out to meet my best friend in Idaho to join him for fishing. Recently, I've enjoyed flipping in my alone time and find it a great choice of side hustles for introverts.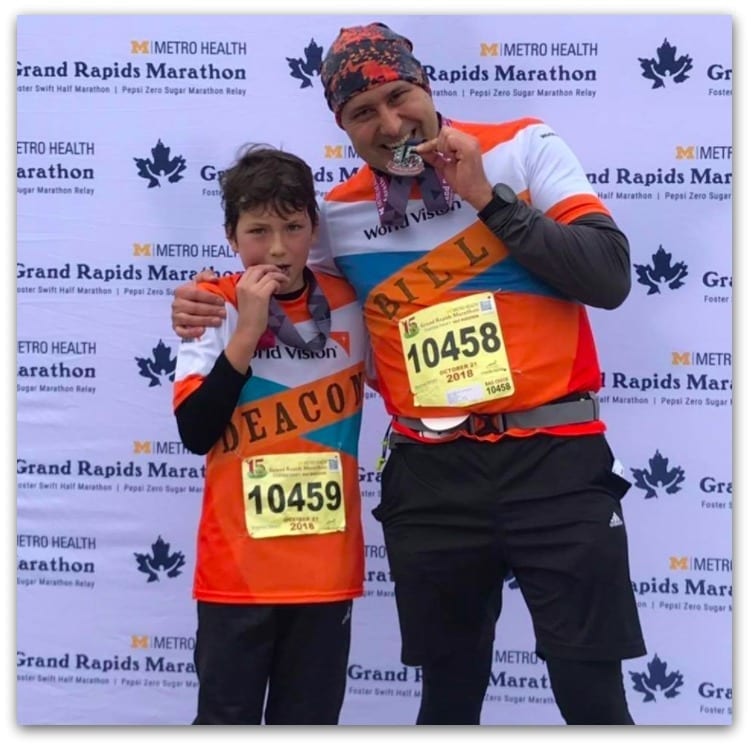 I started running three years ago to raise money for World Vision. I completed a marathon that year and the following year. I took part in a half marathon with my then 11 year old son. He ran it again with me last year and I just finished my 3rd half marathon on February 1st. 
There is solitude in running and a focus that comes when it gets difficult. You learn to push other things out of your head and focus on running.
So how did a professional Continuous Improvement Leader get started flipping items as a side hustle?
Honestly, I don't recall how I found you and Melissa on Flea Market Flipper.  I saw a video from a well-known flipper on flipping items from garage sales. I was looking for a great side hustle for introverts where I could make side money, but still have some time to spend by myself.
After that, I flipped my first item. 
This experience made me realize I needed to learn more about this idea of flipping if I wanted to be really successful at it. 
I read a few articles from other online people whom I feel have legitimate credibility and somehow ended up at Flea Market Flipper. I needed a money-making side hustle for introverts and felt flipping could be a good fit.
When reading about Flipper University, it just made sense to me. It didn't feel "scammy" and seemed to provide clear instructions on what to do and that's what I needed to be successful. 
I also liked the idea that it was online, and I could do it at my own pace, and that everything would always be available to watch over and over again.
What were some of your first items that you flipped?
My first flip was a Far Side mug. I found it for $0.50 at a Goodwill near where I live. I put it up for auction and it sold for $52!
After that mug sold, I found two board games that I bought for $1 each. Both of the board games sold for $30 each. 
I started hitting every Goodwill near me to find some deals. So just like that, I had made over $100 with not a whole lot of work from me. I felt that this was something I could do that wasn't going to consume every moment of my life. 
I had been looking for some kind of "side hustle" that would give me flexibility, wouldn't consume all my time, be fun, and be relatively low risk. I thought it would also be a a good choice for side hustles for introverts. Flipping seemed to meet all of those criteria.
One of the best parts of what I do is watching others learn the art of flipping. What items do you focus on selling now that you have experience? 
I am not picky about what I sell. If I believe I can make decent money on it, I will sell it. 
Strangely, the thing I have sold the most are vintage Bose speakers. In the year I've been doing this, I have sold four pairs of older speakers.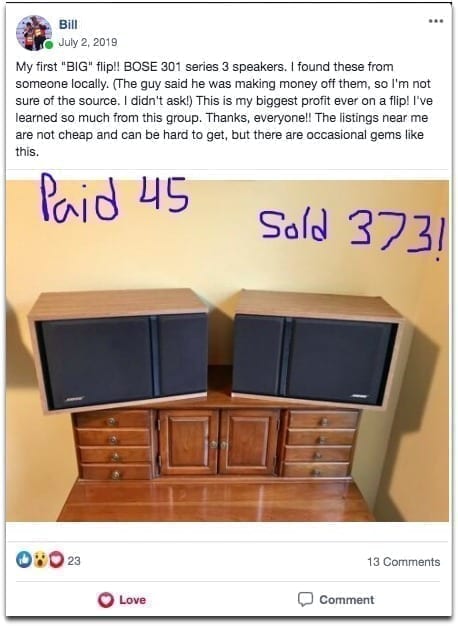 I've learned that there is a huge difference in price between models and even series. Right now, due to space constraints, I try to focus on small items with big ROI (return on investment). 
If I can't get at least three times what I paid for the item, it's not worth my time. On more less expensive items (like $1 board games), it needs to be over 10 times what I paid for it. 
I've just recently started looking at textbooks for a few reasons:
There is an active market for used textbooks
You can ship them USPS media for cheaper than regular mail
I can find used textbooks for $1-2 at Goodwill
Since I've been getting more experience flipping, I've expanded my scope and what I would consider selling. I currently have listed two coffee mugs, an 8-port switch, one textbook (one just sold!), flea collars, a hot plate, and some luggage. I also have a few clocks, a coffee maker, and some exercise equipment that need to be cleaned up before I can sell them.
Now that you are making a little cash, what do you plan to do with your extra income?
I started with a goal of just earning a little more cash for things like vacations and stuff.  This past January, my wife and I decided to be more intentional with our flipping funds and we were going to use our flipping profits to fund a bathroom remodel. 
Then life happened. 
Our son has been diagnosed with a rare allergy condition that is going to require a significant amount of time and testing before we have answers to exactly what he's allergic to.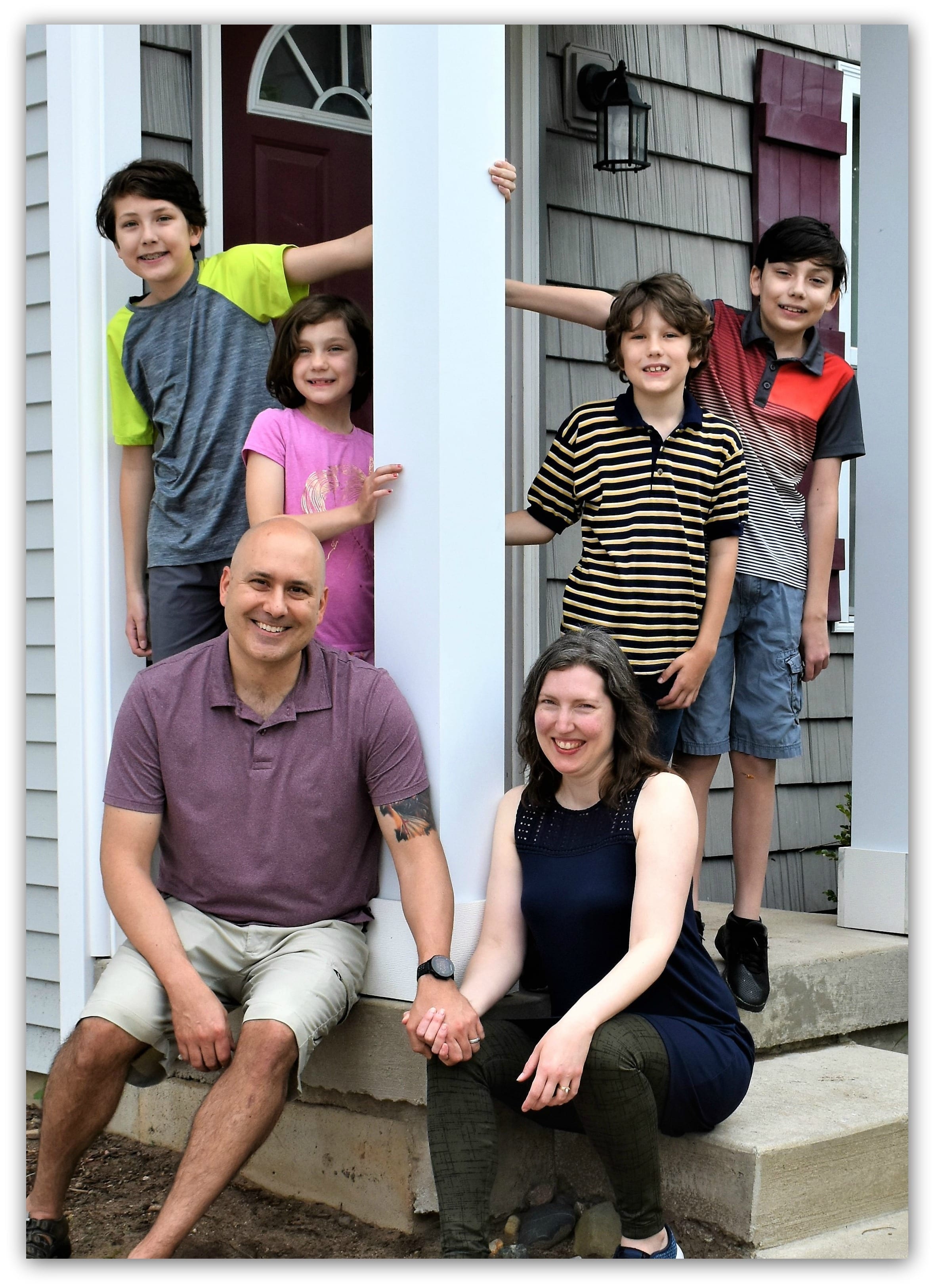 Medical testing equals lots of medical bills. 
Now we will save our flipping business profits to help offset the cost of his upcoming medical expenses and travel expenses to his appointments. 
The fact that I can have a side business that will still give me the flexibility to go to doctor appointments is a huge win for me. And as I foresee the need to travel to have special testing done, it will open up new sourcing locations.
If I have to drive 2+ hours to get his testing done, then I might as well use that time to try and find some great items to flip. The more items I can source and flip, the more I can save for these medical bills.
We have such a great community within our facebook group. What are some things you have gained by being part of this flipping community?
One thing I love about the course and the coaching group is the regular live events. That is very genuine. I especially liked the sourcing videos that you and Melissa do. 
Going out to zip codes and searching there for things really helps give an idea of what they are looking for from a merchandise and price perspective. You can't learn that from a blogpost.
I also have gained a TON from the FB community! Everyone is a huge help and seeing what others are selling triggers me to look at what's in my own neighborhood. I wouldn't have thought of textbooks or Sleep Number beds if it weren't for the FB group! 
Also, you and Melissa are both very active in the members group and so willing to chime in and give advice. It's great hearing it from someone who is doing this for a living.
I've learned a great deal from you and have really stepped up my game thanks to this group. It's also been nice to see others with similar personalities to mine that have chosen flipping one of the best side hustles!
Other than finding flipping to be an amazing side hustle for introverts, what do you enjoy about flipping and some challenges with the business?
One thing I love about the business is the gratification that comes with selling something. That Cha-CHING! from eBay is a dopamine shot that's hard to replicate!  
I also really love the hunt and I really love sharing the business with my kids! It's something we can enjoy together. They have flipped a few things and since most only cost a few dollars, they can get started with very little money.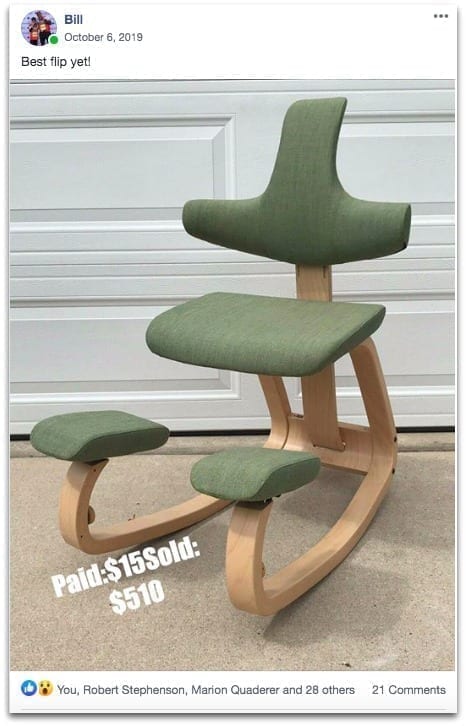 I often take them with me to the thrift stores so they can find things. When it sells, they get the money (less my handling fee, of course!). Shoveling a sidewalk for $20 is a lot harder than finding something that sells for $30. They enjoy it and they are learning a great skill for their future. 
Another huge plus with flipping is it doesn't require constant attention. Yes, it really helps to list things and get them posted regularly. But if I'm on vacation or just need a break or alone time, I can step away from it and know that those items are still for sale! 
I think the fact that I can walk away from it and it doesn't require my constant attention is another reason I find flipping to be an approved side hustle for introverts. Sometimes after a long day at work, I don't have the time or energy to work on it, but it's always there when I want to.
Discipline and focus are key.
Of course with every business venture, there are some negative aspects to it and obstacles to overcome. Coming home after a long day at work, often I just want to unwind. But the reality is, things don't clean themselves up and listing those items doesn't magically happen! 
It can be hard to get things cleaned and posted when frankly, I'm just tired. Even though I truly believe flipping is one of those perfect side hustles for introverts, it definitely requires discipline and focus to be successful at it.
Even if I have to make it a single item, then it's one more thing that is posted and now available to make me money. 
Another struggle is if I find items to flip that will take a little bit of work it can be hard.
Right now, I have a machine that needs some repairs. I'm not a very mechanical person, but I know I can fix this. But taking apart this machine isn't something I would say I'm looking forward to.
I know that there is a good profit to be had on it, so I really need to buckle down and make it happen!
It can also be hard to find time for sourcing. Working full time can make it hard to jump on those killer deals because I can't watch FBMP all the time. This is something that I need to use my spare time for, and therefore, I know I can miss some deals because of that.
What are some flips that had a crazy return on investment?  
Well, I mentioned the Far Side mug that I bought for $0.50 and sold for $52. 
I also sold a European chair that I bought for $15 and it sold for almost $500! 
But the craziest thing I've sold so far would be a Dancing Gopher. It sang the Kenny Loggins' song from Caddyshack and wiggled around. My kids bought two of them for $2 each. One of them worked and we sold that one for $25.
I sold a pair of Gucci sunglasses, an entire collectible plate set (never again!!), and a toiletry bag. I sold game pieces from a LIFE Pirates of the Caribbean edition, and recently I sold a Hawaiian Starbucks pineapple tumbler a friend picked up for me in Hawaii. 
If I can sell it at a good profit, I'll buy it. I'm not picky.
We love that you think flipping is a great side hustle for introverts! Keeping that in mind, how did you decide on flipping?
I have been looking to own a business for some time. There is an online course that I wanted to purchase but the cost was $2000. I knew I could flip some things to get the money, but I also knew that there was a lot that I didn't know. So I actually enrolled in Flipper U to earn enough money to enroll in another course.
Like I mentioned before, I was looking for a business that would be a good side hustle for introverts like myself. What I discovered is that I really enjoy flipping! I love the hunt, the sound of the sale, and the idea that I'm providing something to someone who needs it.
There isn't a hard sell. I never have to ask to "close the deal".

The items are there and people can buy them if they want. It feels good taking something that someone else has discarded and finding a new owner that needs it.
Plus, the course is great! You cover everything from setting up accounts to sourcing to shipping to dealing with the eventual returns and negative feedback. 
It truly is comprehensive. 
And, Rob, your commitment to us has demonstrated that you desire to see us succeed! 
Many of my questions have been answered with the live videos. And there are so many comments from other members from you getting on a call with eBay to help them resolve issues. 
That right there is worth the price of the course!
What are some obstacles that you have had to overcome to make flipping a successful side hustle? 
I have a run into my share of challenges, for sure. I work a full time job that requires a lot of thinking, problem solving, and collaboration. I am mentally and emotionally drained by the end of the day. 
That's one of the reasons I enjoy flipping and thinks it a perfect choice in side hustles for introverts. When I'm drained and need some quiet, I can take my time and tackle the business at my own pace.
Cleaning up a dirty item, taking photos, and listing the item can feel like one more huge task at the end of my day. 
This is where I really appreciate the listing challenges that often happen in our coaching group. I feel like there is some external motivation to list something every day. Accountability to a bigger team that helps me suck it up and get that one item listed for the day.
As I've mentioned, sourcing has been a big challenge for me as well. The Goodwills in my area are great, but I can see that I'm not the only one flipping items. Usually, about half the people there are walking around with their cell phones pricing things. 
Other "thrift stores" in the area have items priced as I would price them, so there aren't many bargains there. And in West Michigan, there is a culture of thriftiness. People don't want to pay full price for items when they buy it and expect to get close to full price when they sell it.
Those factors make it very hard to find items to sell profitably, but I'm still doing it and getting things done!
Finding the Right Fit for Sourcing
I have narrowed it down to Facebook Marketplace as my number one online site where I buy items to flip. OfferUp and LetGo are both not used very much in my area. Craigslist is hit or miss (mostly miss) but there are some occasional bits of gold to be sourced.
We don't have many flea markets around and the closest one happens on a Sunday once a month. We're typically at church when that happens.
Space can be challenging as well, or my lack thereof. I watched an ice cream freezer sit on FBMP for months for $100 because I had no way to move it and no place to put it!
Because of my lack of space, I can't buy the big ticket items that I can sell for thousands. I feel like the small dollar items are what's going to be my focus, at least for now. 
Thank you so much, Bill, for sharing your story with us and for proving that flipping is a credible choice in side hustles for introverts!
We are look forward to hearing about your success and your ability to fund your son's medical bills and tests. What an incredible gift for your family! Keep flipping.
If you feel flipping might be a great side hustle option for you, check out our free intro webinar today!
Further Resources
FREE Workshop How To Turn Your Passion of Flipping Items Into A Profitable Reselling Business
USPS Claim: How to File an Insurance Claim with USPS
Related Posts
How I Quit My Job To Flip Flea Market Stuff Full-Time
How This SAHM Made $1,000 In Her First Month Flipping Used Items
How This Mom QUIT HER JOB To Flip Items Full-Time (And Was Able To Pay Off $12K Of Debt In 5 Months!)
25 Ways to Find $25 In Your Budget To Start Your Flipping Side Hustle Today!